If the planned National Pulse Memorial & Museum in Orlando lives up to the visions spelled out in Teresa Jacobs' speech Wednesday, it will be a place of reflection, love, hope, transformation of lives, and showers of tears.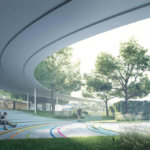 The onePULSE Foundation on Wednesday unveiled the winning design concepts for what would be a major landmark, on par with Orlando's theme parks.
It would begin with the memorial to be built around the building of the Pulse nightclub, where 49 people were massacred on June 12, 2016, at the popular gay nightclub, on Latino night, by a madman professing hatred of gays and allegiance to ISIS.
The memorial would feature a reflecting pool encircling Pulse, then 49 color lines in the basin, radiating outward to a peaceful garden planted with 49 trees
The plans also include, several blocks to the west near Interstate 4, a towering museum and education center dedicated to the victims, survivors, and first responders of such tragedies.
Another feature will be an Orlando Health Survivors Walk tracing the three-block journey many victims and first responders took that night from Pulse to the Orlando Regional Medical Center, from there it extends another mile north to the Dr. Phillips Center for the Performing Arts in downtown.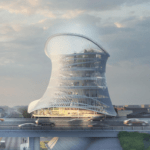 The museum would be open-air, with vertical gardens, public plazas and a rooftop promenade.
A team led by the French design and architectural firm Coldefy & Associés and including RDAI and Orlando-based HHCP was selected.
Jacobs, the Orange County Mayor at the time of the massacre and now the chair of the Orange County School Board, was among 10 speakers putting the memorial and museum into context Wednesday, including her successor Orange County Mayor Jerry Demings and Orlando Mayor Buddy Dyer. They all spoke of the symbolism of the monuments to the power of love, healing, acceptance, and inclusion.
It was Jacobs, however, who contextualized the effort to the point that she had many among the 250 guests Wednesday, plus herself, in tears. She spoke of the importance of the memorial to help find "the soul of mankind," and to both memorialize the victims and to celebrate them for the joy and dance they sought there that night.
"We're here, first and foremost, to honor the commitment we made that we would never forget our 49 angels," Jacobs said.
But beyond that Jacobs described a place of permanent inspiration, which can draw out the kinds of conversations of acceptance and inclusion that she said will be the legacy of those who died and the other victims who were wounded, lost loved ones or otherwise suffered.
"We all know the number one cause of death among LGBTQ is suicide. And I believe that tens of thousands, maybe hundreds of thousands of lives will be saved. Because now they'll come to Walt Disney World. Or they'll come to SeaWorld. One of our attractions. And teenagers will say to Mom or Dad while they're here: 'Let's go to Pulse.' They'll say it because they are struggling to have those courageous conversations with their parents. And they know if their parents understand what hate and intolerance and lack of acceptance does, their parents will understand. And they will have this conversation," Jacobs said. "So we hope to save thousands of young peoples' lives."
Jacobs challenged people who might find idle tourists visiting the site offensive, because of the idea that it is sacred ground.
"Because it is those people, who come out of idle curiosity, that is where we have our greatest opportunity to change the world," she said.
Dyer described the city's journey toward healing since the Pulse tragedy, and said the memorial and museum would ensure that "Orlando's incredible legacy of love, compassion and unity is shared with the world."
Demings, who was Orange County Sheriff at the time of the Pulse tragedy, spoke on behalf of first responders. He said the memorial and museum will be significant to the world.
"Make no mistake that this incident was an attack on America," Demings said. "We now know that a greater message came of it. And that message truly is love does win over hate."
Democratic U.S. Reps. Darren Soto, Stephanie Murphy and Val Demings are pushing legislation, House Resolution 3094, which would create a formal, federal, National Memorial designation for the future Pulse Memorial and Museum.
Such non-National Parks memorials include the Astronauts Memorial at the Kennedy Space Center Visitors Complex, the National AIDS Memorial Grove in San Francisco, the National Fallen Firefighters Memorial in Emmitsburg, Maryland, and the National Law Enforcement Officers Memorial in Washington.
The onePULSE Foundation is raising money, with a goal of $45 million, targeting June 2022 for an opening. Orange County is providing $10 million, and the state of Florida $500,000.
Mayra Alvear, mother of Pulse victim Amanda Alvear, described the reveal of the memorial and museum as honors for the victims.
"Our children paid the ultimate sacrifice. And now their deaths will not be in vain. We will never forget, and we will not let hate win," she said.