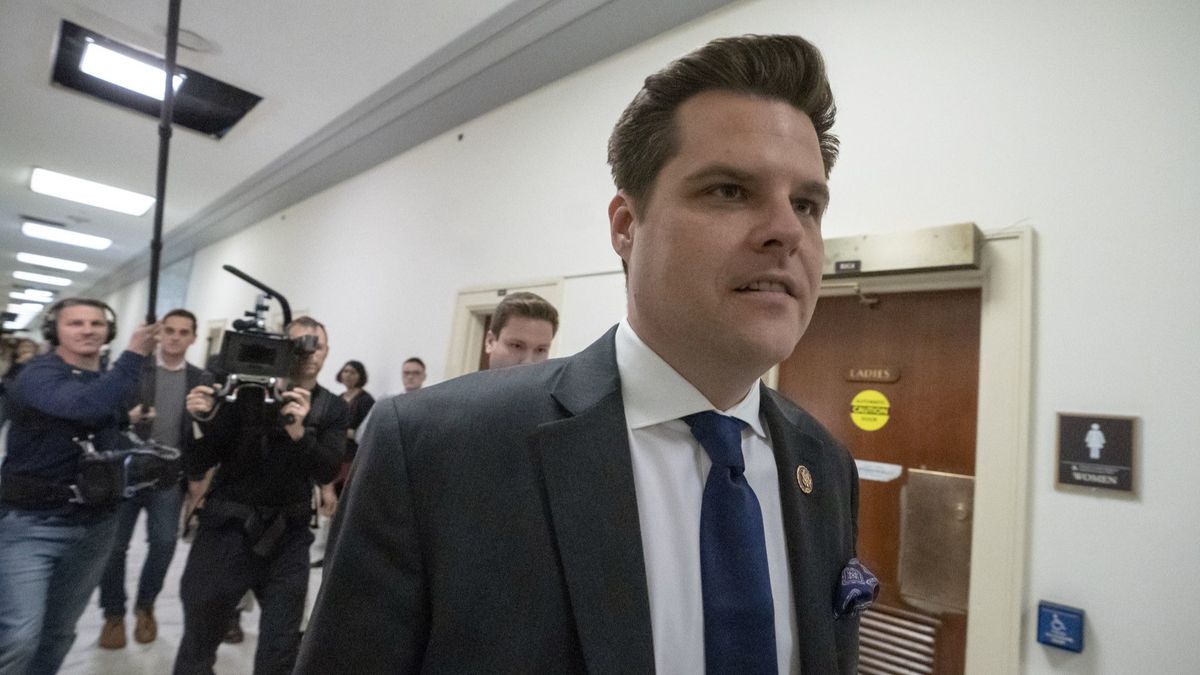 Republican U.S. Rep. Matt Gaetz, vying to be President Donald Trump's biggest defender in Congress, filed a congressional ethics complaint Wednesday against Democratic U.S. Rep. Adam Schiff, who is heading the Democrats impeachment probe.
Gaetz, of Fort Walton Beach, who has railed against the impeachment probe in every opportunity, early this month tried to enter a closed hearing and was escorted out, and then last week led a Republican raid against impeachment hearings, charges that Schiff is distorting Trump's actions in committee statements; lying to the public about "Russian collusion" by Trump's presidential campaign; and improperly preventing Gaetz from attending impeachment hearing depositions.
"Chairman Schiff has abused his authority and seems to believe that the rules of the House of Representatives do not apply to him," Gaetz stated in a news release. "We cannot have a multi-tiered justice system in the United States or in the Congress. His egregious behavior must change immediately."
The complaint was sent to Democratic U.S. Rep. Ted Deutch of Boca Raton, who chairs the House Committee on Ethics, and Republican U.S. Rep. Kenny Marchant of Texas, who is the committee's ranking member.
The complaint begins by citing Schiff's opening statement in a Sept. 26 hearing, calling the statement a "wildly-inaccurate and distorted 'retelling'" of Trump's phone conversation with Ukraine President Volodymyr Zelenskiy.
Schiff has contended the remarks were a parody of Trump. Yet Gaetz contends in his complaint that it appears to violate House Rule XXIII because it  does not "reflect creditably on the House," nor does it follow "the spirit and the letter of the Rules of the House."
"Furthermore, Mr. Schiff's actions were a blatant and clear-cut violation of longstanding parliamentary precedent, prohibiting making "accusations that the President has committed a crime," or claiming "that the President has done something illegal," Gaetz writes in the complaint.
"Unfortunately, Mr. Schiff's behavior cannot be construed to be an 'honest mistake,' as it is long-standing and habitual. In a March 2017 interview, Mr. Schiff claimed to have 'more than circumstantial evidence' of President Trump and his campaign 'colluding' with Russia. As the report from Special Counsel Robert S. Mueller III has made clear, Mr. Schiff's claim was baseless and untrue; to date, Chairman Schiff has not justified his statement," Gaetz adds.
Mueller's report stated that he did not find evidence of collusion but cautioned that might be in part because of lack of cooperation from key witnesses in the administration. Mueller also suggested that Congress might assess potential charges of obstruction of justice.
Gaetz charges that Schiff's behavior has been unprofessional and divisive.
Then there was the matter of Gaetz being tossed out of one hearing, and then leading some two dozen Republicans into another, forcing Schiff to recess the meeting.
In his complaint, Gaetz contends the meetings were joint meetings of Schiff's committee, the House Judiciary Committee, of which Gaetz is a member, and other committees, so that Gaetz should have been allowed to stay. However, the House Judiciary Committee was not a part of either meeting. Gaetz contends the meetings were joint meetings regardless, because House Speaker Nancy Pelosi said the inquiry would be pursued jointly by several committees, including the Judiciary Committee.
Gaetz also argued that House rules stating that "Members and designated staff of the committees may attend and ask questions,"  do not "expressly prohibit non-participatory attendance from members of other committees."