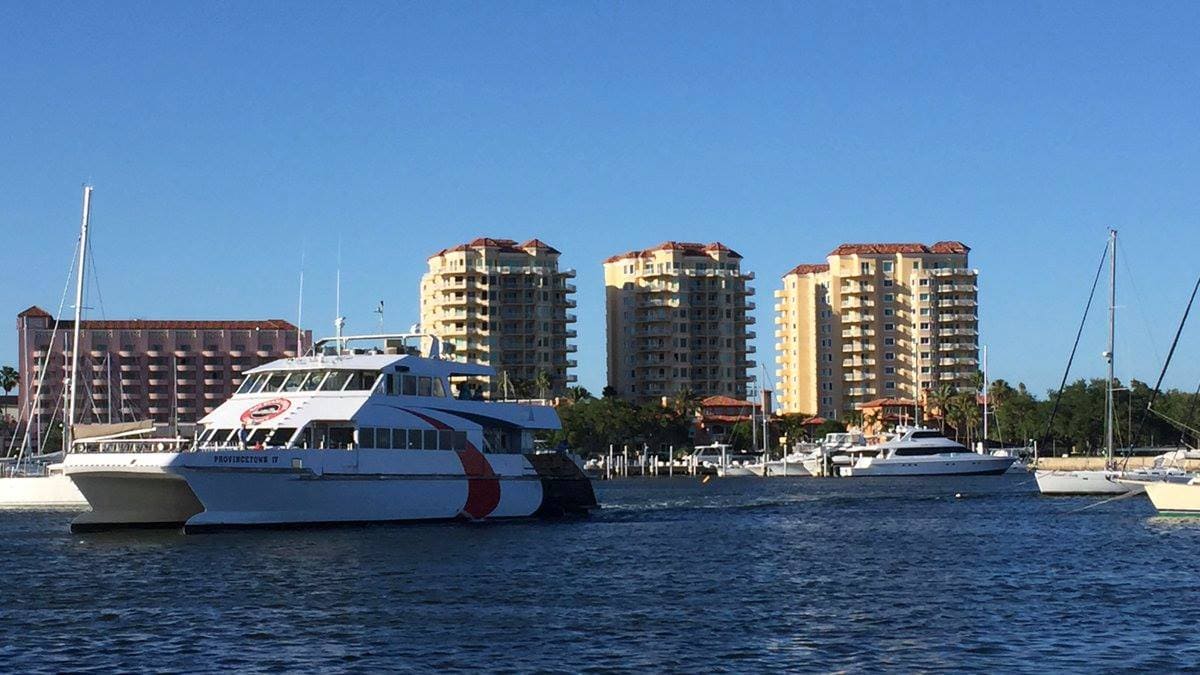 Here's what riders need to know.
VIPs and members of the media got a preview of Cross Bay Ferry service Wednesday before it opens to paying passengers Thursday.
Docks to board and disembark from the ferry are located at the Tampa Convention Center docks in downtown Tampa and in the Vinoy Yacht Basin behind the Museum of Fine Arts in downtown St. Petersburg.
The pricing is the same this year as the previous with one-way tickets available for $8 per adult, $5 for seniors 65 and up, active or retired military members and college students, $3 for kids aged 5-18 and free for children under 5.
All Cross Bay Ferry trips for Friday, Saturday and Sunday still have availability, according to the service's ticketing website. Walk-up tickets are available if seating is not sold out. The ferry holds up to 149 passengers.
This years service runs from Nov. 1 through April 30. It will not operate on Mondays or Tuesdays because past seasons have proven low ridership demand on those days. There will be exceptions for Tampa Bay Lightning games.
The ferry is upping weekend service when demand is much higher.
There will be four departures from each side of the bay on Friday and Saturdays beginning at 10 a.m. and running periodically until 11 p.m. (See the detailed departures below.)
Sunday service will begin at 11 a.m. with three departures each from St. Pete and Clearwater. The final departure of the day leaves from Tampa at 11 p.m.
Ferry service will operate for all Tampa Bay Lightning home games, including on Mondays and Tuesdays. The ferry will depart 30 minutes after games are over from downtown Tampa.
"Tampa is committed to creating a true, multi-modal transportation system. I view water transportation, including permanent ferry service, as a major element of creating such true mobility system that our region can grow on. It's why we wanted to locate the ferry terminal in the heart of our downtown," Tampa Mayor Jane Castor said.
There will be no ferry service scheduled for Thanksgiving, Christmas Eve, Christmas Day or for Gasparilla on Jan. 25. Service will be available on New Year's Day.
"It's going to be another strong season for the Cross-Bay Ferry. I want to thank our regional partners for agreeing to bring the ferry back to Tampa Bay. Looking forward to seeing everyone take advantage of this outstanding regional service," added St. Pete Mayor Rick Kriseman.
Detailed Schedule:
Wednesday – Thursday
St. Pete — 4:45 p.m.
Tampa — 6 p.m.
St. Pete — 9:30 p.m.
Tampa — 10:45 p.m.
Friday – Saturday
St. Pete — 10 a.m.
Tampa — 11:30 a.m.
St. Pete — 2:30 p.m.
Tampa — 3 p.m.
St. Pete — 4:45 p.m.
Tampa — 6 p.m.
St. Pete — 10 p.m.
Tampa — 11 p.m.
Sunday
St. Pete — 11 a.m.
Tampa — 12:30 p.m.
St. Pete — 2 p.m.
Tampa — 3:30 p.m.
St. Pete — 6 p.m.
Tampa — 11 p.m.