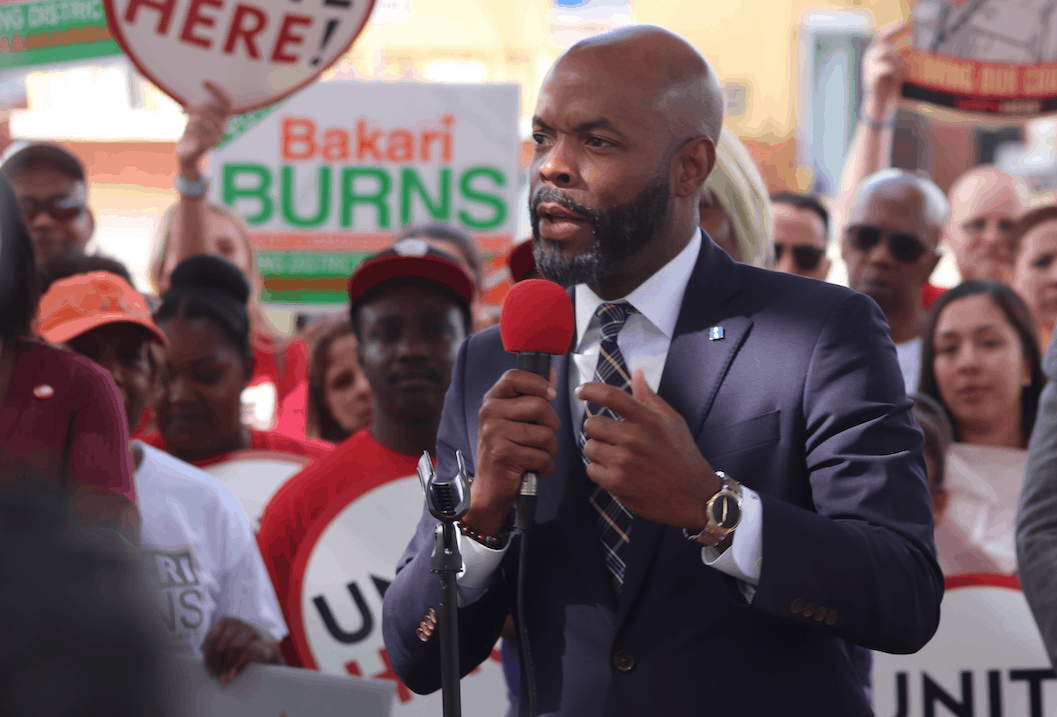 Burns faces Gary Siplin in the Dec. 3 Orlando runoff election
The Central Florida AFL-CIO Central Labor Council and UNITE HERE on Thursday announced their endorsements of Bakari Burns for an open seat on the Orlando City Council.
In a rally in the Washington Shores neighborhood Thursday, the two labor organizations expressed confidence that Burns would represent working people. They selected Burns, a health care executive, over former state Sen. Gary Siplin.
Burns and Siplin finished first and second in the three-way Nov. 5 election and will face off in a Dec. 3 runoff election for the Orlando City Council District 6 seat. The seat is open because incumbent Commissioner Sam Ings ran unsuccessfully for Mayor instead of for reelection.
"Bakari Burns is running to be the representative for working families and their communities on the Orlando City Commission," Angel Perry, executive vice president of Communications Workers of America Local 3108, stated in a news release.
"The Central Florida AFL-CIO is proud to endorse him. We need more politicians who serve workers first," stated Mike Cocco, lead organizer with UNITE HERE Local 362.
The Central Florida AFL-CIO is a federation of labor unions that represents over 70,000 workers in the Central Florida region. UNITE HERE, an AFL-CIO member union, represents Walt Disney World workers and others in the hospitality industry in the Orlando area.
UNITE HERE has pushed opposition to a proposed road project in which Orange County is offering to put up $125 million in special tourism district tax revenue to extend Kirkman Road to a new theme park, Epic Universe, being developed by Universal Parks and Resorts. The road project and the new theme park are outside of the city limits of Orlando, but just outside District 6. The union has been seeking to make it an issue in the District 6 election.
Siplin, whose wife, Victoria Siplin, is an Orange County Commissioner and will vote on the deal, supports the Orange County proposal, saying he has helped work out numerous concessions from Universal that would help people in District 6. Burns said before the Nov. 5 election that he was undecided on the Kirkman Road deal.
In endorsing Burns, union representatives cited Universal, however.
"Our members and their neighbors have made it clear that they're tired of seeing handouts to companies like Universal Studios with no strings attached," Jose Castro, a lead organizer from UNITE HERE Local 737, stated in the news release. "We're supporting Bakari because we trust that before he votes to spend our public money, he will always ask the hard questions that the community and workers need answered. If we're going to bring good jobs and affordable housing to Orlando, we need leaders who will put the community first and bring us with them."