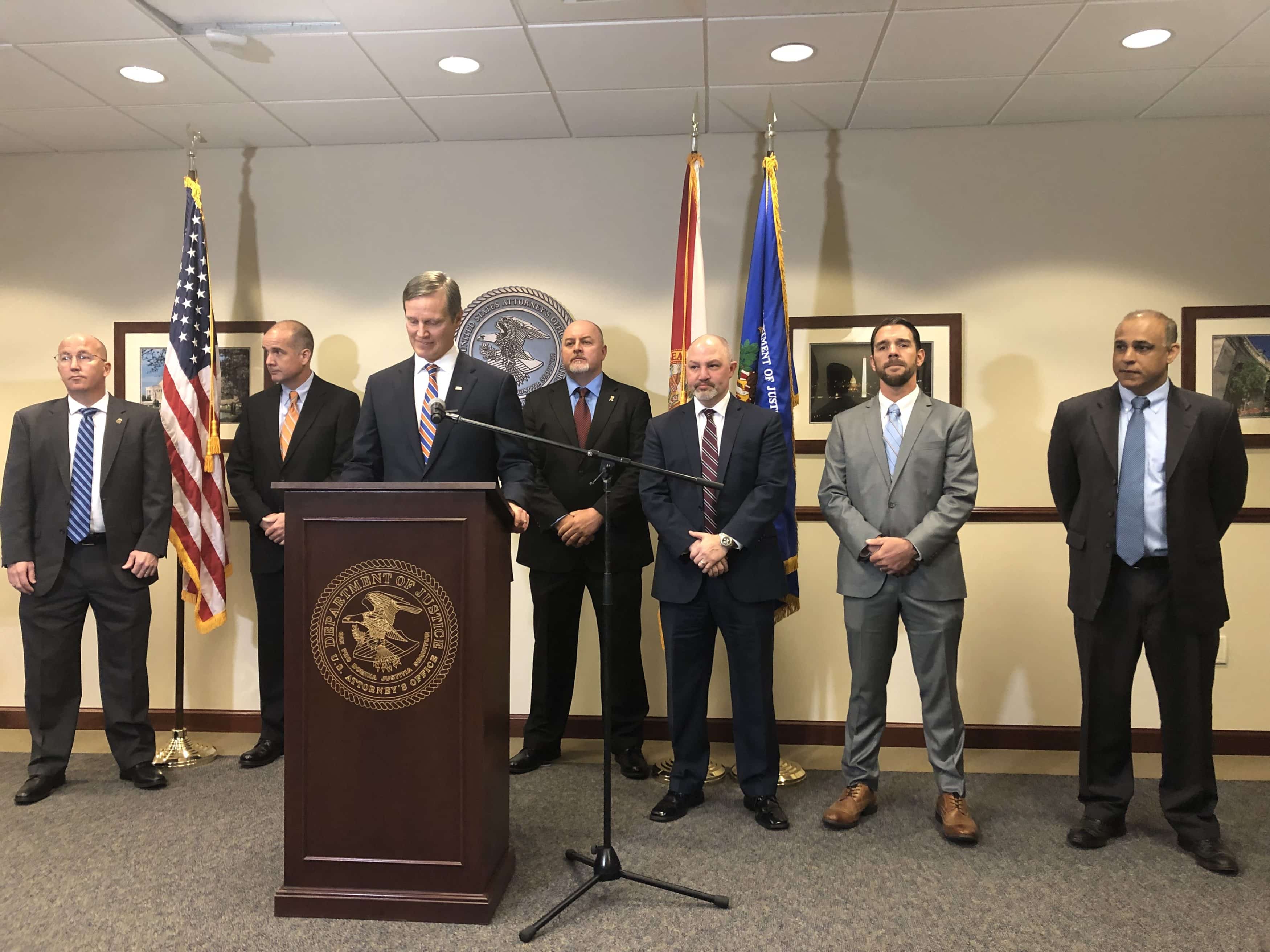 Among the 29 indicted are federal, state and local government officials.
Federal, state and local government officials are among the 29 people indicted in an alleged kickback scheme out of Holmes County that allegedly stole more than $373,000 from the U.S. Department of Agriculture.
The department's then-Farm Service Agency County Executive Director, Duane Edward Crawson, organized a group to submit fraudulent drought assistance claims, according Friday to Northern District of Florida U.S. Attorney's Office (NDFL) officials. Crawson managed the Livestock Forage Disaster Program, which allows producers with eligible livestock impacted by a drought to receive relief funds.
"This massive criminal scheme shocks the sensibilities of any citizen, because it involved 29 key people conspiring together to betray the public trust, to stain the privilege of public service and to personally profit at the expense of taxpayers," said U.S. Attorney Lawrence Keefe, who leads the office. "The brazen nature of this alleged network of corruption represents a flagrant abuse of power in position."
The 29 were indicted in Pensacola Thursday on charges of Conspiracy to Commit Wire Fraud and Theft of Government Funds. All were released on terms and conditions with their trial date scheduled for Jan. 6.
Crawson enlisted seven others, including former Holmes County Clerk of Court Kyle Hudson, to recruit others to submit fraudulent claims and return a cut to Crawson, according to Assistant U.S. Attorney Jason Coody.
The scheme allegedly ran from May to December of 2017 and would have continued had law enforcement not intervened after a federal employee reported the activity to the U.S. Department of Agriculture Inspector General's Office.
Each lower-level conspirator — friends, family and employees of the recruiters — allegedly gave 20% of the assistance dollars to Crawson while 60% were split among his confidants.
"These disaster assistance programs are built on honestly and fair dealing," Coody said. "Those who would seek to defraud the American taxpayer of these necessary funds for nothing more than graft or greed will be prosecuted to the fullest extent of the law."
Other alleged conspirators include an investigator for the state public defender, former corrections officers, brick masons and a poker dealer.
The NDFL's Public Trust Unit, launched in August, handles the ongoing investigation. NDFL investigators are working with the Agriculture IG and the IRS' criminal division.
Bay, Holmes and Washington counties, then under Crawson's supervision, were affected by drought in 2017.
Crawson was placed on administrative leave in early 2018, but the investigation was delayed following Hurricane Michael to give the subjects time to recover, many of whom were cooperating with the investigation.
Each defendant faces 20 years in prison and $250,000 for the conspiracy charges and 10 years and $250,000 for the theft charges.
One of the defendants is Dwayne Frazier White, a former Bonifay police officer who in 2018 was arrested for selling opiates from his patrol car.
Keefe, who was sworn in in January, has focused his office on corruption investigations, the impetus for creating the Public Trust Unit.
"This indictment should send an unmistakable message to anyone considering going down a parallel path of criminal activity. If you do not stop, then we will come for you as well, just as we have come for those who have already engaged in corrupt activity."