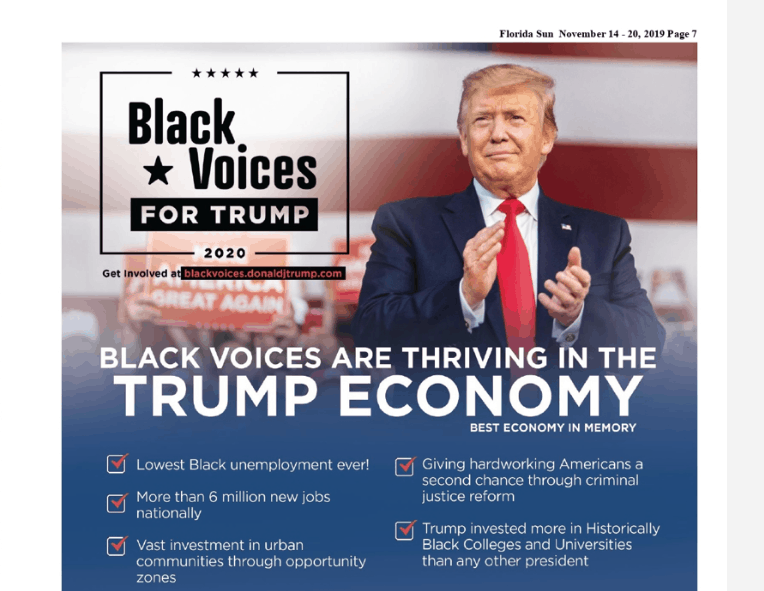 Ads appearing in Miami, Orlando and Fort Lauderdale
The reelection campaign for President Donald Trump is reaching out to Florida's black community with advertising in African-American community newspapers and on urban-format radio stations.
The campaign announced it has placed radio commercials in Miami and Orlando, among 11 markets in swing states nationally, and has placed full-page, full-color ads in 11 community newspapers predominantly serving the African-American community in swing states, including the Florida Sun in Orlando and The Westside Gazette in Fort Lauderdale.
The print and radio ads highlight Trump's record for the black community, focusing on economic advancement, criminal justice reform, and investments in historically black colleges and universities. Particularly, the ads tout Trump's claims for the lowest African-American unemployment rate ever, the creation of opportunity zones, and commitments to criminal justice reform and investments in HBCU schools.
The Donald J. Trump for President campaign invested six-figures combined on the advertising buy.
The print ad appeared in the Florida Sun, Westside Gazette, Atlanta Voice, Carolina Peacemaker, Charlotte Post, Cincinnati Herald, Houston Forward Times, Philadelphia Observer, Richmond Free Press, The Carolinian, and Michigan Chronicle.
The radio ad ran in 11 markets including Atlanta, Charlotte, Cleveland, Detroit, Greensboro, Houston, Miami, Orlando, Philadelphia, Raleigh, and Richmond. The campaign did not provide copies of or links to the radio ads.
The advertising is the first in the "Black Voices for Trump" campaign that Trump announced last week in a rally in Atlanta. The announcement was immediately met with a wave of skepticism, leading members of the campaign's Black Voices for Trump Coalition to push back, charging that mainstream media was underrating the President's efforts on behalf of African-Americans.