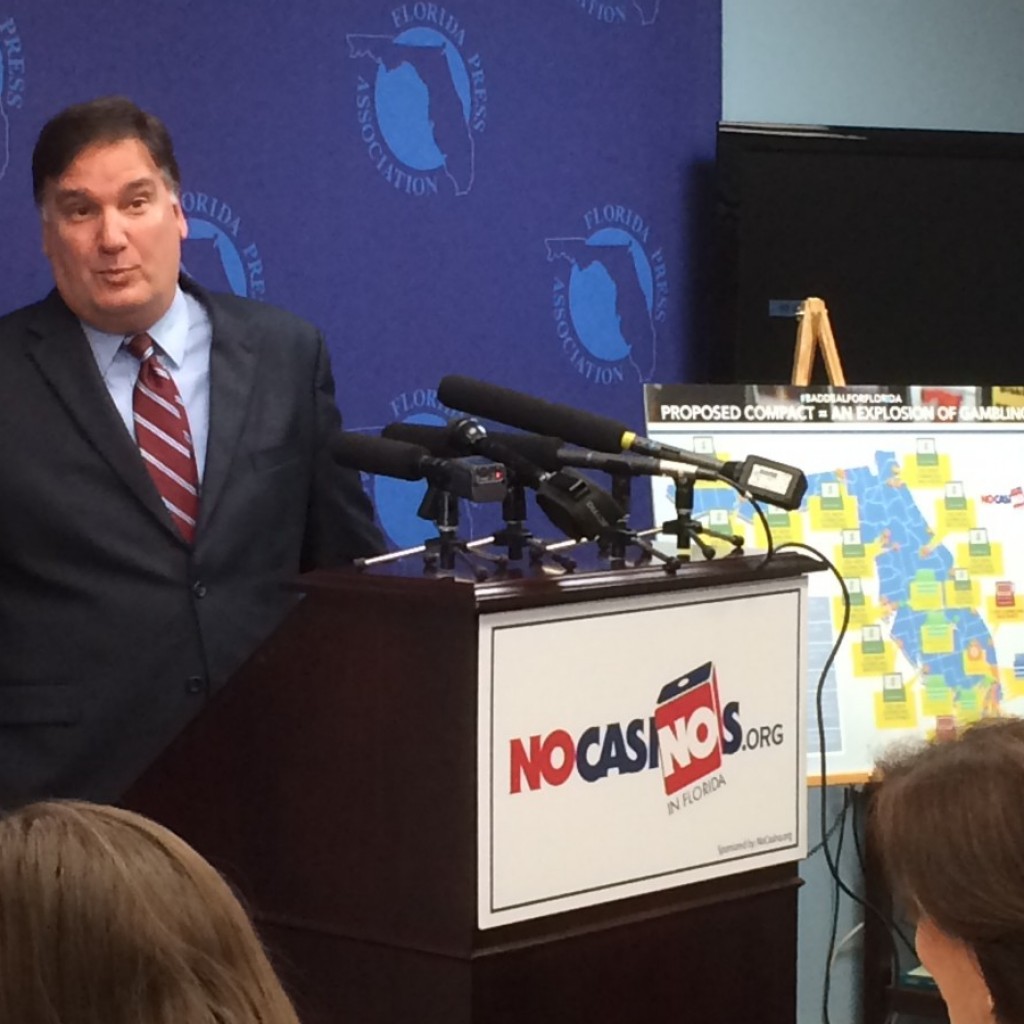 Voters overwhelmingly decided to take gambling expansion out of the hands of the legislature.
A key player in the debate over gambling in Florida claims a bill filed this week violates the state constitution.
At issue is a bill Sen. Jeff Brandes filed Monday that would legalize sports betting in Florida and place regulatory and oversight authority within the Department of Lottery.
John Sowinski chaired Voters in Charge, the committee behind the $45 million campaign to approve Amendment 3 last year that requires voter approval for casino gambling expansion in Florida.
Voters overwhelmingly approved the Amendment with 71 percent voting in favor.
That amendment, which is now Article X, Section 30 of the Florida Constitution, "ensures that Florida voters shall have the exclusive right to decide whether to authorize casino gambling in the State of Florida." The new section of the state constitution defines casino gambling as anything that falls under Class III gaming under the Federal Indian Gaming Regulatory Act. Sports betting is one of the few gaming activities specifically enumerated in that act.
"Amendment three has one main thing. It says that if it's casino gambling, it requires approval by citizen constitutional amendment," Sowinski said. "The Legislature is not even allowed to propose it or put it on the ballot."
"It really could not be more crystal clear," he added.
Sowinski is basing his claim, which he tweeted Monday, on a legal opinion the committee sought independently about, among other questions, how Amendment 3 would affect sports betting.
"Sorry — the bill is unconstitutional.  When it comes to casino gambling — and yes, sports betting falls under that definition— the voters are in charge," Sowinski wrote, referencing his committee's name.
The opinion, released this April by Paul Hawkes, a former member of the First District Court of Appeals, makes an interesting point on voter intent.
"In 2018, a multi-million dollar campaign effort by sports gambling and pari-mutuel interests opposing Amendment 3 provided considerable accurate context about how Amendment 3 would effect sports gambling and player-designated games," Hawkes wrote. "The intent of the voters was informed by numerous statements that create a record to which courts can turn to for an understanding of what voters understood the amendment to do."
Simply put, voters understood a "yes" vote for Amendment 3 would affect sports betting, meaning their intent was for sports betting to be included in mandatory voter approval for gambling expansion.
Brandes disagrees.
"Amendment 3 specifically relates to casino gambling," Brandes said.
Like Bingo, sports betting does not necessarily have to be exclusively included in a casino.
"This is not exclusively gambling that has to be done in casinos," Brandes said.
Nineteen states currently have sports betting laws on the books. Of those, four and Washington D.C. are regulated through a lottery department including in Delaware, Oregon, New Mexico and Pennsylvania.
Brandes also noted that his legislation is in its early days. As the bill moves through the committee process, supporters and critics will have opportunities to make their concerns known and to have possible amendments to its current language filed and adopted.
"We think it's an open question and one that the legislature should look to address," Brandes said. "I feel like we can show many examples of other states using the lottery for sports betting and it has nothing to do with casinos."
"We would expect a thorough analysis with the committee and through that analysis we'll address issues if they present themselves. But in my due diligence, we believe that the legislature has the purview to let the lottery provide legal sports betting."
Brandes said he filed the bill to "expand  personal freedom and independent liberty" too Floridians.
"We now know that there is a lot of illegal sports betting going on in Florida today," Brandes said. "So we should look to legitimize and provide a pathway for legal options to an activity where there is currently essentially no oversight."
But Sowinski has another concern.
"The real question for Sen. Brandes and others who take his position is, if [casino magnate] Sheldon Adelson wants to put a casino in downtown Ft. Lauderdale or Miami, does that mean all he has to do is get regulated by the Florida Lottery and it will be exempt," Sowinski asked.
Put another way, does Brandes' legislation create a loophole for actual casinos to locate in communities without having to go through the voter-mandates referendum process?
Brandes doesn't think so.
"If you're doing slot machines, craps, blackjack, games traditionally thought of as operating in casinos, I think there's a very strong argument that the constitution prohibits that activity," Brandes said.