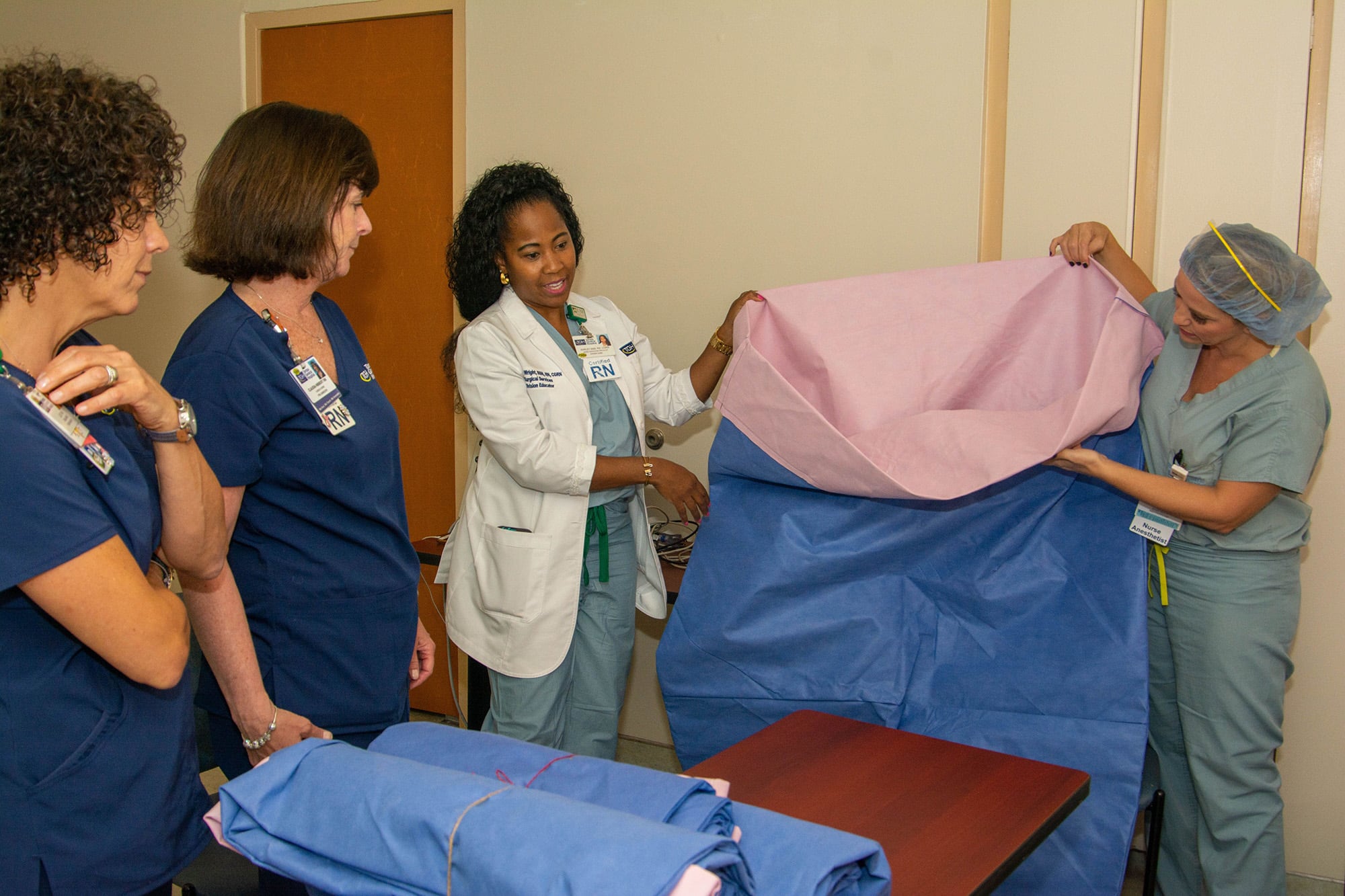 Within one month, TGH nurses had created 100 sleeping bags.
Sterile surgical mats are used to protect operating room instruments. At most hospitals, after one use, these materials are tossed in the trash.
But nurses at Tampa General Hospital were determined to find a second purpose for the mats, and in a way that helps their community. Thanks to a little ingenuity, they did just that.
Those mats are now being made into sleeping bags that can help homeless people across the Tampa Bay region keep warm during the winter months.
Nicole Hubbard, Chief Nurse Anesthetist at TGH, is the brain behind the operation. Hubbard sent an email to her colleagues and recruited volunteers to help create a sleeping bag pattern and sew the surgical mats together.
"Every single tray of surgical instruments comes to the operating room in these sterilized wrappers, and if we're just throwing them away, why not put it to a better cause?" Hubbard said.
The surgical mats are made of a material that retains heat and is waterproof, helping to provide protection from the elements and offering a safe space for people to place possessions.
"This is truly where one man's trash becomes another man's treasure," said Karley Wright, a registered nurse of educational services at TGH who teamed up with Hubbard on the project.
Word spread fast, reaching many different departments of the hospital. A network of both TGH staff and volunteers was quickly established.
Within one month, TGH had created 100 sleeping bags.
"The team at Tampa General Hospital goes the extra mile," said state Rep. Jamie Grant, a Tampa Republican. "They're constantly finding innovative ways to serve our community — whether it's as complex as adopting new technologies to increase efficiency in hospital care or as simple as recycling materials to keep the homeless warm — Tampa General truly does put the people they serve above all else."
Local organizations have already reached out to TGH to help disburse the sleeping bags at shelters and, as the project is continuing, to recruit new volunteers.
Earlier this month, a coalition of patients and families who found healing at TGH were in Tallahassee for the first "We Are TGH" Day.
The 60-person coalition met with lawmakers to share stories just like this one about the personal level of care and healing they had received at TGH.
Tampa General Hospital is "One of the Nation's Best" according to U.S. News and World Report. The 1,007-bed hospital is located in the heart of Tampa Bay on Davis Island.