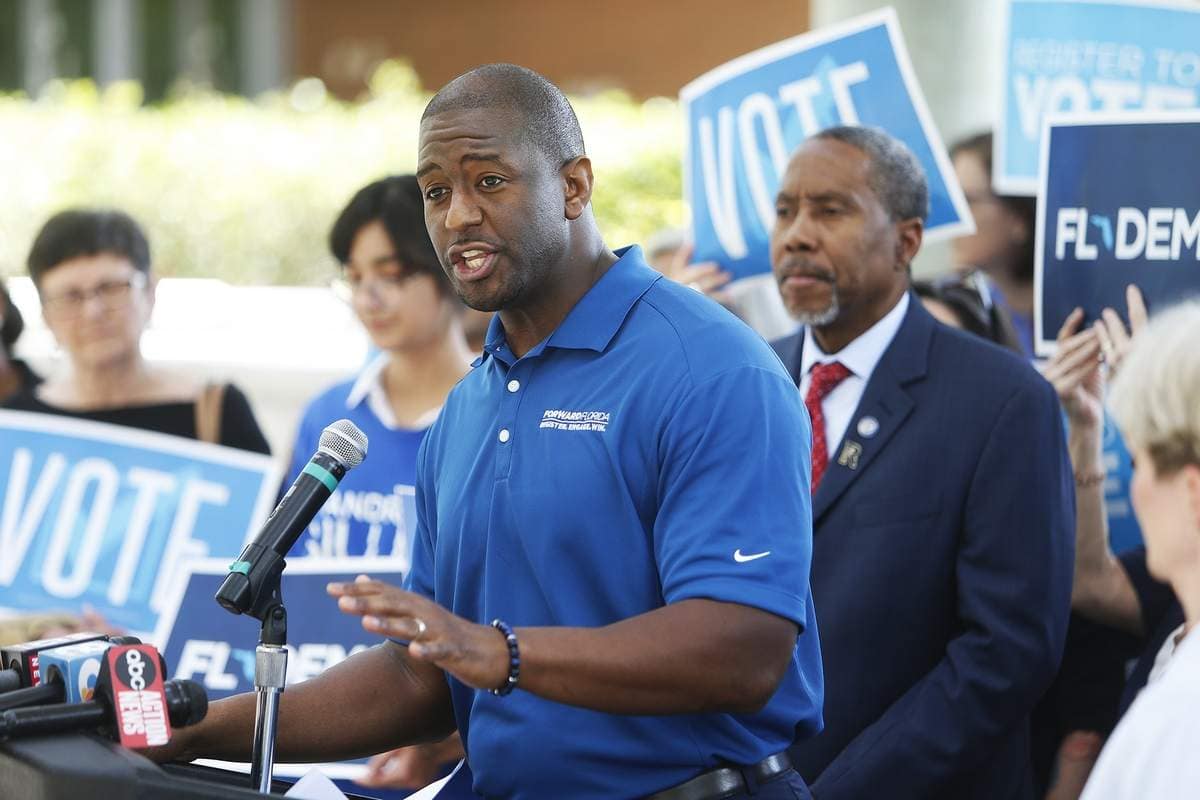 Update comes after report noting Democrats lagging behind GOP in new registrations.
A political organization tied to former gubernatorial candidate Andrew Gillum says it has registered 106,000 new voters.
"This milestone is only one of many that we will cross as we work with all who want to move Florida forward to build historic infrastructure in this state," said Forward Florida Action spokesperson Joshua Karp. "The fact is that Donald Trump cannot win reelection without winning Florida, and we are proud to stand with Democrats across Florida to roll up our sleeves and do the hard work of democracy by engaging and registering voters."
The update comes the same day Florida Politics published an investigation on minimal improvements in Democratic registration, despite Gillum's plan to register 1 million new voters before the presidential election. The report noted Florida Democrats from September 2018 through September this year netted 10,731 new registrations, while Republicans netted 23,084 in the same time.
Officials with Forward Florida Action said the reported numbers did not take into account that the state of Florida purged 371,043 inactive registrations in 2019. The organization believes that emptying of voter rolls has disproportionately impacted Democratic registrations.
That seems especially important since the organization now is promising to "register and reengage 1 million voters."
In March, Gillum said he was committing himself to "helping register and engage 1 million new voters between now and the 2020 presidential election — to turn Florida blue, elect Democrats in Florida, and defeat Donald Trump."
Gillum chairs the Forward Florida political committee, which earlier this year donated $500,000 to Forward Florida Action, a nonprofit organization where Gillum is an officer.
While the nonprofit organization does not need to file regular financial reports, officials say the group invested more than $1 million in "grassroots voter registration."
"These resources are deployed in partnership with groups across Florida to empower grassroots activists to register and reengage voters in their communities," reads a press release from Forward Florida Action.
The group said it registered 106,000 voters from April through October, a milestone the organization internally sought to pass by the end of 2018.

In September and October, Forward Florida Action and allied groups including the Florida Democratic Party, New Florida Majority, and Organize Florida doubled the number of new registrations collected from April through August, the organization claims.
Efforts will ramp up between now and the presidential election, officials said.
Forward Florida Action officials also say they have received over 50 grant applications, many from first-time activists and communities of color. The organization plans to issue $1,000 and $5,000 grants to empower local groups to reengage and register voters.
Officials took issue with another item in the Florida Politics report and stressed Gillum doesn't have any official role with Bring It Home Florida, a nonprofit organization announced the same day Gillum promised to get 1 million new voters registered.
The organization, named for the former Democratic candidate's slogan during the 2018 gubernatorial campaign, is run by former Gillum supporters, but Gillum does not hold any official capacity or control the group's activities. The Forward Florida political committee has not directed any of its donations to Bring It Home Florida.