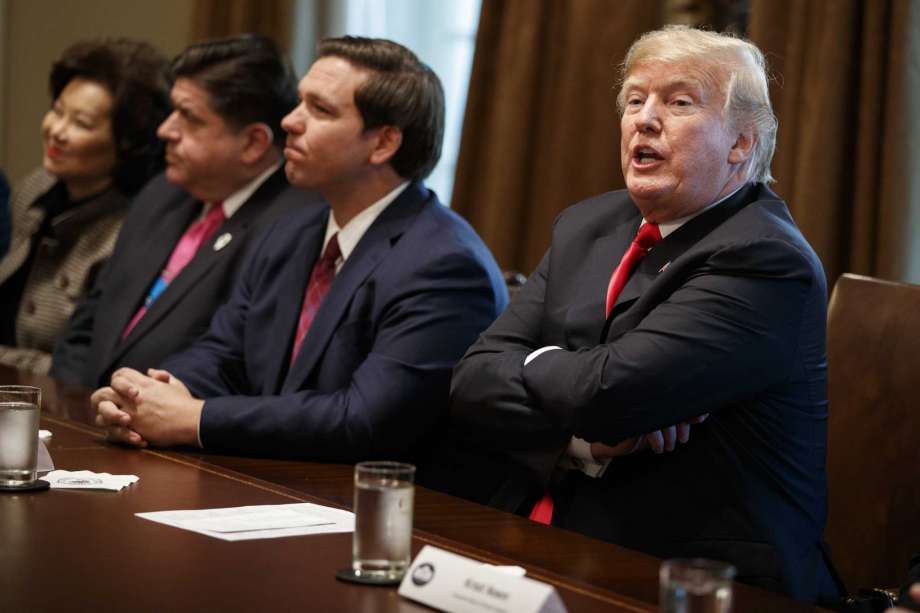 Not an impeachment call, per the Gov's office.
In the House of Representatives, bombshell allegations and cross-examinations dominated the news cycle, as Impeachment of Pres. Donald Trump continued to move forward.
However, at the White House, the President was concerned with other business for at least part of the day Thursday.
Gov. Ron DeSantis' updated schedule, released Thursday afternoon, showed a 3:30 p.m. call with the President.
DeSantis and Trump are political allies bordering on the symbiotic, yet the call had nothing to do with the Impeachment drama boiling over inside the Beltway.
Rather, said DeSantis comms director Helen Aguirre Ferré, the call was about a Florida-specific issue.

"Governor DeSantis spoke with President Trump about the Canadian drug importation plan to which the Governor is committed," Ferré asserted.
She tweeted out essentially the same thing.
Updating today's schedule: @GovRonDeSantis spoke with @realDonaldTrump this afternoon to discuss the Canadian drug importation plan to which the Governor is committed.

— Helen Aguirre Ferré (@helenaguirrefer) November 21, 2019
The import drug plan was signed into law by DeSantis earlier this year, but federal cooperation and rule making has been a slower process than contemplated last Legislative Session.
In August, DeSantis' administration sent a concept paper to the federal Department of Health and Human Services, outlining program parameters.
Back then, the tone was optimistic.
The Governor lauded the President for "commitment to this effort and his clear direction to the U.S. Department of Health and Human Services to expedite a pathway for the safe importation of prescription drugs."
Indeed, the media release was careful to praise and co-brand with the White House for facilitating Florida's move forward, vowing to "continue working earnestly with HHS through their proposed rule-making to deliver on President Trump and Gov. DeSantis' promise of making safe, high quality, low-cost prescription medicines available for individuals and families in Florida."
However, federal progress thus far has been slow, with the timing of federal approval deemed to be a "big unknown" by Mary Mayhew, secretary of the state Agency for Health Care Administration.
The process could take up to two years, Mayhew told the Senate Health Policy Committee.
As federal rule making stalls, DeSantis' proposed budget is moving forward with the program, with a $20.4 million allocation.
The program establishes an intergovernmental structure: administered by the Agency for Health Care Administration, pills from Health Canada would be brought in via the program, which will be administrated by a vendor.
A second prong of the program would allow imports from other countries deemed to be safe by the Food and Drug Administration.
However, federal rule making is a prerequisite to state implementation, which meant that an urgent policy call was a necessary schedule add on what was otherwise already a momentous day.