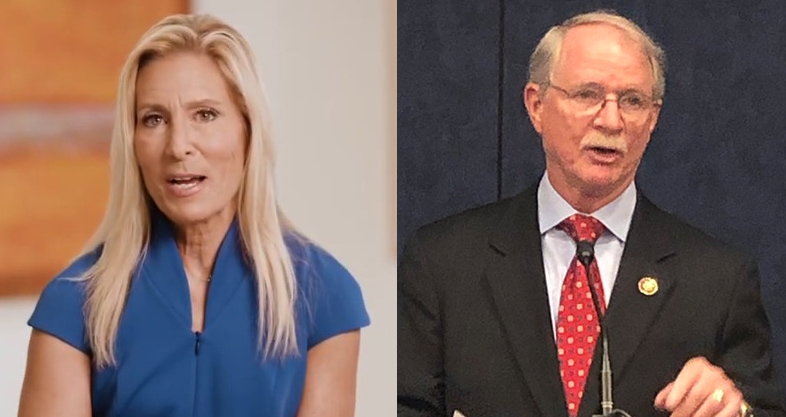 No debates or town halls are planned.
U.S. Rep. John Rutherford, seeking his third term in Congress from Northeast Florida, finally has a credible general election challenger waiting.
Earlier this month, longtime Jacksonville broadcaster Donna Deegan launched her run for Congress in the Republican-plurality 4th Congressional District.
Rutherford has faced Democrats before, but these have been tomato can candidates, with little in the way of fundraising, name identification, media savvy, or connections.
Deegan, who raised $85,000 in her first 24 hours and launched with a Kevin Cate hype video, is not that kind of candidate.
However, judging from the Congressman's comments to media in St. Augustine on Friday, he doesn't seem especially concerned by Deegan's bid.
"I tell you, we look forward to talking about a lot of the good things we've done for Northeast Florida. Our veterans being one. But also the great assistance we've given to the port in Jacksonville and the port in … Fernandina," the Congressman said.
"I think we've got a really great record to run on," Rutherford added. "More importantly, some of the things we've been able to do for our constituents back home."
"I meet with constituents day in and day out," the Rutherford noted. "That's the best part of the job."
However, those meetings will not extend to town halls, such as the ones Rutherford hasn't done and Deegan vows to do.
"I don't do town halls because they're so dysfunctional," Rutherford said.
When asked if he would debate Deegan, a courtesy he did not extend previous general election opponents, the Congressman said, "I'm not going to get into that."
He also wouldn't discuss whether or not his campaign against Deegan would go negative.
Were that the strategy, Rutherford has resources.
In the third quarter of 2019, Rutherford reported just over $70,000 raised, giving him $228,900 raised for the election cycle, and $443,376 on hand.
The vast majority of the funds raised in the quarter came from corporate political action committees, or PACs.
Rutherford, a former three-term Jacksonville Sheriff, faced his toughest challenge in a battle royale style 2016 GOP primary to replace outgoing Rep. Ander Crenshaw.
Since then, he has been protected by a combination of strong name identification, a deep red district, and underwhelming challengers, as well as a strong Republican plurality. He typically garners roughly 70 percent of the vote.
But he has never faced a challenger like Donna Deegan.
Both Rutherford and Deegan have nominal primary opposition, but barring unforeseeable incapacity or an act of God, they will face each other on the November ballot.