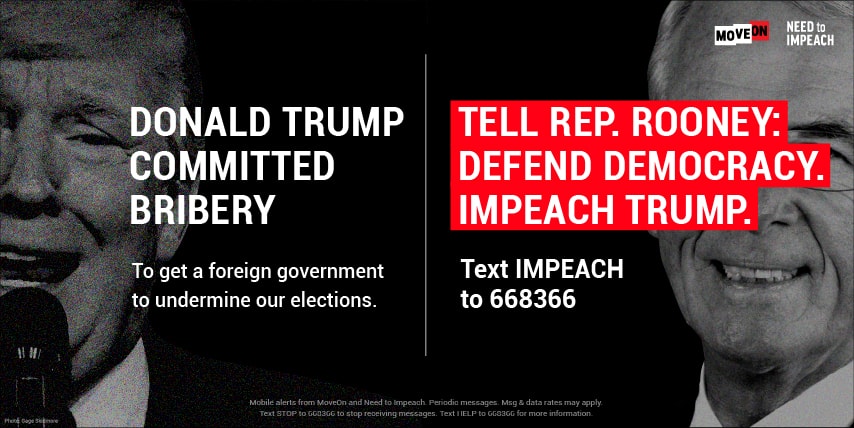 They want him to do his job and impeach Trump.
Two groups are placing truck billboards in six states targeting eight Republican members of Congress as they head home from Thanksgiving this week.
MoveOn and Need to Impeach are using the billboards to ask voters to send a message to the group to do their job and hold President Donald Trump accountable for what they describe as the Ukrainian bribery scandal.
The billboards will go up at three Florida locations targeting Rep. Francis Rooney in his southwest Florida district.
The Rooney billboard shows an unflattering black and white image of Trump on the left with the words "Donald Trump committed bribery to get a foreign government to undermine our elections" written over it. On the right the billboard shows Rooney also in black and white with a red text block obscuring part of his face instructing voters to "tell Rep. Rooney: Defend democracy. Impeach Trump."
The billboard asks voters to text "IMPEACH" to 668366. When doing so, respondents will immediately get a reply from the group asking to confirm the submission in order to be connected with Rooney's office.
The billboard was on display Monday at The News-Press offices in Fort Myers from 9 a.m. until noon and will be on display at the Lee County Republican Party offices from 12:30 to 3 p.m. and Rooney's Cape Coral district office from 3:30 until 5 p.m.
So far no Republican in the U.S. House of Representatives has come out in favor of impeachment.
The activist groups are also targeting Arizona Rep. David Schweikert, New York Rep. Elise Stefanik, Pennsylvania Reps. Brian Fitzpatrick and Scott Perry, Texas Reps. Will Hurd and Chip Roy and Nevada Rep. Mark Amodei.
MoveOn and Need to Impeach chose candidates who were either retiring from Congress, had broken with the President on issues before or whose districts represent less conservative constituencies.
The billboards also coincide with the launch of an ad campaign targeting Stefanik in her home district. Stefanik has emerged as a party leader as it relates to impeachment proceedings, delivering what analysts have described as some of the GOP's most effective questions during public witness interviews.