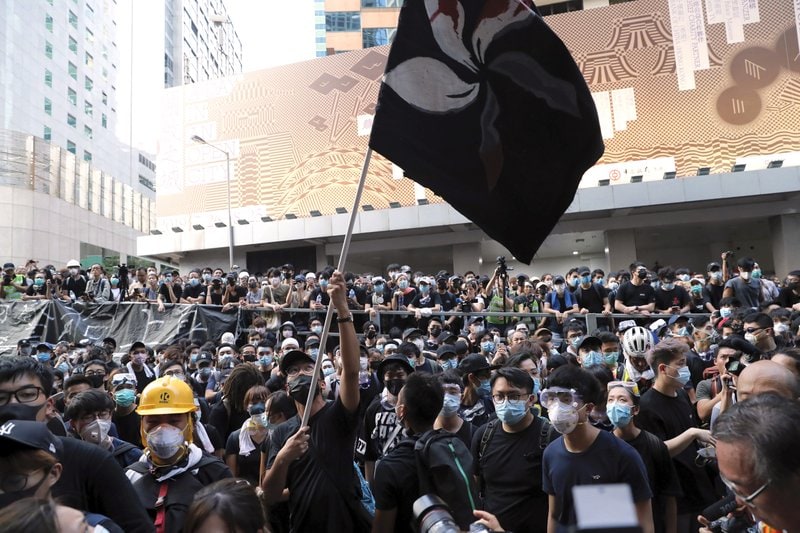 The State Department to assess civil liberties and autonomy in the Chinese territory each year.
U.S. Sen. Marco Rubio joined a bipartisan group of federal lawmakers praising President Donald Trump for signing a bill in response to anti-extradition protests in Hong Kong.
The Hong Kong Human Rights and Democracy Act (SB 1838) requires the State Department to assess civil liberties and autonomy in the Chinese territory each year. It also requires the president to develop a strategy to protect U.S. citizens and businesses in the city if he or she deems U.S. citizens are at risk.
"Earlier this month, in an overwhelming display of bipartisan unity, Congress passed our Hong Kong Human Rights and Democracy Act, and I applaud President Trump for signing this critical legislation into law," Rubio said in a statement. "The U.S. now has new and meaningful tools to deter further influence and interference from Beijing into Hong Kong's internal affairs."
U.S. Sens. Jim Risch, an Indiana Republican; Bob Menendez, a New Jersey Democrat; and Ben Cardin, a Maryland Democrat; joined Rubio in praising the president. All four serve on the U.S. Senate Foreign Relations Committee — Risch as the Chairman and Menendez as the ranking Democrat.
The Florida Republican introduced the legislation in June, three days after an estimated 1 million people in Hong Kong marched against a proposed extradition bill.
Both the Senate and the House passed SB 1838 last week, the Senate unanimously and the House 417-1.
On Tuesday, the Chinese Foreign Minister, Wang Yi, warned against foreign intervention in Hong Kong. On Sunday, pro-democracy candidates in Hong Kong won nearly 90% of council seats, a blow to the territory's Chinese-backed administration.
"Following last weekend's historic elections in Hong Kong that included record turnout, this new law could not be more timely in showing strong U.S. support for Hong Kongers' long-cherished freedoms," Rubio said. "I look forward to continuing to work with the administration to implement this law."
The new law also prevents the State Department from denying work or student visas for Hong Kong residents solely for politically motivated punishment against the applicant from the city's administration.
"The Hong Kong Human Rights and Democracy Act is an important step forward in holding the Chinese Communist Party accountable for its erosion of Hong Kong's autonomy and its repression of fundamental human rights," Risch said.
At least two protesters have been killed and more than 2,600 have been injured in Hong Kong. More than 4,400 people have been arrested.
"With the world standing witness to history as the people of Hong Kong risk it all in pursuit of their legitimate aspirations for autonomy and against the erosion of democracy, I am incredibly proud to support the people of Hong Kong with the tools in this powerful new law," Menendez said.