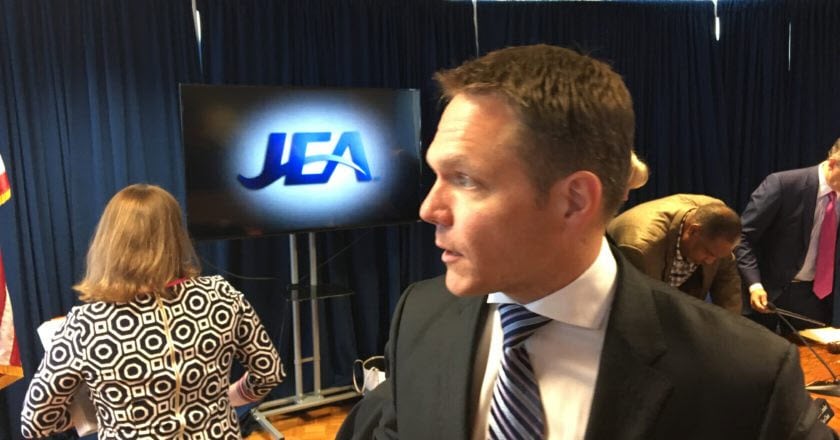 Turmoil and bad news cycles for Jacksonville utility.
The drama regarding Jacksonville's JEA as it explores a potential sale continues to swirl.
The latest plot point from the Florida Times-Union Wednesday: City attorneys did not approve a controversial bonus plan that would have allowed employees to profit from a sale of the utility.
A memo from Jacksonville General Counsel Jason Gabriel did not show that city lawyers greenlighted the plan when approved this summer, and that the plan was "shuttered last month on his advice."
JEA officials, per the T-U dispatch, asserted that the plan and its specifics were approved, ahead of the JEA Board approving it.
These are the latest in a series of revelations that show how volatile the process of exploring the so-called "recapitalization of the asset" has become in the third year of such contemplation.
The privatization debate was launched two years ago, as Mayor Lenny Curry supporter Tom Petway, upon leaving the board, suggested exploration of that move.
Since then, the once-sleepy JEA has generated enough electricity to drive 24 months of news cycles.
Many are pinning the blame on JEA's wunderkind CEO Aaron Zahn, a 38-year-old new to the world of public utilities but, with a $520,000 base salary, the highest-paid city employee.
On Friday evening, Matt Carlucci issued a statement calling for the resignation of JEA CEO Aaron Zahn.
Zahn, whose "passion" for the job proved to be a decisive factor in his hire a year ago, "needs to find a place for his skill sets," writes Carlucci.
Talks of privatization have "long lost credibility," Carlucci added.
The CEO is underwater in public polling: a UNF survey has him at 47% disapproval against just 33% approval.
Zahn emerged from the JEA Board, where he served as a junior member for a couple of meetings before entering the CEO derby, which he won in part because of what one board member described as his "passion."
With a number of quixotic votes in past months from the board, it was telling last week when Mayor Curry offered the most tepid of defenses.
"They need to get their process right … they're people, they're human beings, they're good public servants, private people who care about the future of Jacksonville," Curry said.
In one of his first moves shortly after being elected Mayor, Curry purged the board of members perceived to be loyal to the previous Mayor.
"We need to find out what the hell is going [on]," Curry wrote senior staffers in 2015, citing "serious governance and legal issues here."
In response, Chief Financial Officer Mike Weinstein wrote that "we try to build trust" but "their actions hurt that effort. They don't feel it like we do. We are the parent, they are subsidiary, but they don't take our goals seriously. If we need a referendum their actions hurt that effort. Their bonuses etc are harmful. The board members need to understand the bigger picture."
And the city's Chief Administrative Officer, Sam Mousa, was characteristically blunt in his reply: "For years I have anecdotally stated that most JEA board members eventually become puppets of the executive director and staff. I guess this has now been confirmed by an independent source.
"In addition, Lenny's action for a comprehensive review of all board and commission members and replacement thereof as necessary with competent, responsible and capable members was long overdue," Mousa said, almost certainly in reference to the controversial removals of certain board members.
"I too, am not very happy with all this clandestine activity at a time when we have been working very hard to earn the public's trust and confidence," Mousa added.
Former Chief of Staff Kerri Stewart, who was not a regular quote for people covering Jacksonville's City Hall at the time, helped to explain the purging of the board as finding people who aligned with Curry's agenda.
Stewart now works for JEA itself, and of late she has done radio interviews and the like to attempt to tell JEA's side of the story, a tough job as the negative news cycles have become almost commonplace for the utility,