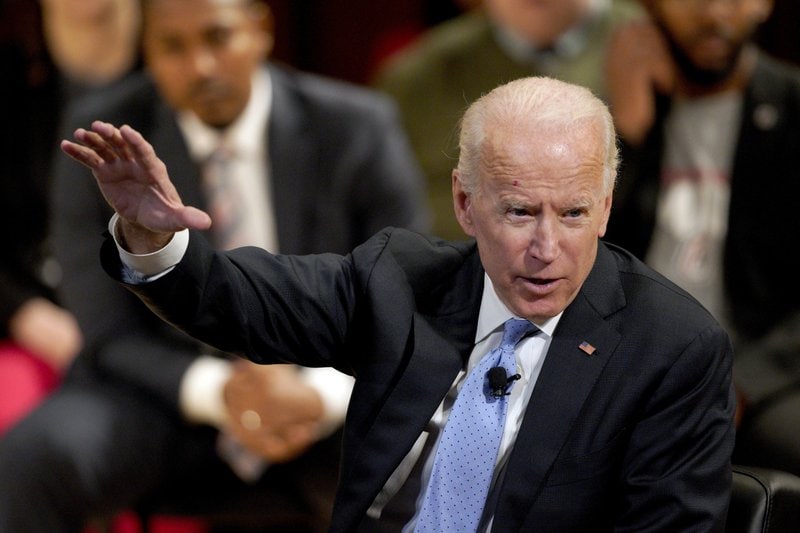 The new backers include elected officials, party leaders, and various candidates from the island's two major political parties.
Joe Biden announced endorsements from 25 Puerto Rican politicians across the territory's two major parties on Thursday in the Democratic race for president.
The former Vice President's new backers include former Gov. Alejandro García Padilla, former Sen. Zoé Laboy Alvarado, Senate Majority Leader Carmelo Ríos Santiago, and House Minority Leader Rafael "Tatito" Hernández Montañez. The four will also co-chair his Puerto Rico campaign.
"We are honored to have the support and leadership of these public servants, and are excited to announce the co-chairs of the campaign's Puerto Rico for Biden Leadership Committee to ensure that Puerto Ricans have a voice in this presidential election," said Greg Schultz, Biden's campaign manager.
Puerto Rico does not have electors in the Electoral College, but it wields 59, or 1.5%, of the 3,979 pledged delegates in the 2020 Democratic presidential primary. In August, Gov. Ricardo Rosselló moved up the territory's primary date to March 29 next year.
Biden was long considered the front-runner in the 2020 Democratic presidential primary, but recent polling challenges the former Vice President's claim to that title. Vermont Sen. Bernie Sanders, Massachusetts Sen. Elizabeth Warren and South Bend, Indiana, Mayor Pete Buttigieg round out the top four.
And former New York City Mayor Michael Bloomberg, a recent late entry into the race, has seen a rise in betting markets.
Florida politicians of Puerto Rican descent have already endorsed Biden, including state Rep. Amy Mercado, state Sen. Vic Torres, and former state Rep. Robert Ascensio.
In September 2017, Hurricane Maria struck the Caribbean island, killing at least 2,975. But some believe the storm may have caused more.
"After catastrophic hurricanes devastated the island's communities and infrastructure, [President Donald] Trump has done nothing for Puerto Rico except mock them and throw paper towels into the crowd," Schultz said. "Today's slate of endorsements is emblematic of the island's need to have both a friend and ally in the White House — and the people of Puerto Rico know that Joe Biden will be that president."
The Vice President's campaign released a video in September criticizing Trump's handling of the hurricane.
Biden's new endorsers come from both of Puerto Rico's major parties — the current majority party whose members are split between Republicans and Democrats nationally, the New Progressive Party, and the minority Popular Democratic Party, which has recently been called centrist by its leaders. The Biden campaign says the bipartisan endorsements show his unifying power for America.
Of Biden's new backers, other elected officials are Rep. Carlos A. Bianchi Angleró, Rep. José Aníbal Díaz Collazo, Rep. Luis "Narmito" Ortiz Lugo, Rep. José "Conny" Varela Fernández, Rep. Javier Aponte Dalmau, Rep. José "Che" Pérez Cordero, Rep. Angel Matos García, Rep. Armando Franco, Mayor María "Mayita" Meléndez Altieri, Mayor José Román Abreu, Mayor Nelson Torres Yordán, Former Ambassador Gabriel Guerra-Mondragón, Former Sen. Roberto Prats Palerm and Former President of Federation of Puerto Rico College Democrats of America José Julían Roldán Villanueva.
Others who endorsed the former Vice President are candidates Roberto Zayas, Bernardo Álvarez Rios, Deborah Soto, Migdalia González, Roldán Concepción and Joel Sánchez Ayala.