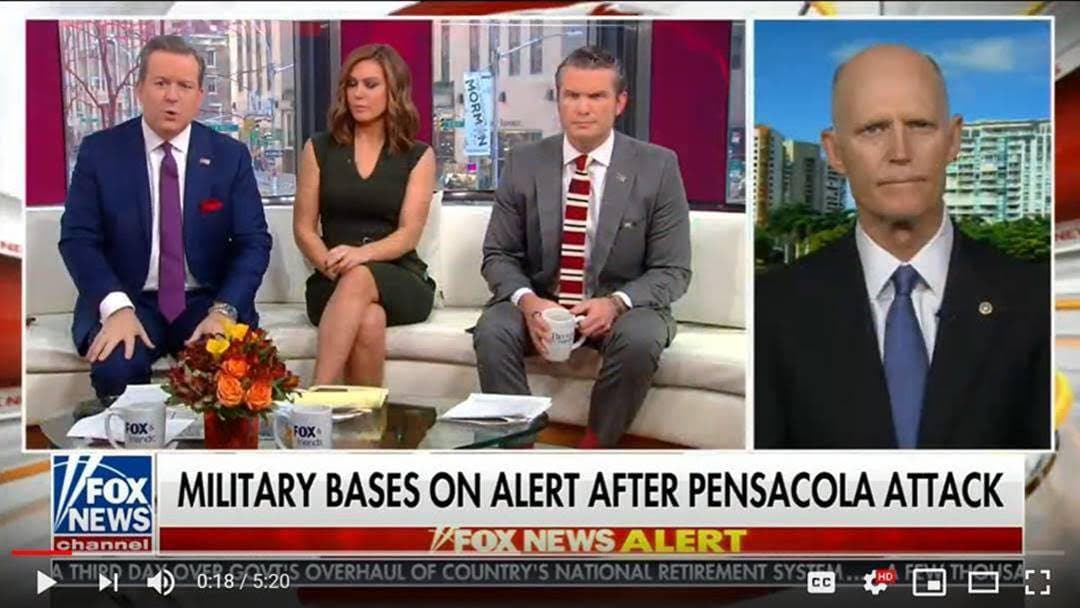 The former Governor pleaded his cases on Fox & Friends Sunday morning.
Sen. Rick Scott called for a halt of U.S. military programs to train foreign nationals on U.S. soil.
Appearing on Fox & Friends Sunday morning, the former Governor pleaded his cases for stronger security and vetting procedures and the program's suspension following the shooting by a Saudi Arabian aviation student Friday that left four dead, including the shooter, and injured eight others at a U.S. Navy base in Pensacola.
"We have got to make sure that American sailors, American soldiers are safe. We have to have a full review of what happened here. I'm glad Secretary Esper is doing that," Scott said.
"We cannot be taking risks for our sailors. I was in the navy, and I can't imagine going to a base and saying to myself, 'You know, I wonder if I'm safe here.'"
Saudi Arabia is a critical U.S. ally against Iran, but tensions have dogged the relationship in recent years. Last year, a Washington Post journalist, Jamal Khashoggi, was killed at the Saudi consulate in Istanbul.
"If the Saudi government is our ally and our partner, they will make sure that there is full cooperation," Scott said. "Not one airman needs to leave this country until they complete the investigation, and they've got to be supportive for everybody that's done anything wrong."
But just months ago, the U.S. sent military aid to the Kingdom to fight Iranian-backed forces in Yemen.
Rep. Matt Gaetz, whose district includes the Pensacola base, paralleled Scott, saying the shooting "has to inform our ongoing relationship with Saudi Arabia."
The U.S. has long had a robust training program for Saudis, providing assistance in the U.S. and in the kingdom. Currently, more than 850 Saudis are in the United States for various training activities. They are among more than 5,000 foreign students from 153 countries in the U.S. going through military training.
The FBI identified the Naval Air Station Pensacola shooter as Mohammed Alshamrani, 21. Investigators said he was a 2nd Lt. in the Royal Saudi Air Force and a student naval flight officer of Naval Aviation Schools Command.
President Donald Trump spoke with Saudi King Salman after the shooting.
"They are devastated in Saudi Arabia," Trump told reporters Saturday as he left the White House on a trip to Miami for a Florida GOP dinner. He said the king "will be involved in taking care of families and loved ones. He feels very strongly."
The FBI announced Sunday that it was working on the presumption that the shooting was an act of terrorism, a point echoed hours earlier by Trump's national security adviser, Robert O'Brien. The FBI was also interviewing acquaintances and following up on a visit by Alshamrani to New York City in the run-up to Friday.
But Scott stressed the need for further cooperation following the attack he called radical Islamic terrorism. He cited reports that the FBI has not been able to investigate every Saudi student on the base.
"The Saudi government has got to step up and say there will be full cooperation, they will make sure every student sits down with the FBI and gives all the information so we know exactly what happened here. It's disgusting what happened here," Scott said.
Sen. Lindsey Graham of South Carolina, a close ally of the President, has also called for a review of the training program.
"We need to suspend the Saudi program until we find out what happened here," he said, adding that he likes the idea of training foreign pilots and helping them understand how the U.S. system works.
"But there's something really bad here," Graham said. "We need to slow this program down and reevaluate."
The Associated Press contributed to this report, reprinted with permission.