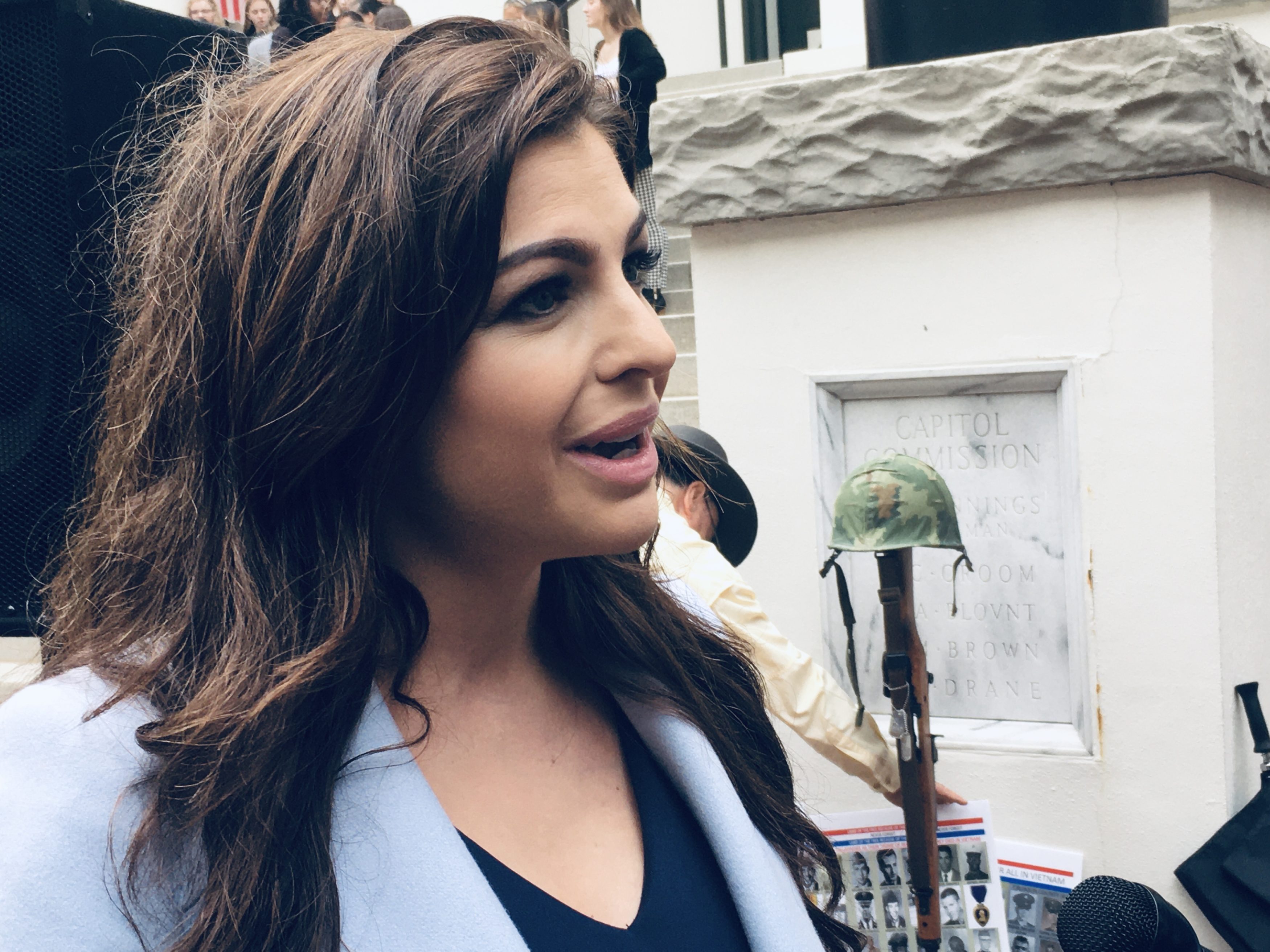 No public opinion on Pres. Trump's handling of the incident.
Florida's First Lady joined officials across the country Monday in a commemoration of America's fallen service members.
However, Casey DeSantis' remarks had a renewed currency in light of the most recent fallen.
Specifically, three victims of a Saudi terror attack last week at Naval Air Station Pensacola, where a foreign national being trained by the U.S. military turned his gun on them, killing three.
These were the first Saudi killings on U.S. soil since the terror attacks of Sept. 11, 2001, an event that saw 15 of 19 hijackers hail from Saudi Arabia. The U.S. response was to invade Afghanistan and Iraq, and the U.S. military is still engaged in each theater, with no end in sight.
When we asked Mrs. DeSantis if the attacks last week were terrorism, she said "that's what the indications are pointing toward."
Even with the passive voice construction, the First Lady is still distanced from the President.
President Donald Trump, whose enthusiastic backing of the current Governor is seen by many as responsible for his election, has stopped far short of calling the attacks terrorism. Media reports accuse him of "parroting" the Saudi line, and worse.
The First Lady would not speculate about the President's stance, however.
"You'd have to ask the White House," Mrs. DeSantis said.
She likewise was noncommittal on the question of whether more should be done to address the problem of foreign nationals getting access to weapons.
"Ask the federal government on that one for sure," the First Lady said.
Mrs. DeSantis spoke to media and the assembled about the emotional toll of the recent events.
"When you see the Air Force aircraft flying to Dover … the streets of NAS Pensacola lined with thousands of military personnel in their dress blues … it brings it home," DeSantis told media after her remarks.
The First Lady's prepared remarks addressed the "solemn honor of paying respects to three great men who died in service of this country," a timely and tragic tie-in to the commemoration of America's wartime dead over the centuries.
"Freedom is not free," DeSantis said.
In conjunction with Wreaths Across America, the First Lady spoke at the Florida Capitol Monday about those who gave their lives in American military conflicts over the decades.
Saturday will find the group at Tallahassee National Cemetery, where they will lay Remembrance wreaths on the graves of fallen veterans, saying each name aloud. Sponsors and volunteers for these efforts are needed and would be appreciated.
Thus far, 1,901 wreaths have been provided.