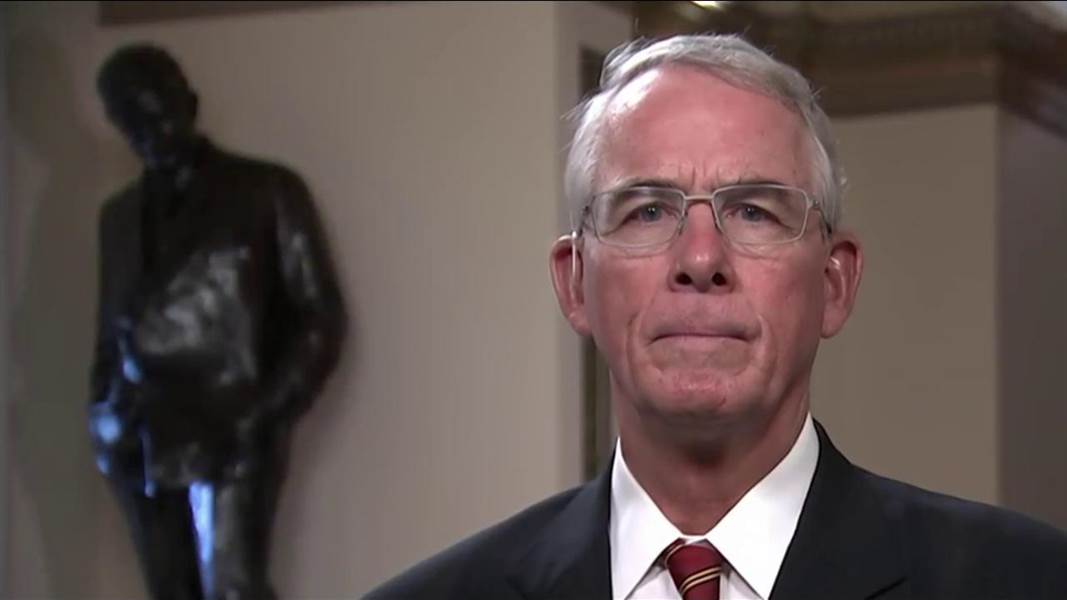 Only then can Congress make informed decision on impeachment, he said.
U.S. Rep. Francis Rooney on Monday demanded several members of President Trump's administration testify in impeachment hearings.
Specifically, Rooney said Congress must hear from Trump attorney Rudy Giuliani, former National Security Advisor John Bolton, Secretary of State Mike Pompeo, White House Chief of Staff Mick Mulvaney and former Energy Secretary Rick Perry.
"There are several important sources of first-hand testimony about what was or was not said by the president that should be heard under oath," he said.
Notably, that's a list of White House witnesses the pro-impeachment GOP group Republicans for the Rule of Law say should testify. That organization last week began ads targeting Rooney's district suggesting as much.
Rooney noted the White House has fought subpoenas for former White House Counsel Don McGahn. A federal judge last month ruled McGahn had to talk to the House but the Department of Justice has appealed that decision.
"We will soon know the outcome of the challenge to former White House Counsel Don McGahn's claim of executive privilege," Rooney said.
"The result of this case plus existing precedents suggest that a compelling basis exists to compel all these individuals to testify. First-hand accounts like these would affirm that the impeachment process is seeking substantive outcomes based on real facts and accurate information, rather than reflecting a more political objective."
The Naples Republican remains one of few GOP House members to say he wants to learn more from an investigation into White House interactions with Ukraine. That has drawn criticism from supporters of Trump.
"Surprisingly, I have been criticized by many ardent supporters of the President for saying that I can't say whether I am for or against his impeachment until I see all the facts and evidence," Rooney said Monday. "I still feel strongly that we need to develop all possible evidence that could bear on such an important decision. How can such an important decision be made otherwise?"
Rooney voiced disapproval with Giuliani for communications with Ukrainian officials about a potential investigation of Hunter Biden, son of Democratic presidential candidate Joe Biden. And he said he did not believe Trump's interactions with Ukrainian President Volodymyr Zelensky were "proper." A conversation where Trump asked Zelensky to do the U.S. a favor and look into the Biden investigation remains at the center of impeachment proceedings.
"Regardless of my or anyone's opinion about the President's treatment of the Ukrainians, Rudy Giuliani or anyone else, impeachment is such a grave matter that it demands that a strong and clear case be made," Rooney said. "Personally, I do not believe that the President's behavior related to Ukraine was proper and feel that he should not undermine the work of our Ambassadors and foreign service officers who spend their careers protecting United States' interests around the world, often at great hardship, but the issue is whether this is criminal and impeachable or not."
Notably, Rooney's statement didn't endorse impeachment, and suggested the process needs to slow down so House members can hear all available testimony.
"How can we move forward on such an impactful process as impeachment without [the White House witnesses], and without any other collateral evidence these witnesses might lead us to, in order show the American people the fairness and thoroughness that this measure merits?" Rooney said. "Like the legal canon of avoiding 'even the appearance of impropriety,' I urge that the leaders of the impeachment process go the extra mile to exemplify impartiality, fairness and objectivity in their deliberations."
Notably, Rooney joined all House Republicans in voting against launching an impeachment inquiry. He maintains that the House should not vote to impeach the President when so many key witnesses have yet to provide testimoeny.
"This consideration of broadening the inquiry is a different one from whether the facts known at this time justify impeachment. Impeachment is not like a routine criminal indictment that may or may not be based on all possible facts if the legal case has been made," Rooney said.
"It is a significant Constitutional procedure that fundamentally impacts our institutions and is inextricably linked to the confidence of the American people in their legislators and government. Accordingly, having enough evidence per se is not enough to move forward when much more probative testimony is available to assure that no stone is left unturned."