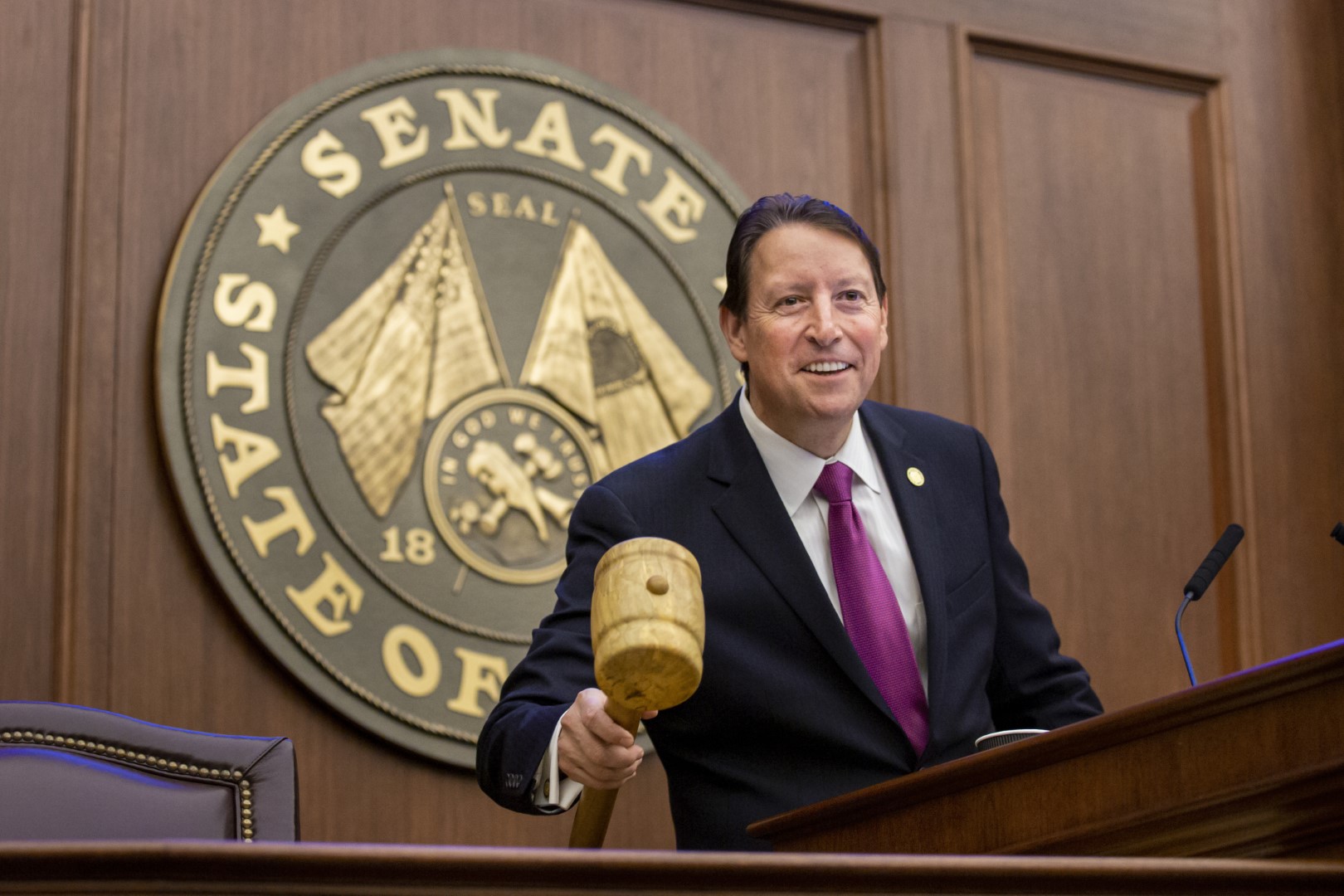 Sen. Bill Galvano enters his second and final Session as Senate President in 2020.
Sen. Bill Galvano enters his second and final Session as Senate President in 2020.
Last week, as Senate committees were wrapping ahead of the holidays, the Bradenton Republican talked to Florida Politics about issues ahead.
Among them: the proposed budget from Gov. Ron DeSantis.
Galvano notes "a modest surplus" but "not a robust budget year."
"We have to be very fiscally conservative in our approach," Galvano said, "and that includes all aspects of the budget."
"The good news is we're not starting out with what was ultimately a $1.8 billion hole to fill like we did last year for Hurricane Michael … but I think there will be some negotiations."
Galvano is a fan of proposed increases in K-12 spending, but with a significant caveat.
"Where I see negotiation having to occur is where those dollars are applied to the budget," Galvano said, especially regarding DeSantis' proposal to raise starting teacher pay to $47,500 across the board.
A new bill from Sen. Manny Diaz would potentially adjust that proposal, though details are still being ironed out of what can be seen as the Senate counter.
"The actual number, the proposal is $600 million. We have another estimate yet to come … I want to see where those dollars would shift from," Galvano said. "A lot is in play."
The realities of $47,500 adding up to different standards of living in different parts of the state is one factor in play.
"This is probably not a case where you can have one size fits all and make it work," Galvano concluded.
Another area ripe for reform: criminal justice and the state prison system.
Gov. Ron DeSantis spotlighted increased DOC spending when rolling out his budget proposal last month.
Among the high points: $60.6 million for retention incentives; $29.1M for a pilot program for 8.5-hour shifts; $2.2 million for sergeants to combat gang activity; $3 million for security enhancement equipment.
"I expect that we'll have some significant movement in that space," Galvano said, "but it's going to have to be well planned movement."
Galvano has met with Sens. Rob Bradley and Jeff Brandes, two leading reform advocates in his caucus, as well as Department of Corrections Sec. Mark Inch.
"What I don't want to see," the Senator added, "is just the routine requests for dollars to fix an air conditioning or patch something up without looking at the system as a whole."
A "realistic picture" is his preference, and Galvano is confident that Brandes' proposed reforms are in that ballpark.
"It's clear that we need reforms, to be more effective, more efficient, or we'll be in a situation where we're wrangling with the federal government at tremendous cost to the state of Florida," Galvano added.
Another likely field of contention in 2020: VISIT FLORIDA.
House Speaker Jose Oliva and House Appropriations Chairman Rep. Travis Cummings have both slammed the tourism promotion program in op-eds in recent weeks.
Galvano said the Senate will defend the program again this upcoming Session.
"The Governor does support and the Senate supports," Galvano said, adding that "VISIT FLORIDA is a lot more streamlined and efficient and was appropriated less dollars last year."
VISIT FLORIDA has been under threat in the Legislature in recent years. Last year, lawmakers on either side of the issue compromised to let the agency go on another year, but they slashed the public-private agency's yearly funding from $76 million to just $50 million.
The $50 million was the compromise number floated by the Senate, below the threshold sought by the executive branch.
"From my perspective, there are issues such as red tide, Zika, hurricanes that get mismessaged or overmessaged elsewhere that we need some sort of counterbalance to," Galvano said. "That's where we are."
"The challenge that VISIT FLORIDA has if it's living on a shoestring on an annual basis is that it's ultimate effectiveness is not going to be achieved … I want it to have the right purpose, a focused purpose … because we've debated that issue, some of the waste has been cut from that program," the Senate President added.
Last year, the Bradenton Republican got his big ask: a controversial toll roads project, the Multi-use Corridors of Regional Economic Significance (M Cores).
Criticism continues, with groups hammering the roads for being an unnecessary boondoggle.
Galvano expects critics to "definitely understand" why these roads needed to be built by the time they finally are in 2030.
"Do the math. If you're gaining 900 new residents a day, calculate what that is by 2030 and what that means for roads," Galvano said, adding that "supporters" of the proposal exist, but don't get the press opponents do.
"What's lost on [critics] is that these are forward-thinking corridors," Galvano added. "The transportation components are focused on innovation and how we operate, how we move people, electric or autonomous vehicles."
Water-sewer connectivity and fixed broadband access, Galvano added, completes the picture, an "infrastructure skeleton throughout the state that will allow access, help us to manage our natural resources, and relieve some density along our coastline."