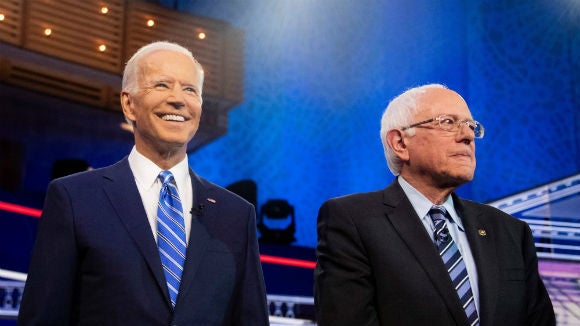 The poll finds little shift in opinions on impeachment.
A new poll shows former Vice President Joe Biden atop the field of Democratic presidential contenders. But he's in a statistical tie with Vermont Sen. Bernie Sanders.
The NPR/PBS NewsHour/Marist poll also shows hearings didn't move the needle either way on whether voters support impeaching President Donald Trump.
But there's certainly flow when it comes to whom Democrats want to run against the incumbent president.
Top Tier Forming
Biden leads the primary field with 24% of Democrats' support, followed by Sanders at 22%. Massachusetts Sen. Elizabeth Warren comes in at 17% and South Bend, Ind. Mayor Pete Buttigieg at 13%. No other candidates broke double digits.
Billionaire Andrew Yang tops the lower tier with 5% support, and former New York Mayor Mike Bloomberg, Minnesota Sen. Amy Klobuchar and New Jersey Sen. Cory Booker tie at 4%. The candidates that register with 1% include former Housing and Urban Development Secretary Julian Castro, Hawaii Rep. Tulsi Gabbard and Colorado Sen. Mike Bennett.
Meanwhile, former Massachusetts Gov. Deval Patrick, billionaire Tom Steyer, author Marianne Wiliamson and former Maryland Rep. John Delaney fail to register with even 1% of the vote.
The poll surveyed 704 Democrats and Democratic-leaning independents, and has a significant 5.4% margin of error.
"I think we're looking at the last surge," said Lee Miringoff, director of the Marist Institute for Public Opinion. But he said there's still fluid movement for voters. While Biden technically tops the poll, many voters still say they could change their minds before voting.
Biden performs well with white, college-educated women. But Buttigieg actually leads with all college-educated white voters, including women, and Warren comes in second there.
Sanders leads with voters of color, where he has 29% of the vote to Biden's 26%.
Sanders leads with voters who call themselves progressives, with Warren coming in second with that group.
Early dismissal?
As for impeachment, Marist polled 1,744 voters between Dec. 9 and 11, and found no movement whatsoever on opinions regarding impeachment.
"It's like the hearings have never happened," Miringoff said. "The arguments have only served to reinforce existing views and everyone is rooting for their side."
The poll shows 48 percent of voters remain opposed to impeaching Trump, while 47 percent support such action.
That's almost the exact result of a Marist poll taken last month.
As far as issues, pollsters found Democratic voters prioritizing health care, climate change, the economy and education. Republican voters, meanwhile, list the economy as far away their top concern. Immigration, health care and gun policy follow.
A majority of the electorate still shows trepidation over Medicare for All proposals. But background checks on guns and efforts to reduce prescription drug costs remain politically winning issues across the board. A pathway to citizenship, legalizing weed and the "Green New Deal" all boast greater than 60% support in the poll.