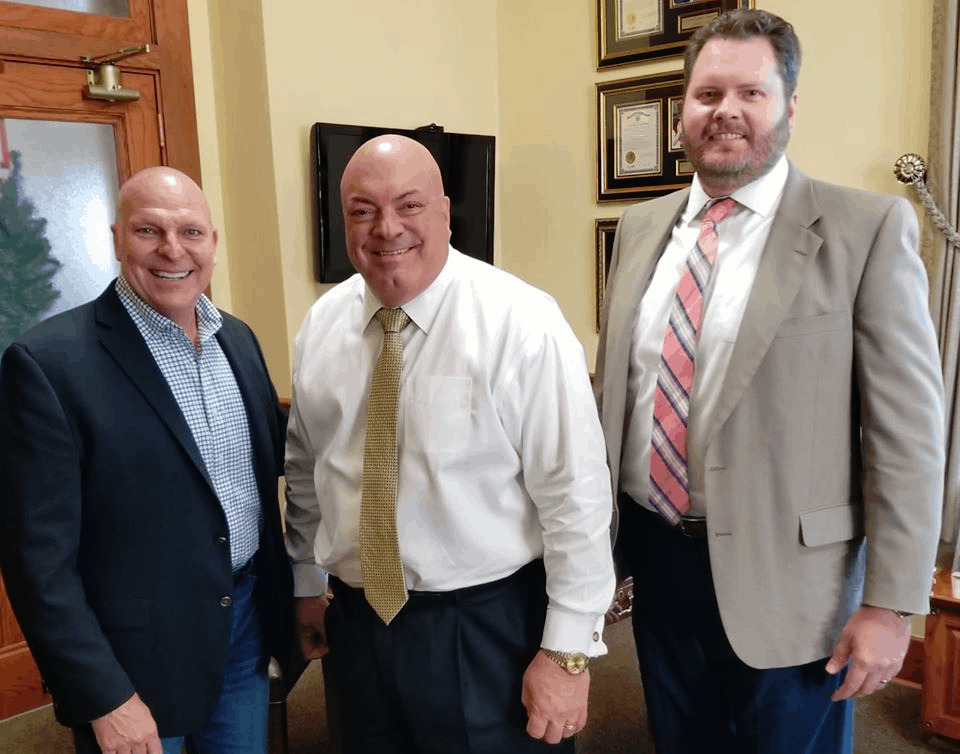 Meeting with former Sheriff has tongues wagging, but Pendergrass said he's not angling for the post.
A former sheriff, a party leader and a county commissioner walk into an office. What's the punch line? Weeks of rumors about whether a plan is in the works in case the current sheriff resigns or gets removed.
That's the series of events that played out this month after Lee County Commissioner Cecil Pendergrass posted a picture on Facebook of himself with former Sheriff Mike Scott and Lee County Republican Party chair Jonathan Martin.
The impromptu meeting took place as rumors swirled around an active criminal investigation into Lee Sheriff Carmine Marceno's academy credentials and other personal issues.
While it's unclear whether a Florida Department of Law Enforcement investigation results in any disciplinary action or pushes Marceno to leave office, the Pendergrass meeting has many wondering if the Commissioner already has a plan to fill the uniform.
"I don't know anything about that," Pendergrass told Florida Politics.
The County Commission said his meeting with Scott while the former sheriff was in town was about personal business. The pair just bumped into Martin.
And Martin backs that part up. His law office happens to be located near the Lee County Courthouse, he said, and he saw Pendergrass and Scott walking together.
Martin has a family connection to Scott through marriage, he said, so he sat to talk. "I hadn't seen him in a while so we talked about old things," Martin said. "Then someone took a picture, and I started getting calls and text messages."
All asked about the same thing. Did Pendergrass want Marceno's job?
Pendergrass says no—at least not now.
"The current sheriff, I have got to work with him on the budget and other government," Pendergrass said.
He also said he's only heard rumors about investigations of Marceno and doesn't know if there's merit. But he has no intention of challenging an incumbent at the ballot box.
Marceno was appointed as Sheriff by Gov. Rick Scott in 2018 after Sheriff Scott retired early and left the position open. Marceno was the Undersheriff at the time and had the outgoing Sheriff's backing for the job. Now he's running for his first full term.
And political opponents already challenging Marceno balked at the idea of a politician going for the job only after Marceno was under scrutiny.
Jim Leavens, a retired Lee County Sheriff's Major challenging Marceno in the Republican primary, let the Governor's Office know months ago he's be available to fill the post should the need rise.
"Jim Leavens remains the most qualified candidate to become the next Lee County Sheriff.  Commissioner Pendergrass never made rank or led a department of the FMPD," said Diana Watt, Leavens' campaign manager. "Cecil Pendergrass disqualified himself for the appointment when he wrote a glowing letter of endorsement of our current sheriff and refused to comment his problems using the excuse he had been out of law enforcement for 10 years.  Jim did not enter this race to further his political power, he entered to protect the citizens of Lee County and the deputies of the LCSO.  His 30 years of experience and over 4000 hours of training and a lifetime of service to Lee County is what voters are asking for now."
For his part, Pendergrass said he hasn't communicated an interest in an appointment for himself with the Governor's office or anyone in Tallahassee.
"I'm not applying for the job so I don't know why you are asking about it," Pendergrass said. "But Jim Leavens is just trying to get any recognition because he doesn't have any support. It's unfortunate. My record the last eight years at the county speaks for itself. I think he feels this way because he wanted my endorsement and I told him I couldn't be involved. He never spoke to to me or had anything to do with me in my 28 years of law enforcement."
Notably, Pendergrass also sent a letter of recommendation for Marceno's appointment to the job in 2018.
"It has been my honor to know Carmine, both personally and professionally, for over 6 years," Pendergrass wrote in letter to the Governor's Office.
"As a retired Law Enforcement Officer from the FMPD [Fort Myers Police Department] for 25 years, I understand firsthand what it takes to be a public servant and protector of the community. In the years I have known Carmine, I have witnessed his strong work ethic and exemplary leadership. He is a consummate professional and has earned my trust as a colleague and friend."
Pendergrass expects to serve on the 2020 Canvassing Board in Lee County so won't endorse in any elections this cycle. But he said he wants a good working relationship with all constitutional officers.
That said, if for some reason Marceno didn't run for re-election, Pendergrass would consider it.
"I would look at my future prospects with that," he said. "My prior experience, I was in law enforcement and earned my law enforcement accreditation with Florida."
But Pendergrass took a pass on running for Congress this year, and said his priority is finishing his own term, which runs until the end of 2022.
Questions about Marceno and whether he had the proper credentials to be hired into Florida law enforcement in the first place arose publicly only after his appointment. Another former sheriff, Rod Shoap, filed the complaint with the state sparking the current investigation.
The New York Division of Criminal Services provided records to Florida Politics that show Marceno completed a "Basic Course for Police Officers at Suffolk County Police Academy." But the New York Department of Civil Service has separately replied to other requests saying it could not locate certification documentation.
Read Pendergrass' letter recommending Marceno for appointment to the Sheriff's post: