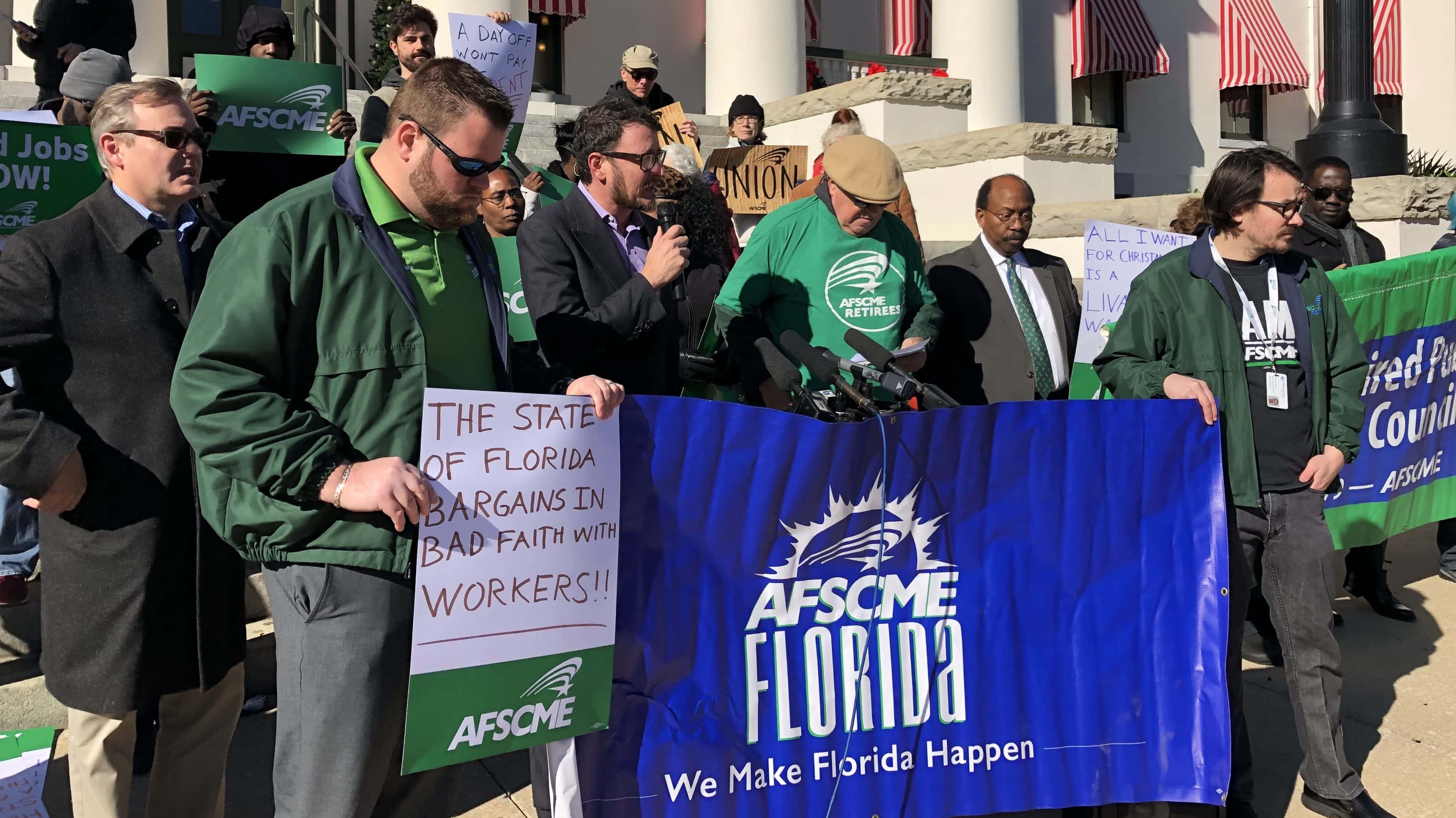 State workers are asking for a 5% raise.
Amid a pay raise impasse between Florida and the state workers' union, state employees and supporters took the issue to the old Capitol steps.
Last month, State and American Federation of State, County and Municipal Employees (AFSCME) Florida negotiators left a labor meeting without a contract. AFSCME Florida has asked for a 5% pay raise across the board and a 2% cost of living allowance.
And a week later, Gov. Ron DeSantis announced his proposed $91.4 billion budget for the next fiscal year — without that pay raise. AFSCME Florida's president, Vicki Hall, Wednesday called the timing of the announcement saddening and a shame.
"These workers need to be respected. These workers need to be paid correctly," Hall said. "It's a strain that when he put the $91.4 billion budget and have the state workers actually cut out of that, that was a slap in the face when he announced it before Thanksgiving Day."
Tallahassee City Commissioner Curtis Richardson was in the rally to support AFSCME. From 2000-2008, he represented Gadsden and Leon counties in the Florida House.
"They're having to work two and three jobs just to make ends meet and to send their children to college," Richardson said. "It is unconscionable in a state like the state of Florida with a $90 billion budget, it is unconscionable that our state employees cannot receive an annual pay increase when we're giving tax cuts to big business and the wealthy."
In the last dozen years, state workers have received two pay raises, which come at the discretion of the Legislature. Richardson argued the state should give raises annually to meet inflation.
"It's clear that our local economies, particularly in the Big Bend area, depend so heavily on state employees, and state government is the largest employer in our area," Richardson said. "So when our state employees, when their incomes aren't growing, they don't have the discretionary income to put into the economy."
President of an AFSCME Tallahassee branch Rasheeda Fryson, who has a son and makes less than $31,000 annually, has worked for the state for more than 20 years. She also has a master's degree but chooses to stay with the state because she wants to dedicate herself to the Agency For Health Care Administration.
"It saddens me that I go to school to work hard and provide for my family, but I'm not totally making ends meet," Fryson said.
On Tuesday, DeSantis announced two days off for state workers during this holiday season. But AFSCME Florida spokesman Kelly Benjamin said the move feels shallow when the state has fought to increase its employees' wages.
"It's a great gesture, and it's appreciated, but let's make no mistake, state workers earned that day off," Benjamin said. "They worked hard. They deserve to spend time with their families around the holidays, and what state workers really want for Christmas is to be able to feed their families and pay their bills."
The next scheduled negotiation is on Dec. 30.