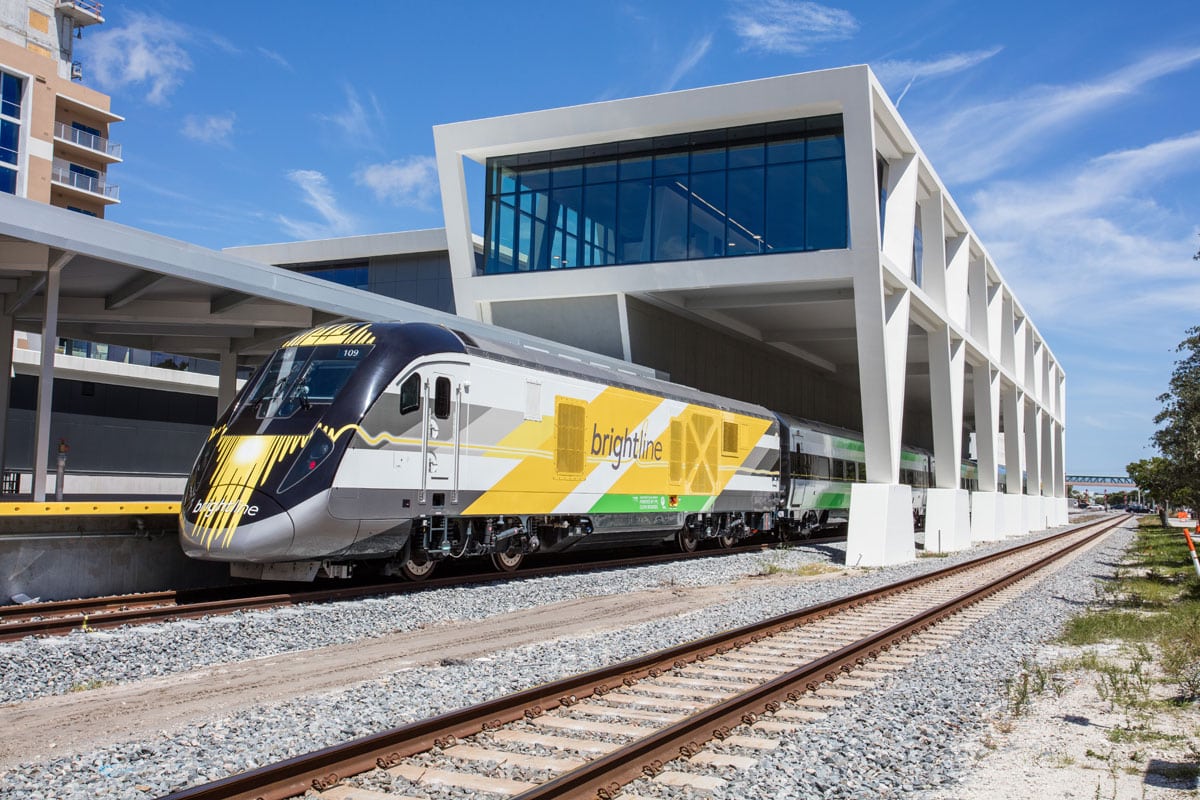 Walt Disney World Resort is an obvious choice.
The Walt Disney Co. and Virgin Trains USA officials have both confirmed they've had discussions about building a station at or near the theme park.
The proposed Walt Disney World stop would be part of the ongoing negotiations to connect the rail line from Orlando to Tampa.
"We are continuing to explore the possibility of building a station on Walt Disney World Resort property, which we believe will help transform the region," said Virgin Trains Senior Vice President Ben Porritt in a written statement. "A proposed station would provide a direct rail connection to Orlando International Airport and serve as the initial segment for Virgin Trains' future extension to Tampa.
"A Disney station would offer the 126 million visitors and 21 million residents of Florida a car-free option to the state's most visited attraction and one of the world's greatest destinations."
A Disney spokesperson released the following statement on the talks with Virgin Trains:

"As the top vacation destination and largest single-site employer in the United States, Walt Disney World Resort is an obvious choice for a rail station between Orlando International Airport and Tampa. We have been in conversations with Virgin Trains USA, and, while we have not yet made any definitive commitment, we have mutually agreed to more formally explore developing a train station on our property. Intercity passenger rail will be a boost to the local economy, and we support their investment in the Central Florida region as we continue to grow and expand."
Virgin Trains — which used to be known as Brightline — has had plans to build a stop at Walt Disney World dating back to last year. The company's service currently offers train stops in Miami, Fort Lauderdale and West Palm Beach.
In June, Virgin Trains broke ground on a private, high-speed passenger train service between South Florida and Orlando International Airport. The project costs billions of dollars, construction is underway and service is could begin as soon as 2022.
In December, Virgin Trains reached an agreement for a station in Boca Raton. The company also has made agreements for stations in Aventura and PortMiami. All three locations are scheduled to open by late 2020.
However, several suicides along Virgin Trains' line prompted state Rep. Mike Caruso to ask for $500,000 to increase public awareness for the 211 Palm Beach/Treasure Coast community helpline.
Caruso filed House Bill 4195 Nov. 20 requesting the money. As of Wednesday, the bill is in the House Appropriations Committee.
A Dec. 2 report by The Associated Press showed the line had the worst per-rate death rate of the 821 railroads in the U.S.
Virgin Trains President Patrick Goddard told Florida Politics at least 75% of the deaths have been suicides. Along with Caruso's effort to raise money through legislation, Virgin Trains said it would contribute $150,000 to the 211 hotline.
"Suicide by rail is an industrywide issue and the nationwide statistics are startling," Goddard said.
___
Mark Bergin is a freelance journalist. He's worked as a writer for 10News WTSP in St. Petersburg and WBIR 10News in Knoxville, Tennessee. Bergin has covered the Tampa Bay Rays' stadium negotiations, the 2018 midterm elections, Hurricane Irma, Tampa Bay's transportation issues and city/county government. You can follow his work on Facebook, Twitter, Instagram and YouTube. Reach him by email at [email protected].