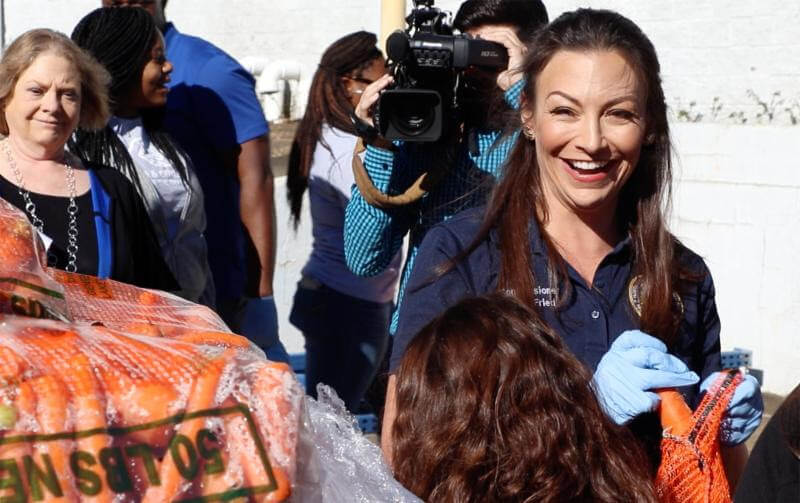 She shares the stage with Channing Crowder and Justin Timineri.
Agriculture Commissioner Nikki Fried will lead a cooking demonstration at a Super Bowl Party on Saturday.
The Department of Agriculture and Consumer Services announced Fried would participate in a Fresh From Florida presentation on Saturday. She will take the Culinary Stage at the Super Bowl LIVE Fan Fest event at Bayfront Park. Joining her will be former Miami Dolphins linebacker Channing Crowder and state executive chef Justin Timineri.
The appetite-inducing effort will be part of the festivities leading up to this weekend's Super Bowl LIV. The San Francisco 49ers will face the Kansas City Chiefs Sunday at the nation's biggest sporting event, hosted this year in Miami at Hard Rock Stadium.
Once Miami hosts the Super Bowl for its 11th time, the city will hold the record for most times, according to CBS Sports. However, it could be the last time the city gets to host the NFL's championship game as climate change threatens Hard Rock Stadium in the next two decades.
Tampa will host its fifth Super Bowl next year.
But before everyone starts checking out the sporting event, halftime show and high-priced ads, expect Fried to showcase some dishes that presumably include ingredients grown on Florida farms.
The Super Bowl Host Committee has been holding events at Bayfront Park daily since Jan. 25 building up to the big game. It's been part of Super Bowl LIVE presented by Verizon. Freid's cooking demonstration will be free and open to the public.
The Culinary Stage has been park of Tailgate Town, which promises to take visitors "through the sounds & smells of a true tailgate," though state Cabinet members aren't always found at a pickup truck gate prepping dishes with former Florida Gator standouts.
Fried will prepare cooking on a stage that this week has showcased dishes by celebrity chefs Timon Baloo, Richard Hales, Vincent Gourmet, Adrianne Calvo, Amaris Jones and Richard Ingraham, among others.
Fried will have Timinari's help. He who won the Food Network Challenge Great American Seafood Cook-off in New Orleans in 2006 and has held the title for preparing the country's best domestic seafood dish.