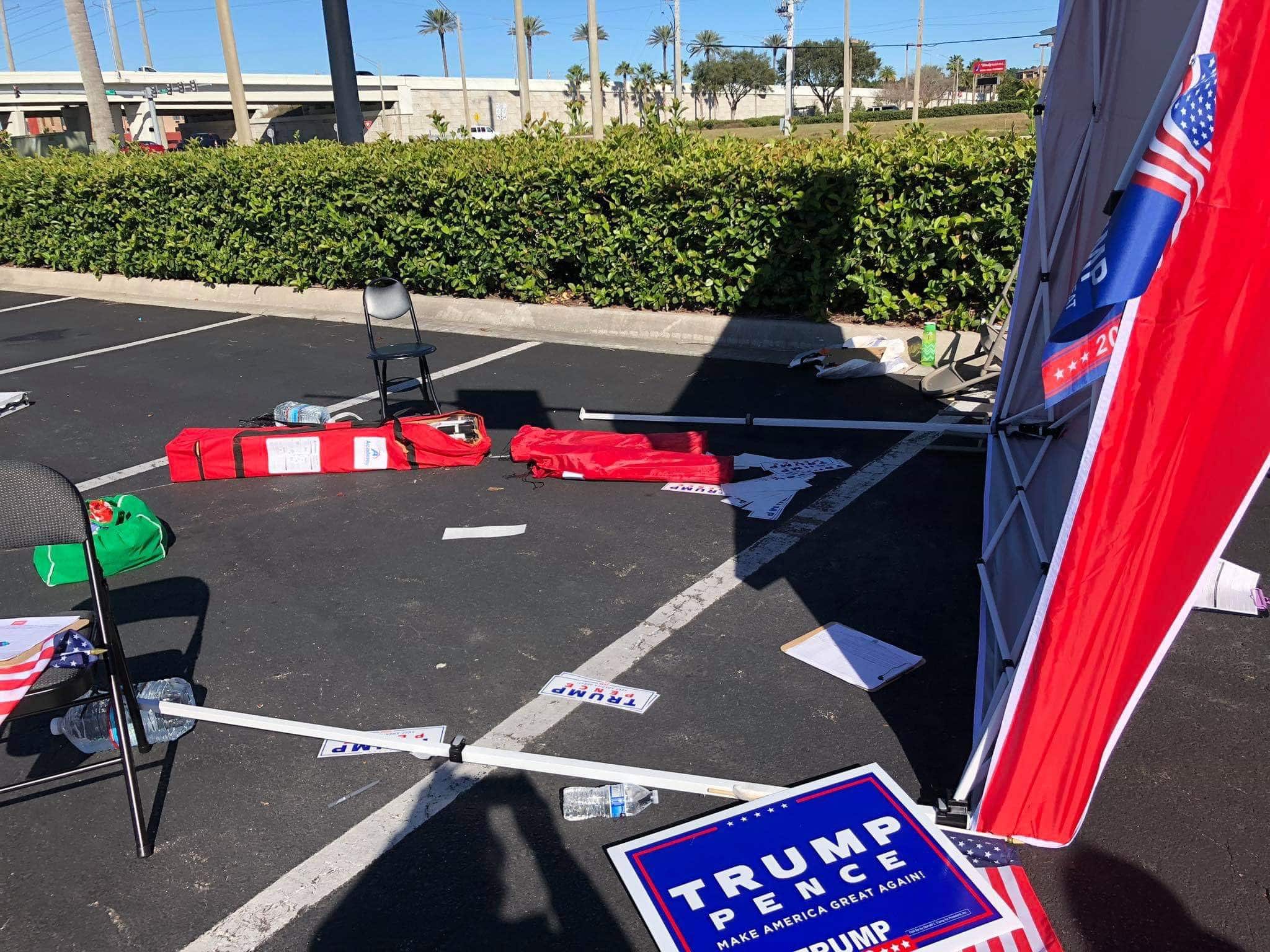 Jacksonville police arrested driver. No one was hurt in Friday incident.
A 27-year-old man is in custody, accused of deliberately driving a van into a tent where voters were being registered by Jacksonville Republicans.
The Jacksonville Sheriff's Office said via social media that Gregory William Loel Timm is charged with two counts of aggravated assault on a person 65 years old or older, one count of criminal mischief and driving with a suspended license.
The Republican Party of Duval County set up the tent Saturday in order to register voters.
The county GOP said via Twitter that six volunteers for President Donald Trump's campaign "were intentionally targeted while registering voters."
On the county party's Twitter feed, it was reported a brown or gold minivan "accelerated into a crowd of volunteers at the Kernan Village shopping center." The driver made an obscene gesture before speeding away, witnesses said.
The sheriff's office on Sunday didn't immediately return a phone call or email seeking further details.
Citing the president of a local theatrical workers union, television station WTLV reported that Timm was training to be a sound engineer.
The attack drew condemnation from Republican leaders throughout the state and nation.
"First and foremost, I am relieved to hear that none of our volunteers were injured in this cowardly, and unprovoked attack," said Joe Gruters, chair of the Republican Party of Florida.
"The safety and welfare of our volunteers is paramount, and I urge all REC leaders to remain vigilant as we continue to encourage Floridians to participate in our elections process. RPOF volunteers are the backbone of our party and these patriots were only taking time out of their day to help register voters."
"We are outraged by this senseless act of violence toward our great volunteers," Duval GOP Chair Dean Black said. "The Republican Party of Duval County will not be intimidated by these cowards and we will not be silenced."
Jacksonville Mayor Lenny Curry said law enforcement was treating the situation seriously.
"This is outrageous," he tweeted. "The hate is toxic and dangerous. Thankfully no one was injured but certainly, they are shaken after being targeted because they were registering voters. I've spoken to the Sheriff and of course, his team is on this."
"These unprovoked, senseless attacks on @realDonaldTrump's supporters need to end," Republican National Committee Chair Ronna McDaniel tweeted.
"We will not be silenced by cowards, and these disgusting acts will only make us work harder to win November."
"As law enforcement continues to investigate this senseless and politically motivated attack, we are incredibly grateful that our volunteers were not hurt. This act of cowardice will not silence us and we remain resilient," McDaniel said later in a statement.
Even President Donald Trump weighed in, tweeting "Be careful tough guys who you play with!"
Sen. Marco Rubio called the incident a "politically motivated attack" in a tweet.
In a statement, the Duval County Democratic Party condemned what it called "this cowardly act of violence."
"No one's life should be placed in danger for exercising their First Amendment rights," the statement said. "As Democrats, but more importantly, as residents of this great city of Jacksonville, we call on our fellow citizens to act with dignity, civility and respect for one another during the election cycle and beyond."
Update — 5 p.m. — Trump Victory and the Republican Party of Duval County will host a press conference Monday to discuss "the senseless and politically motivated attacks against Trump Victory volunteers during Saturday's voter registration drive." The press conference is at 11 a.m. at the Duval GOP Headquarters, 3520 St. Johns Bluff Road S., Jacksonville.