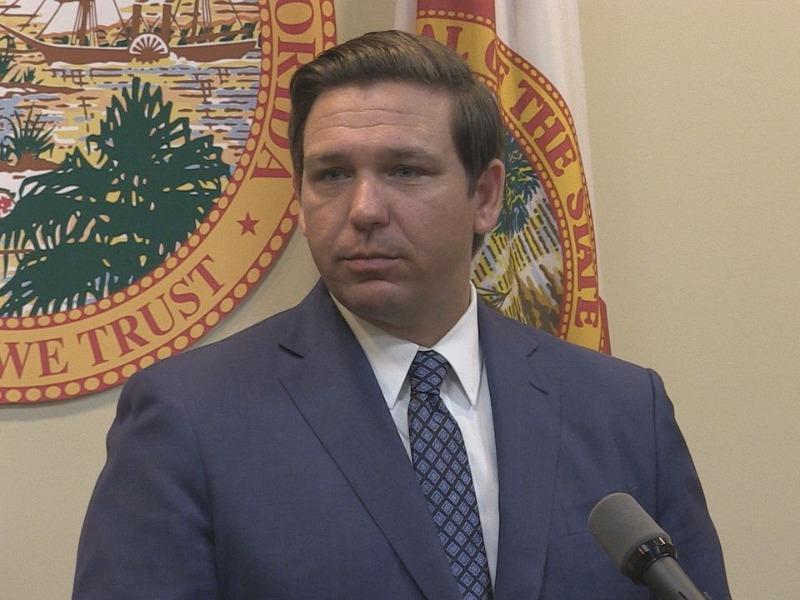 The group handed over documents Wednesday it had withheld for more than a year.
Simultaneous investigations are ramping up against the state's leading domestic violence organization as allegations of wrongdoing by the group came to light Thursday.
Gov. Ron DeSantis asked the Chief Inspector General, the Legislature and the Department of Children and Families (DCF) to review its options after an audit of the Florida Coalition Against Domestic Violence (FCADV). The House approved subpoenas for 14 of the group's current and former leaders in its investigation that could turn criminal.
Allegations of exorbitant executive payouts, abuse of state funds and withholding documents have put the group in hot water since the fall. On Wednesday, the nonprofit finally turned over 104,000 documents requested in an audit after more than a year of reported stonewalling without consequences.
Documents presented to the House Public Integrity and Ethics Committee Wednesday showed former FCADV CEO and President Tiffany Carr received more than $7 million in compensation over three years and was given 210 days of annual paid leave. That salary was initially reported as over $750,000 annually, but this week's revelations shocked committee Chair Tom Leek and officials across the government.
"In fact, when I was first advised of the amounts that we were talking about, it was hard to put together words about what it means because it was so beyond what any of us thought was out there," he said.
But by Thursday morning, lobbying, communications and consulting firms jumped ship from FCADV, and the group's legal counsel resigned. Mark Herron, tagged-in to represent the group before the panel, said the organization's board members would not resign, reversing what previous counsel told the committee.
"The only people remaining on the job are the very board of directors that we've asked to resign," Leek told the full House.
In prior meetings, Leek threatened subpoenas if the organization failed to meet deadlines to hand over relevant documents. But sections of those pages were redacted, leading the committee to pull the trigger on those subpoenas.
"The Florida House will act swiftly to secure evidence while ensuring that no program assisting victims of domestic violence is disrupted," House Speaker José Oliva said in a statement. "In addition, if we determine it is warranted, we will refer any criminal activity to appropriate law enforcement agencies."
DCF is bound by law to contract with FCADV for domestic violence services despite pleading with the Legislature the past 20 months to unshackle it. And that organization is not the only one explicitly named in Florida statutes for various services.
"I think we have to seriously investigate whether we give anybody special status within the statutes," Leek said. "I don't know that it was a problem created by the Legislature, because the intent behind it was good."
After the floor Session, the Speaker expounded on the subpoenas, calling it an extraordinary response to extraordinary circumstances.
"I think that there is probably not sufficient statutory oversight in the legislation that was created when they were created, and I think that that's something that now we will be sure to look at any time we are creating any such agency."
Pending legislation (HB 1087/SB 1482) would free the department of the restriction. DeSantis urged Oliva and Senate President Bill Galvano to prioritize those proposals and enable DCF to maintain service continuity.
Last week, the House version cleared that chamber's floor. On Thursday, a Senate budget panel unanimously advanced the Senate version by Sen. Aaron Bean with a change putting the shift into effect upon the Governor's signature.
"Any misuse of taxpayer dollars is unacceptable; however, the information that was presented to my staff yesterday is particularly abhorrent given the responsibility of this entity to serve vulnerable Floridians who have been the victims of domestic violence. I fully support the Governor's call for an investigation to determine if the matter should be referred to law enforcement," Galvano said.
Tony Lloyd, a DCF Assistant Secretary, assured the committee that the department could distribute the funds itself from the remainder of the fiscal year. If Bean and Rep. Juan Fernandez-Barquin's legislation passes, it could choose a new nonprofit administrator for the fiscal year beginning in July.
"This is fast-moving, but I can tell you, we have all hands on deck at headquarters right now," he said.
Sen. Kathleen Passidomo said the shelters themselves are doing a fantastic job providing domestic violence services. But in the early House meeting, Rep. Randy Fine noted that board members of FCADV sometimes operate the shelters and suggested the investigation should cover local facilitators.
In a Thursday letter, the Governor asked Chief Inspector General Melinda Miguel to review the newly shared documents and recommend investigations to the Department of Law Enforcement or the Department of Legal Affairs if warranted.
"The people of Florida are entitled to accountability and transparency within every aspect of our government. Accountability and transparency require good stewards of state funds. My administration will not tolerate wasteful or fraudulent spending, particularly by an organization that purports to serve the vulnerable victims of domestic violence," DeSantis wrote.
And in a letter to DCF Secretary Chad Poppell, DeSantis asked the department to create a strategy for uninterrupted domestic violence services as the investigation proceeds. The Governor's 2020-2021 budget proposal called for a competitive search process to find a new domestic violence partner.
Former Sen. Denise Grimsley was given temporary leadership of FCADV in November before resigning two months later. Last month, Sandy Barnett became the nonprofit's CEO.
Carr, Grimsley's predecessor, retired at the end of last year after citing a quiet, yet significant health battle. But that news came as the Miami Herald revealed FCADV was withholding documents in an investigation into Carr and others' pay.
For the past two decades years, FCADV has coordinated the state's local domestic violence shelters, of which there are currently 42.