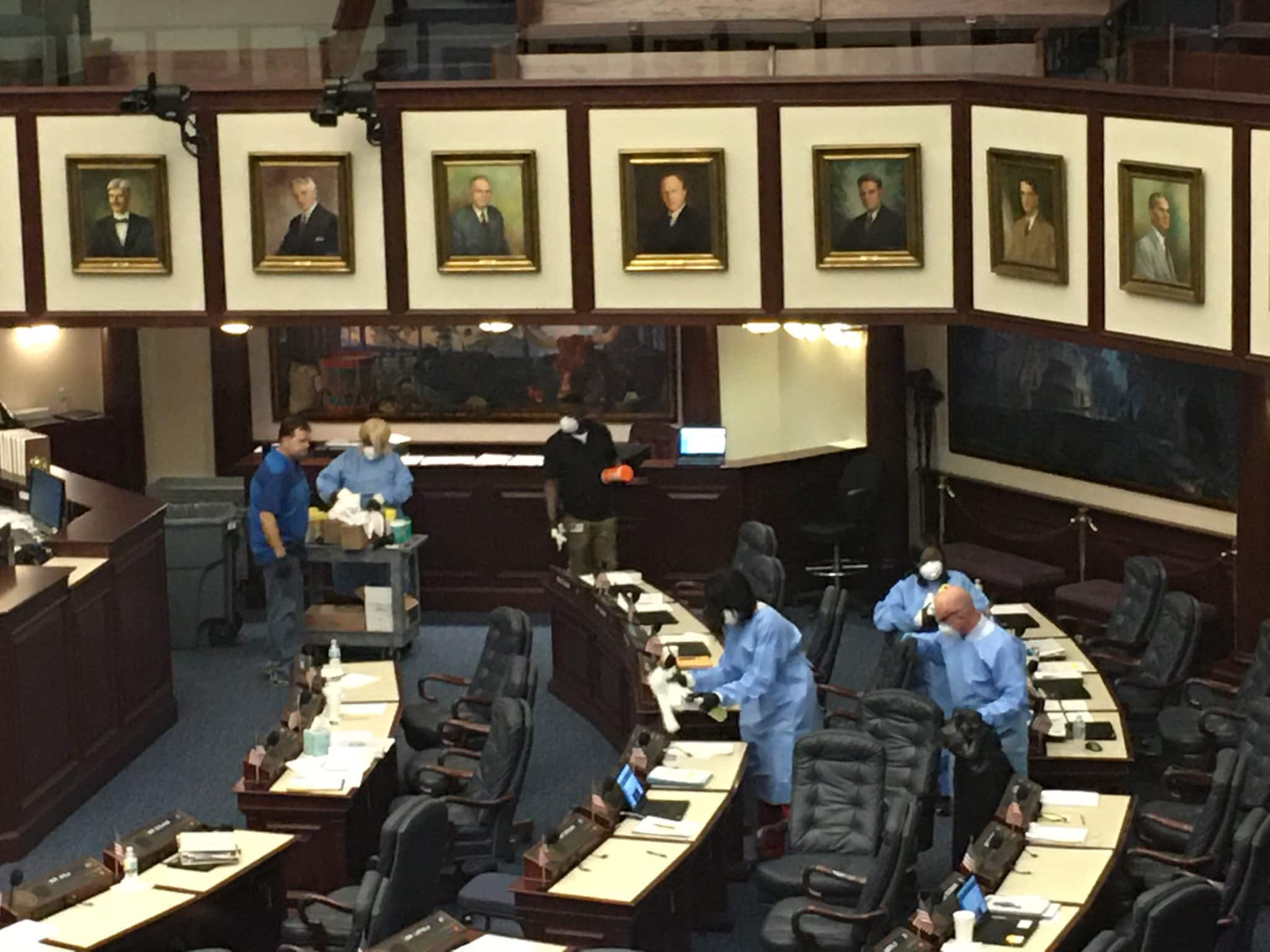 Lawmakers didn't directly interact with the individual who tested positive for virus.
Coronavirus fears officially shut down business in the House as five members self-isolated and agreed to be tested for COVID-19.
But after medical professionals checked the individuals, it was quickly determined none met federal guidelines that would prompt such testing.
Concerns initially rose because three members of the House — Reps. Antony Sabatini, Cord Byrd and Thad Altman — attended the Conservative Political Action Conference, better known as CPAC.
None had direct contact with an attendee later diagnosed with the coronavirus. But after initially saying they would not self-quarantine, the lawmakers agreed to isolate themselves and await test results.
House leaders also realized two other lawmakers, Rep. Byron Donalds and House Democratic Leader Kionne McGhee, attended the American Israel Public Affairs Committee conference, where three attendees later tested positive for the coronavirus.
Speaker Jose Oliva on Monday afternoon announced several legislators were self-isolating because they attended one of the two events in Washington.
All five members agreed to the coronavirus testing, though that ultimately was determined to be unnecessary.
"In an effort to set an example in the ongoing fight against COVID-19, and in an abundance of caution for their fellow Members and staff, Representatives Sabatini, Altman, McGhee, Donalds and Byrd, along with a staff member, have voluntarily agreed to submit to testing after attending an event in Washington, D.C., where an attendee later tested positive," reads a statement from Oliva.
"They have self-isolated pending return of results. After leaving the event 10 days ago, Representatives Sabatini, Altman, McGhee, Donalds, Byrd and the staff member are NOT symptomatic, and they were not in direct contact at any time with the individual who tested positive for the virus. Furthermore, none of the Members or staff stayed at the same hotel nor did they attend any functions with the person who tested positive."
The House went into recess Monday afternoon while desktops and surfaces could be wiped down and disinfected. Workers in blue scrubs and face masks were dispatched into the empty House Chambers to sanitize the environment.
"In addition to the Members' proactive response, the House will implement sanitation protocols, including sanitizing desks and common areas to ensure Members, staff, and the public are provided reasonable assurance of cleanliness," Oliva said.
Rep. Cary Pigman, himself a doctor, met with the members in isolation to evaluate whether there were any signs of the coronavirus.  He noted the members endured "a suspension of civil liberties to the better of the rest of us."
"They were fantastically cooperative and I appreciate them," Pigman said.
Surgeon General Scott Rivkees and officials from the Department of Health also met with the isolated members in a small conference room in the back of the House Chamber.
Pigman said the individuals did not qualify under the most recent guidelines to be tested for the coronavirus.
Based on the lack of symptoms or interaction with any conference attendees who later tested positive, the lawmakers had no need to self-isolate, Pigman said.
"All of these individuals are at very low risk, and we're going to release them to come back to us," Pigman said. He said the only reason he could not declare there was no risk because all individuals in Florida at this point face some risk.
There's no need for "social distancing" or any special measures to reduce exposure, Pigman said. But all members are encouraged to follow U.S. Centers for Disease Control and Prevention recommendations to disinfect surfaces and wash their hands frequently.
House leadership stressed it will follow "all CDC recommendations" and work "closely with the Department of Health." That included scrubbing down the five members' desks in the House chamber as well as the desks of members seated immediately around them.
In the midst of House chaos, Senate President Bill Galvano revealed he also asked one Senator to self-isolate but did not reveal who it was. That member, too, was cleared to return to work.
Galvano said the measures taken to deal with the fear were "appropriate," but also "inopportune" considering the clock is ticking on the Session.
"We have work to do. It is the last week, and there is so much to do — and then we get this unfortunate curveball," Galvano said.
McGhee released his own statement confirming he was self-isolating because of his attendance at AIPAC.
"It is with an abundance of caution for my family and my colleagues that I have decided to be tested for coronavirus," he said.
The only Democrat among those in isolation stressed he did not attend CPAC.
"I am not showing symptoms. I feel healthy, upbeat and ready to continue our work for the people of the state of Florida."
The Speaker's Office initially said because there was no evidence any of the Representatives were directly exposed, none would have to be quarantined during the final week of the Legislative Session.
"Reps. Altman, Sabatini, and Byrd attended CPAC. All are outside of the symptom window and show no signs of coronavirus or any other ailment," said Fred Piccolo, communications director for the Speaker's Office.
Byrd on Monday morning pointed to Piccolo's statement and said it was factually accurate.
The American Conservative Union-sponsored event ran from Feb. 27 to March 2. But the news that an attendee later tested positive for the coronavirus put the gathering back in the news. The AIPAC conference took place on March 2.
Two federal lawmakers, Sen. Ted Cruz and Rep. Paul Gosar, said they will isolate themselves after determining they had direct contact with the individual tested presumptively positive for the virus.
Piccolo said that's a different situation from the three House members who attended CPAC.
"They did not interact with the individual in question," Piccolo said. "There was no need to self-quarantine. Some of those who self quarantined had direct contact with the infected attendee. No one in the Florida House at CPAC had direct contact."
Byrd, a Neptune Beach Republican, is expected to argue high-profile legislation regarding mandatory E-Verify requirements this week.
Altman, an Indialantic Republican, similarly has homelessness legislation ready for a third reading on the House floor.
Sabatini, a Howey-in-the-Hills Republican, sponsored legislation regarding automated pharmacy services that's on the third reading calendar.
And all three have other pieces of legislation at various stages in the process.
Two Florida residents have died because of COVID-19, the disease caused by the new coronavirus.
The most recent report from the Florida Department of Health shows 14 confirmed cases of the coronavirus in the state — 13 residents and one non-resident. Another 302 individuals are currently being monitored, and 115 test results are pending. Five Florida residents who were repatriated are isolated at a federal facility.
That all created a backdrop of confusion and chaos within the Capitol complex.
Oliva's announcement of the state legislators' potential exposure to the deadly virus — made from the podium during the House's afternoon session — sent shock waves through the fourth floor of the Capitol, where, in typical fashion, lobbyists and aides were clustered around large-screen televisions broadcasting action inside the House and Senate chambers.
As the members' desks were being scrubbed, some confused lawmakers wandered around on the fourth floor, unsure of what was going on inside the chamber and when — or if — they would be called back into action. But it ultimately was only a short period of disruption in the House.
And most lawmakers said they did not feel alarmed.
"I'm very comfortable here," Rep. Scott Plakon, a Longwood Republican, saying Oliva and House officials were taking appropriate measures to keep a safe environment.
Plakon noted more people in Florida have the flu than the coronavirus still.
Lobbyist Ron Book, who faces other chronic conditions, said he wasn't perturbed by the threat. "I'm not going to sit and worry about it," Book said, adding that people needed to "be smart."
But lobbyist Jack Cory expressed a little more concern.
"Towards the end of Session, everybody is run down," he said. "Everybody is tired. Everybody's been working 15-hour days over the weekend. So we're all susceptible to it.
"The panic's going on simply because of the lack of factual information."
___
A.G. Gancarski contributed to this report. Information from the News Service of Florida was used in this report.