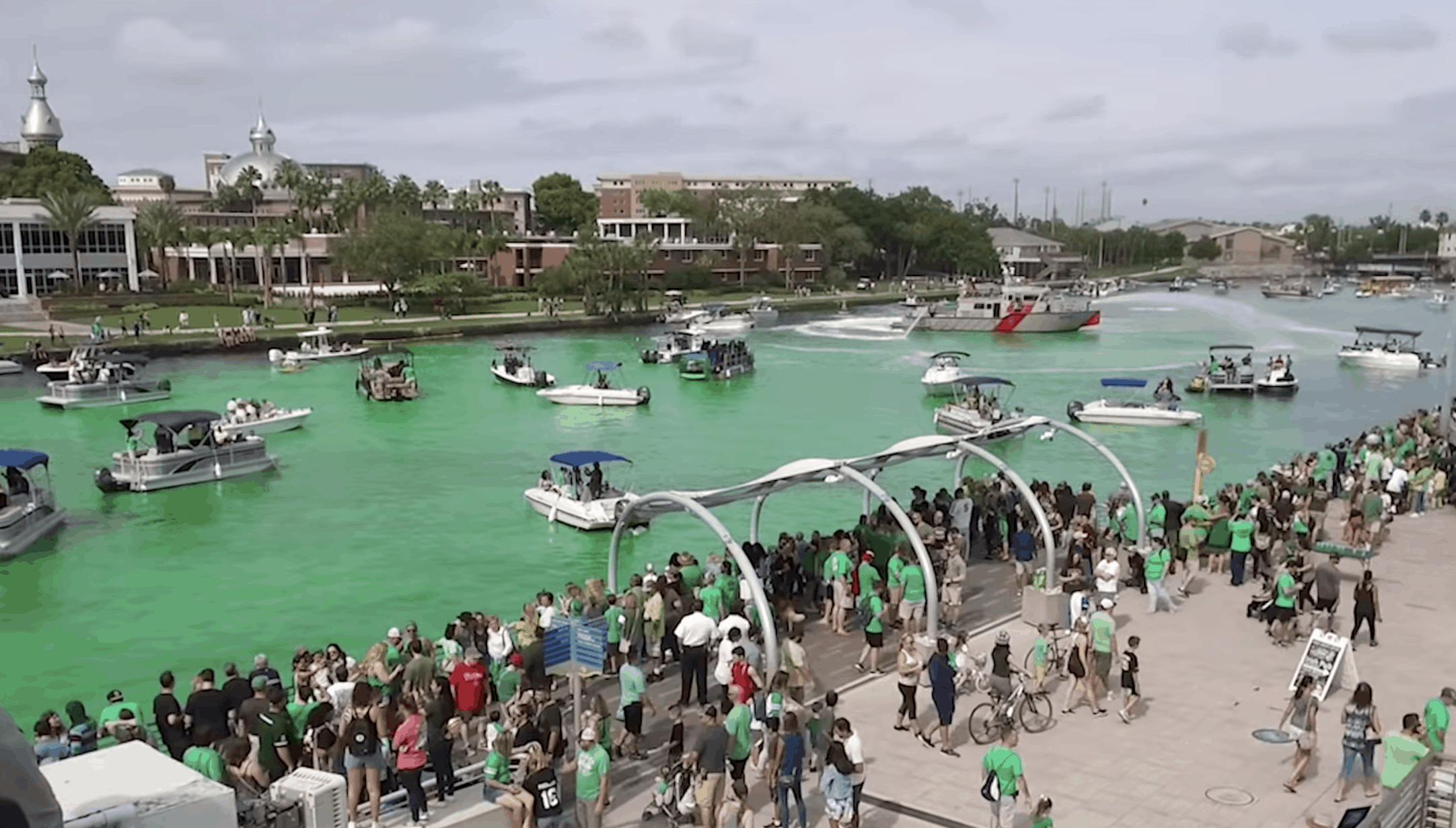 No green river this year.
As fears about the novel coronavirus continue to increase, events nationwide are being canceled or carried out without public attendance.
Tampa Bay area events are also beginning to get cut as more cases continue to pop up daily in Florida.
Gov. Ron DeSantis on Thursday urged municipalities and local governments to cancel any events where large crowds would be expected.
Schools are also beginning to respond, though only in cases where potential contact with a coronavirus patient is suspected. Farnell Middle School in Hillsborough County will be closed Thursday and Friday after a frequent visitor had contact with a coronavirus patient. Bishop Larkin Catholic School in Port Richey is also closed after a student's parent tested positive for the virus.
Here's a list of what's canceled or closed to the public so far.
— Major League Baseball: Spring Training paused and the start of the regular season will be postponed at least two weeks.
— National Hockey League: The season is temporarily on pause.
— Princess Cruises: Trips are on hold for 60 days.
— St. Petersburg Grand Prix: The race is canceled along with all other INDYCAR races through April.
— River O'Green Festival in Tampa: The annual event where officials dye the river green is canceled Saturday. The accompanying St. Patrick's Day Parade is also be canceled.
— Tampa Bay Rowdies soccer: The league is on hold for at least 30 days.
— Busch Gardens/Adventure Island: The two parks, along with all other SeaWorld Entertainment properties, will close beginning Monday.
— Kenny Chesney Chillaxification: The tour is canceled through May 28, including the May 9 performance in Tampa.
— LIT AF Tour with Martin Lawrence: The March 12 event is indefinitely postponed.
— WMNF Prince Tribute "When Doves Cry": The March 21 tribute concert featuring several artists at Crowbar in Tampa has been indefinitely postponed.
— Reggae Rise Up in St. Pete: The March 20-22 event scheduled in Vinoy Park has been canceled.
— Cher concert: The singer's "Here we go again" performance at Amalie Arena March 26 is canceled.
— Cigar City Hunahpu Festival: The annual beer festival that offers a signature, limited edition beer is canceled March 13.
— Straz Center for the Performing Arts: The Tampa theater is postponing all scheduled performances, classes and events indefinitely. Ticket holders should hold onto their tickets as some performances may be rescheduled. The center said they would be in touch with ticket holders about refunds and other options soon.
— America at the Van Wezel Performing Arts Hall: The event was scheduled for March 19 and will be rescheduled at a date to be determined later. Refunds may be available on tickets through the original point of purchase.
— Tampa Parks and Recreation: All parks and recreation centers, pools and programs are canceled as of the end of the day March 14 until further notice.
— Tampa Senior Centers: All city senior center will be closed and programs canceled until further notice.
— Tampa Bay AirFest at MacDill Air Force Base: The event was scheduled for March 28 and 29, but it is indefinitely postponed.
— Manatee Viewing Center: The Apollo Beach viewing area is closing until further notice beginning March 13.
— Palm Harbor Library Garden Lecture: The March 24 event has been canceled.
— The Snowbird Baseball Classic: The season will end early on March 14.
— Special Olympics Florida activities: All activities are canceled until March 31.
— Health and Wellness Expo at the Gulfport Casino: The event was rescheduled for June 6.
This is a developing list. Check back for updates.