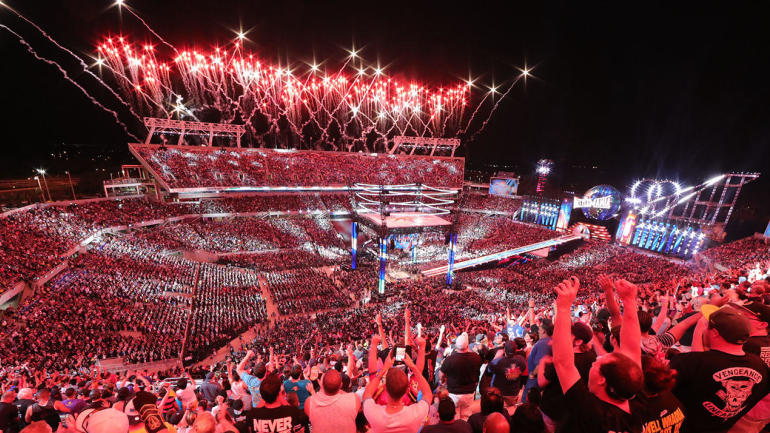 The event will still be available on pay-per-view.
WrestleMania, which had been scheduled April 5 at Tampa's Raymond James Stadium, is being moved from the large venue to a closed facility in Orlando.
The shift in scheduling comes as officials increase calls to individuals and families to practice social distancing.
"In coordination with local partners and government officials, WrestleMania and all related events in Tampa Bay will not take place. However, WrestleMania will still stream live on Sunday, April 5 at 7 pm ET on WWE Network and be available on pay-per-view," sporting promoters announced Monday evening.
Instead, the event will be recorded at WWE's training facility in Orlando on a set closed to all but essential personnel.
Officials expected the event to attract 70,000 fans, which makes the cancellation a huge blow to the region even as its cancellation was at least partially anticipated amid a swath of other events getting moved, rescheduled or canceled altogether.
The city of St. Petersburg and INDYCAR promoters canceled the Firestone Grand Prix over the weekend.
WWE did not immediately say whether ticket holders would be refunded for the event.
In the case of the Grand Prix, ticket holders were not given a refund option and instead were told the value of their ticket could be applied either to next year's race or to one of three INDYCAR races later this season along with a 10% incentive.
The news comes after the Centers for Disease Control and Prevention offered guidance Sunday recommending any events or gatherings with 50 or more people be canceled. President Donald Trump later increased that suggestion, saying no one should gather in groups of more than 10.
It also comes the same day as neighboring St. Pete announced a series of lockdown measures aimed at reducing the potential spread of COVID-19 by changing the city's last call from 3 a.m. to 9 p.m., ordering bars, restaurants and other establishments to operate at half capacity and implementing a citywide ban on gatherings of more than 50 people on both public and private land.
So far in Florida, 160 cases of coronavirus had been identified including eight among non-Florida residents who tested positive in the state. Five people have died of the virus in Florida.