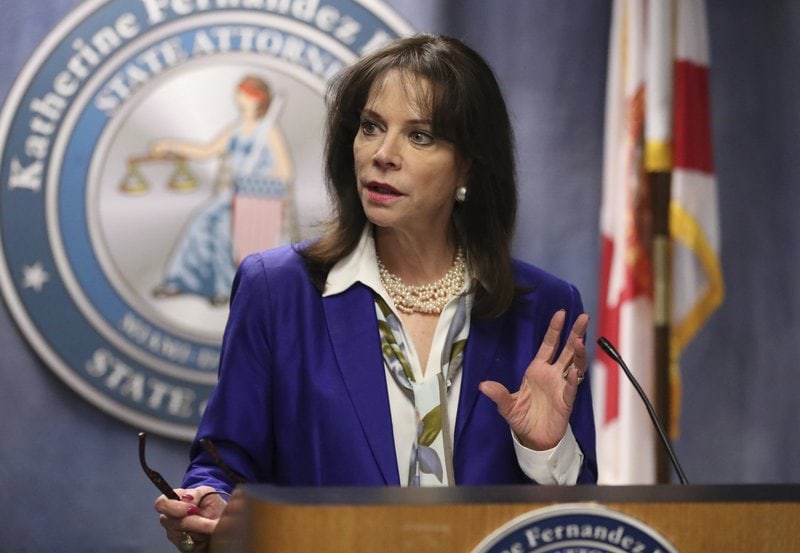 Miami-Dade has the second-most positive tests of any Florida county.
Miami-Dade State Attorney Katherine Fernandez Rundle says her office is developing a process to release individuals being held under misdemeanors and nonviolent felonies to help handle the coronavirus outbreak.
Some experts have worried crowded jails and prisons could serve as hotbeds for the virus. That prompted Rundle's 2020 primary opponent, former American Civil Liberties Union attorney Melba Pearson, to call for Rundle to suspend cash bail for inmates.
"If an outbreak occurred within a detention facility, it is important to remember that guards, correctional officers, faculty, and support staff will all be put at greater risk," Pearson said.
"That puts all Miami-Dade residents at greater risk as officers and staff return to their communities and could inadvertently infect community members."
Those who can't afford to post bail are otherwise stuck in jail until their court proceedings are scheduled.
Monday evening, Rundle acknowledged the virus is a "threat to inmates who may be at heightened risk" in a post on Twitter.
She says she's reached out to the Public Defender, Miami-Dade Court Chief Judges and the Miami-Dade Corrections Department "to develop a process to release misdemeanor & nonviolent felons who are in custody but pose no threat to the public."
She continued, "Miami-Dade Pretrial Services has convinced us that they have the capacity to handle these individuals who might otherwise remain in custody just based on lack of resources. We were also reassured today that no one in the jail has tested positive for COVID-19. As I've continued to do, I will provide further updates as new information becomes available."
Several activist groups had called on Rundle to take additional steps to reduce the prison population, including releasing inmates with fewer than 60 days remaining on their sentence and other reforms.
Pearson also called on Rundle to ensure incarcerated people have more access to physicians and set up an effort to establish screening areas in courtrooms.
As of Tuesday morning, Miami-Dade County had 32 positive tests. That's the second most of any Florida County aside from Broward, which has 43 positive tests.