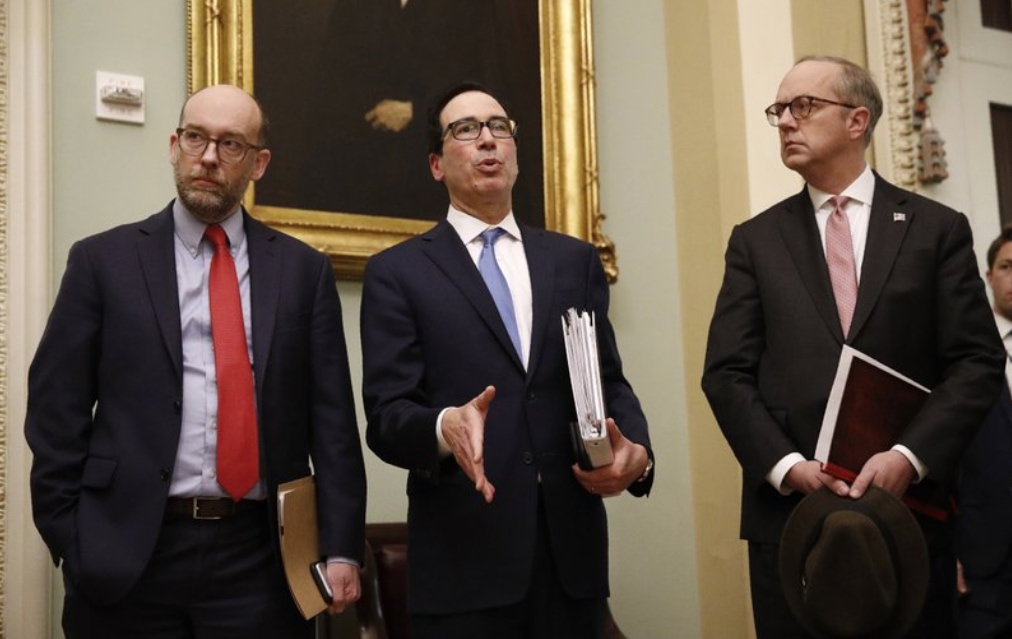 Decision comes as dramatic restructuring of U.S. economy continues.
Treasury Secretary Steven Mnuchin says the Trump administration has decided to push the income tax filing date to July 15 from April 15.
Mnuchin announced the decision in a tweet Friday saying that at President Donald Trump's direction "we are moving Tax Day from April 15 to July 15. All taxpayers and businesses will have this additional time to file and make payments without interest or penalties."
The administration had announced earlier in the week that it would delay the payments, a move that Mnuchin said would leave $300 billion in the economy at a critical time.
It comes as news from all over reports on a dramatic restructuring of America's economy.
The Transportation Security Administration is reporting the lowest number of passengers at U.S. airports ever recorded by the agency.
TSA reports that nearly 624,000 people passed through its outbound checkpoints on Thursday. That compares with 2.4 million on the same day a year earlier. It's the lowest number of outbound passengers ever recorded by an agency created in November 2001 in the wake of the Sept. 11 terrorist attacks.
With outbreak-related layoffs expected to surge, at least two major retailers are hiring in a big way.
Walmart, the nation's largest retailer, said late Thursday that it plans to hire 150,000 U.S. hourly workers for its stores and distribution centers through the end of May as online orders surge with households stocking up. The jobs are temporary, but many will become permanent, said spokesman Dan Bartlett. He said that the company is reaching out to industry groups in the restaurant and hospitality industry, both of which are getting slammed by lockdowns and travel bans.
Amazon this week announced 100,000 people across the U.S. to keep up with a crush of orders hires.
Other retailers are doing not as well.
Kohl's has fully drawn its $1 billion unsecured credit facility. The department store chain, based in Menomonee Falls, Wisconsin, withdrew its full-year and first-quarter guidance as it slashes inventory and expenses. Kohl's Corp. has closed its 1,100 stores for at least the rest of the month. It and many other major chains are temporarily closing stores to curb the spread of the coronavirus. Several other chains like Nordstrom and Abercrombie & Fitch have also withdrawn their guidance given so much uncertainty.
AT&T cancelled a $4 billion accelerated stock buyback program scheduled for the second quarter. The company said in a regulatory filing that it's also canceling any other stock repurchases so it can have financial flexibility and continue to invest in its business. AT&T said it's currently unable to estimate the impact the virus will have on its financial and operational results.
Thousands of businesses have ordered employees to work remotely. It's obviously not an option for a number of sectors and the impact on heavy industry has been immense. All major U.S. automakers, including Tesla, have shut down their factories.
Volvo Cars said Friday that its Swedish and U.S. plants will close on Thursday and will remain closed until mid-April. Office employees are being ordered to work remotely with reduced hours. The company said it reopened four manufacturing plants in China earlier this month after an extended closure.
Apple is allowing people to buy only two iPhones online. It may be attempting to prevent the large purchase and resale of its technology at higher prices. Apple is facing a potential demand decline and supply chain issues due to the virus pandemic spreading across the globe. It closed all retail stores outside of China to help fight the spread. Apple did not return a request for comment Friday. Apple announced a new iPad Pro and MacBook Air on Wednesday. It made no mention of new iPhones during the announcement.