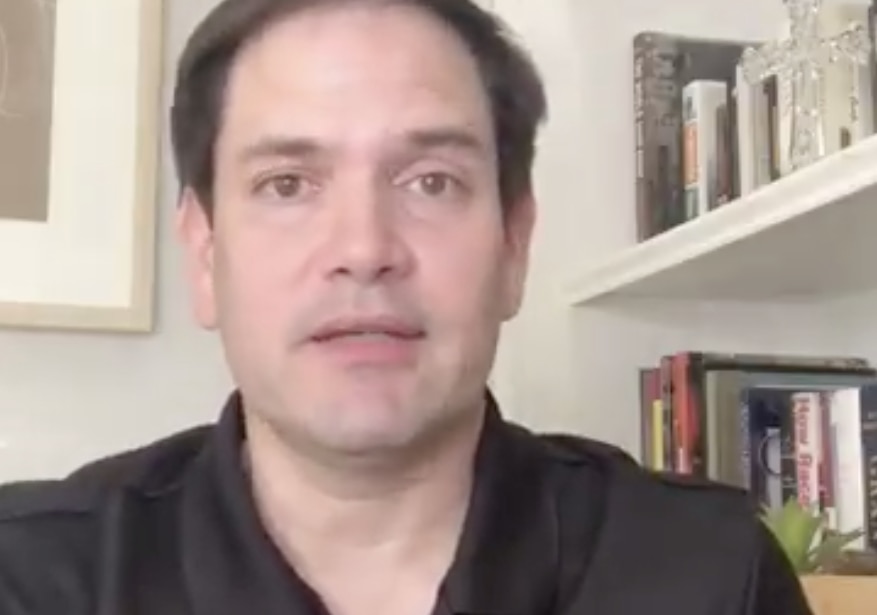 The kinks will be worked out in PPP 2.0, Rubio said.
Florida's Republican senior U.S. Sen. Marco Rubio, the primary author of the coronavirus crisis relief provisions for small businesses, defended the program Monday against reports that some big businesses won big government handouts from the bill.
One in a series of three short videos he released on Twitter Monday morning, Rubio conceded that "unfortunately, there probably is a couple of companies that qualified for this" that were not ideal targets for the small business relief."
But, he said, the Paycheck Protection Program in the recently-enacted $2.2 trillion CARES Act was thrown together, approved and administered very quickly to address an emergency. Unintended things are bound to happen, said Rubio, who, as chair of the Senate Committee on Small Business and Entrepreneurship, led development and approval of the PPP provisions. The money went out as loans to keep small businesses afloat, to be forgiven by the federal government if the companies use it to continue paying employees.
He didn't specify which companies were not intended as targets. But recent media reports cited several big companies, with the most frequently mentioned being Lake Mary-based Ruth's Chris Steak House's parent company. The national, publicly-traded, upscale restaurant company got $20 million from the PPP program.
Rubio pledged that matter should be addressed in the PPP 2.0 bill he hopes Congress will approve this week.
"The goal here always was that we would reach the companies who could not get money like that from anywhere else, meaning they weren't covered in other parts of the CARES Act and they can't get money from the private market. And that's how it was drafted, and that was the intent," Rubio said.
Then came reports of big national chains finding ways to get PPP money, even more than what was supposed to be a $10 million cap per company. Last week, Rubio pledged rules revisions in the next go-round.
"And that's a certification issue that I hope will be tightened up by new regulations," Rubio said. "That said, the only comfort we should take is this is not a bailout. None of these companies is getting a bailout. What they're getting is money that has to go to pay employees, to pay rent, and to pay utilities. But it's not money for their shareholders, and so forth."
In another video Monday, Rubio said he hopes the Senate will approve the new bill, providing $450 billion for both small businesses and for hospitals. He said he expects Congress to act Wednesday.
"They're going to have to redo the system, and we put all those requirements in there, and that could slow us down as well," Rubio said of the new effort, "I'm asking [the U.S. Small Business Administration] to do everything they can over the next three days to get that system ready. We can't afford any more delays."
In another of his bunker videos, Rubio revisited a theme he brought up last week contemplating necessary steps to reopen the economy, and why he thinks that needs to happen.
In the earlier video, and again Monday, Rubio stressed that testing and health care capacity must be greatly expanded before the economy can reopen, but that the current level of shutdown is not sustainable.
"I am not one of those people that's out there saying, 'Reopen everything now, enough is enough.' And I think I also hear people out there talk about, 'Let's keep it like it is,' or something like it until, you know, this thing is completely under control. Well, theoretically, that's the right approach. It's also completely unrealistic," Rubio said.
"The reality is that no matter what regulations government puts in place, there's only so far you can push people to comply before they start to push back. We're beginning to see some of that now, but we're going to see more of it in the months and the weeks to come," he continued.
Rubio stressed that he wants the economy opened when it can be opened safely, but also cautioned that people already are running out of patience. He did not specifically mention the growing, largely right-wing protests seen at state capitals around the country, but said there is now an additional pressure point on government leaders.
He said he is pushing for more money for the rapid development and deployment of coronavirus testing.
"Please don't misinterpret what I'm saying. I'm not asking us to reopen everything overnight. But I also don't think it is realistic to believe that we can keep what we have in place now for weeks on end," he said.
2. Why did they allow bigger companies to get #PPPloans when this is for #SmallBusiness pic.twitter.com/gHCBMHkZCt

— Marco Rubio (@marcorubio) April 20, 2020
3. When and how should we re-open our economy again? pic.twitter.com/0wr3QXDpjm

— Marco Rubio (@marcorubio) April 20, 2020