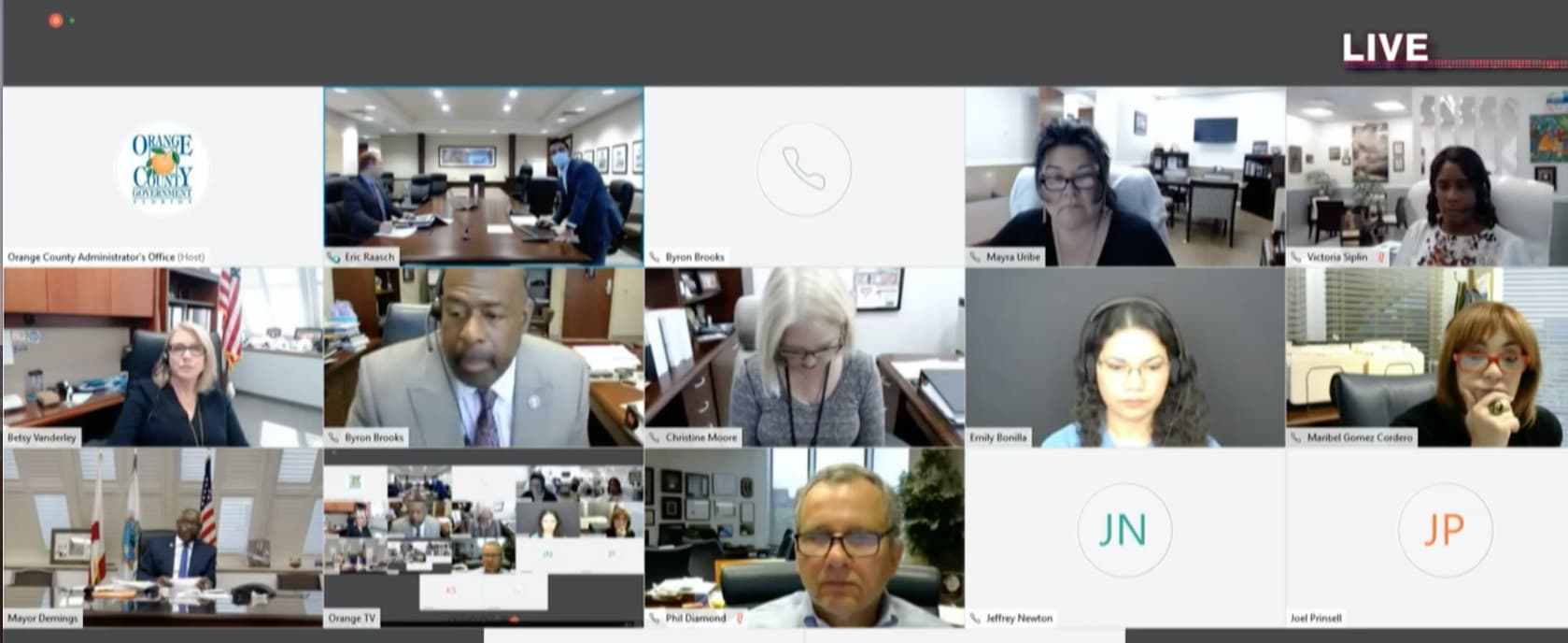 Orange County, the heart of Florida's tourism industry, forecasts a slow, 3-4 year recovery.
Orange County, which has the state's most robust tourist development tax stream, expects a 31% fall — a $90 million loss —  in the current fiscal year's receipts because of the economic meltdown due to the coronavirus crisis.
Randy Singh, Orange County's deputy administrator for administrative and financial services, told the County Commission Tuesday morning that county revenue from the tourism tax, the sales tax, and the gasoline tax all are going to take hard hits this year. Yet the county's general fund and other budgets will largely be saved and experience little or no change, because of more stable revenue forecasts for property tax.
Orange County's tourism tax, which in Orange County was initially forecast to generate $290 million this year, would not only take a huge hit this year, but likely would be down for the next three years, Singh said.
He projected a very slow recovery, forecasting the tourism tax would only generate $215 million for the 2020-21 fiscal year, $230 million next year, and $250 million in 2022.
"It will be a slow recovery," he told the commission.
Orange County is the center of Florida's broader tourist industry, meaning the experiences happening there likely will be shared, at least at some level, statewide.
Singh said Orange County's tourism tax was largely saved for the current fiscal year because five months' receipts already were collected before the coronavirus crisis began shutting down the tourism economy in mid-March. Orange County's fiscal year begins on Oct. 1.
In the first five months Orange County was able to collect $130 million, for the final seven months of the fiscal year Singh is forecasting just $70 million more.
"Now the remaining seven months of this fiscal year are going to be painful. We are revising our [full fiscal year] estimate from $290 million to $200 million, $90 million lost, and we expect that could be even more than $90 million,"  Singh told the commission in a Zoom commission meeting disrupted by technical difficulties.
Those feeling the greatest pain from the drop will be the Orange County Convention Center and the Amway Center, which are largely closed anyway, the region's visitors and tourism marketing bureau, Visit Orlando and arts and cultural organizations that were counting on grants through the tourism tax.
The biggest portion of Orange County's tourism tax goes toward debt services on the convention center and several entertainment venues, the Amway Center, the Dr. Phillips Center for the Performing Arts, and Camping World Stadium. Those debt payments will not change, Singh said.
However, Visit Orlando can expect its tourism tax revenue to fall to about $50 million this year, down from a budgeted $73 million. The convention center's capital fund will fall to $25 million, down from $35 million. The arts and cultural organizations' funding streams are variously indexed to the tourism tax, meaning their hits will reflect the percentage drop in overall revenue.
"These numbers could change. It could get even worse. It depends on what happens in the next seven months of this fiscal year," Singh added.
Orange County uses its tourism development tax exclusively for those purposes, so its dramatic drop will not affect other county services, Singh said.
Nonetheless, he projected steep drops in two other taxes that do impact the county's general fund and other funds, the sales tax and the gasoline tax.
His latest forecast for sales tax revenue was reduced by 22%, a drop of $43 million this year. And he projected the county's sales tax revenue would not recover to the level of $197 million initially projected for this year until 2023.
The gas tax revenue forecast was reduced by 24%, or about $12 million this year. But it is expected to recover to normal, about $49 million a year, fairly quickly, in about two years, Singh said,
Overall, for the general fund and other constitutional office funds' budgets, "we're in good shape," Singh said.
Orange County Mayor Jerry Demings and Singh talked about widespread freezes on hiring, wages and other expenditures, and careful looks at reworking, deferring or refinancing capital projects. However, Demings said he wants Orange County to honor the commitment he made to increase the county's wages to $15 an hour, "for those not yet making a living wage."
"This is a measured approach that I believe we can come back at some point. If we find ourselves recovering faster than the two or three years that are projected, perhaps we can make some budget modifications as the next fiscal year moves forward," Deming said.