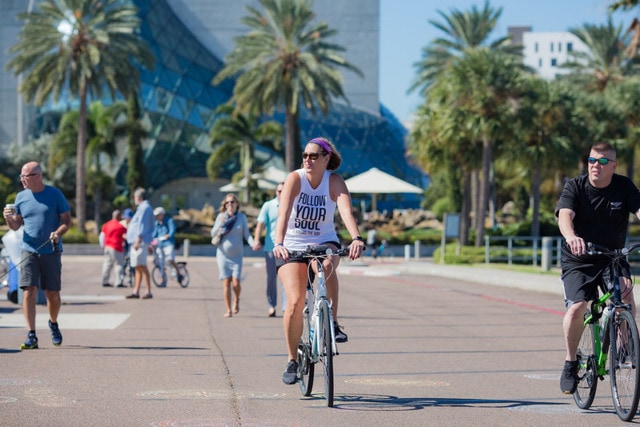 The closure will help maintain social distancing in the busy corridor.
The city of St. Petersburg is closing a portion of Bayshore Drive in downtown to encourage more space for pedestrians and cyclists as businesses continue to reopen in the wake of coronavirus.
Sections of the bustling road will be closed between 5th and 2nd Avenues North beginning May 22 at 8 a.m. and will remain closed until further notice.
"Beyond our Open Streets events, we have been looking at opportunities to experiment with road closures and create more space for those walking, biking, and exercising," St. Pete Mayor Rick Kriseman said. "While this is a small stretch of road, it is heavily used and should give residents and visitors the chance to further spread out. I am hopeful it will be used wisely."
Added St. Pete City Council member Gina Driscoll, "This is an exciting opportunity to help foster more enjoyment of our downtown waterfront while allowing for easier social distancing. This closure should help to inform future actions related to opening our streets for alternative uses."
Under Gov. Ron DeSantis' "Full Phase One" reopening guidelines, which Kriseman is following without additional restrictions, restaurants and retail, a key component of the downtown Bayshore corridor, can reopen at 50% capacity.
Social distancing is required, but the area's limited sidewalks make keeping that required distance difficult.
The additional area will give patrons and downtown visitors more space to move freely through the corridor.