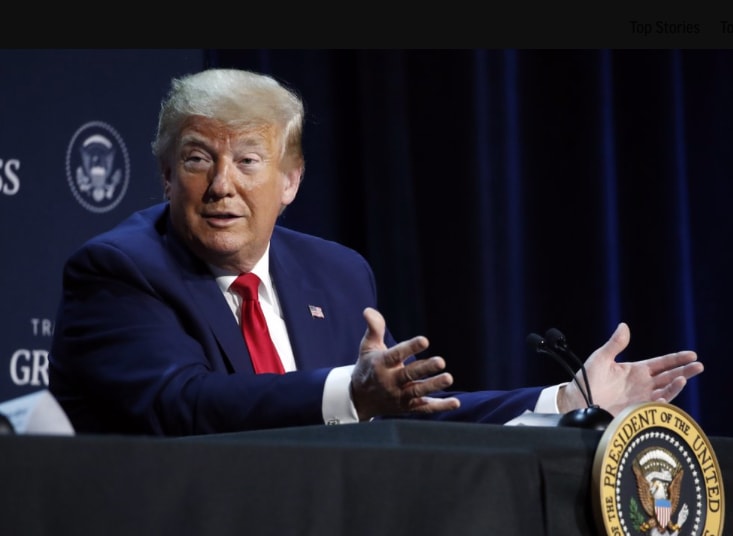 Only 82% of Jacksonville Republicans approve of the President.
Jacksonville won a splashy bid to host the Republican National Convention, but locals have soured on the President who will be renominated.
That's the finding in a poll released Wednesday morning by the University of North Florida's Public Opinion Research Lab.
A survey of 2,524 registered voters revealed that President Donald Trump, who carried Duval County in 2016, is underwater with Duval County voters, suggesting that he may have trouble carrying the city that will showcase arguably the most important speech in the President's political career.
All told, just 39% of registered voters approve of the President, with a full 61% disapproving.
Trump's approval rating with Democrats is an anemic 5%, and is just 31% with voters who lack party affiliation. The President is also at 31% with women, and breaks even with men, with a 48-48 split.
Trump's softness even extends to Republicans, with just 82% approving of the President, a metric that bodes poorly for the culture war plays that the President hopes to make the centerpiece of his reelection campaign.
With White voters, the President is at 50% approval. While 44% of Hispanics approve of the President, just 11% of Black voters feel the same.
Age cohorts, by and large, have turned on the President also.
Trump enjoys 50% approval with just one group, those aged from 55 to 64 years of age. He enjoys a 48% approval rating with senior citizens.
But from there, the numbers fall off.
The President has just 42% approval with those 45 to 54 years of age, 31% approval with those 35 to 44 years old, and 27% approval with each of the younger cohorts.
Despite this underperformance, Duval County voters, if the election were today, would not elect Democrat Joe Biden in a rout.
The UNF poll shows Biden ahead, 48-41, with Biden getting 84% of Democrats and Trump getting 83% of Republicans.
Still, compared to other polls, the UNF measure shows significant attrition from the GOP ranks. A recent poll from The New York Times/Siena College Research Institute found Trump with 90% support from within his own party despite the head-to-head showing a more dire top line for his reelection chances.
The UNF poll found NPA voters, meanwhile, break Biden by nearly a two to one margin, 54% to 28%.
In addition to taking the temperature for November, UNF asked voters opinions on the RNC coming to town and found Duval voters are against playing host to the GOP nominating spectacle, 58% to 42%.
The UNF split is half again larger than the 49% to 39% measure published by RABA Research earlier this week.
UNF found Duval voters' languor doesn't stem from disbelief of the benefits — two-thirds recognize the RNC could bring up to $100 million to the area.
Nearly three quarters say it's the potential for a renewed outbreak that has them worried. Similarly, 61% said they were concerned about protests and social unrest. More than half cited possible negative media coverage, an understandable belief in the birthplace of #FloridaMorons.
"National nominating conventions are polarizing events, and unsurprisingly the levels of support for Jacksonville hosting the RNC varies dramatically by partisanship," said UNF PORL director Michael Binder. "Under the backdrop of a pandemic that appears to have come more fervently to Florida, the opposition to this event being hosted locally seems much more concerning."
The RNC opposition was coupled with lingering pandemic-related fears. Nearly four-fifths said they were either somewhat or very concerned about the pandemic in general and two-thirds are worried they may contract the virus themselves.
Additionally, 35% of respondents said they personally know someone who has tested positive for COVID-19, up from 21% in April. To that end, 56% said they believe Jax is moving too quickly on easing restrictions and reopening the economy.
"Even though levels of concern have abated somewhat since our last poll in April, COVID-19 worries remain extremely high in Jacksonville," Binder said. "More people know somebody that has contracted the virus and the economy is not turning around as quickly as people might have hoped two months ago."
The survey includes 42% responses from Democrats and 36% Republicans. It also favored women 54% to 46% and white voters 58% to 28% African American, 5% Hispanic and 9% other.