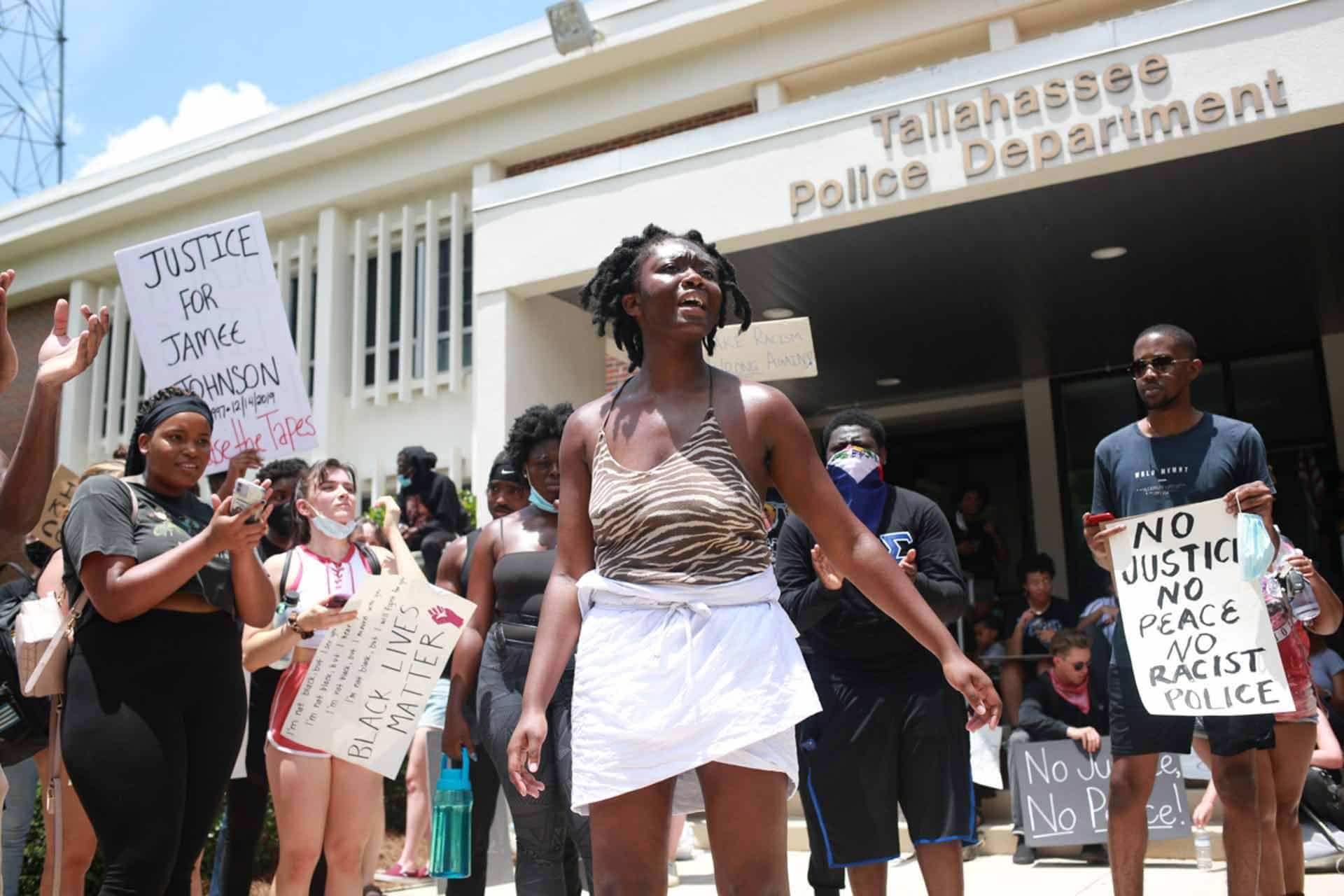 A recent survey shows 90% of residents believe some form of inequality exists.
Nine in 10 Leon County residents believe inequality exists in their community, according to a recent survey.
The overwhelming majority indicated that they believed some form of inequality exists, with 86% highlighting inequality in the justice system. And 88% see a need for reform in the justice system.
The poll, conducted by Sachs Media Group between June 14 and 15, came in the wake of protests over the deaths of George Floyd in Minneapolis and Tony McDade, who was fatally shot last month by a White Tallahassee police officer after police say he stabbed his next-door neighbor.
Residents also overwhelmingly believe law enforcement officers use more force against people of color than against White suspects, with 85% affirming that belief. Poor people are charged with crimes that wealthier people aren't arrested for, say 88%, and 89% believe people of color or poorer people receive longer prison sentences for the same crimes as White or wealthy people.
Still, 65% believe the majority of law enforcement officers act responsibly and properly.
"This survey presents a picture of meaningful unity in the community when it comes to justice," said Ron Sachs, founder and CEO of Sachs Media Group. "While residents see a law enforcement and justice system they believe is tilted in favor of some and against others, they also continue to support the men and women who enforce the laws."
Sachs Media Group released the survey results ahead of the multi-day "Equality in Life" series of community discussions scheduled to kick off Tuesday evening. The forum will be anchored by The Village Square.
"This is the long-awaited moment of a new, bolstered national civil rights movement and our community leaders have priority work to do to restore public confidence in a system that needs review and reform to truly provide equal justice for all," Sachs said.
Perceived inequality didn't end with the criminal justice system. Inequality existed in employment, said 66% of residents; in K-12 education, said 65%; and in media portrayals, said 60%. That extended to gaining elected office, according to 59%; in higher education, said 52%; in business deals, said 51%; and in social interactions, said 48%.
One in four residents believed inequalities exist in those seven areas and in the justice system and 90% see inequality in at least one of those areas.
The survey also touched on defunding the police and found that 39% familiar with the strategy believed it was a good idea. The same percentage said calling for it was good because it could force leaders to make meaningful change and 26% called it a dangerous or bad idea.
Nearly 9 in 10 county residents wanted a thorough review f law enforcement policies and procedures and 86% wanted a review of best practices from elsewhere to inform recommendations for changes. Similarly, 85% supported holding meetings to gather civilian input.
"The survey shows that local residents strongly support law enforcement, want crimes to be punished, and justice to be served – but are deeply concerned about inequities in the system, and overwhelmingly support efforts to investigate bias and reform how the law is carried out," said Karen Cyphers, a partner at Sachs Media Group and vice president of research and policy. "These feelings are not limited to any one portion of our community – they are felt across the board."
The digital survey, which reached 1,269 Leon County residents, had a 2.75% margin of error and a 95% confidence level.