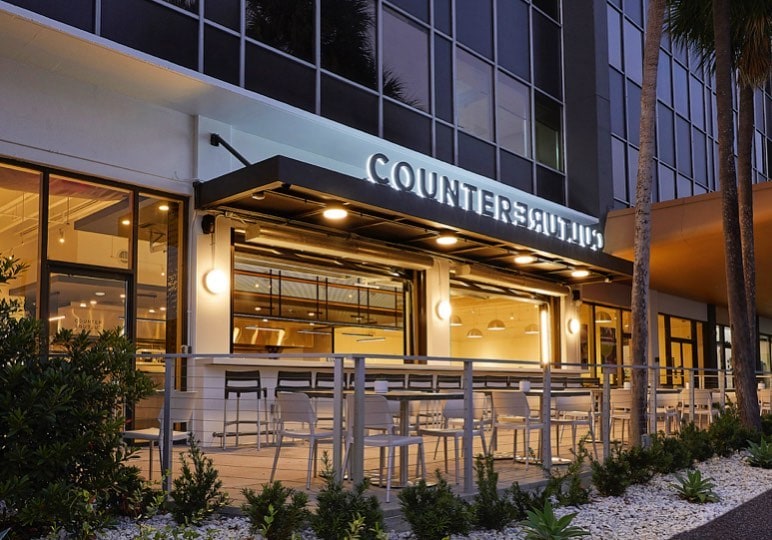 Businesses nationwide are facing a similar challenge.
A popular Tampa restaurant is joining the growing list of businesses nationwide learning their business interruption insurance coverage won't compensate lost revenue from coronavirus-related closures.
Counter Culture opened on Christmas Eve last year under celebrated chef Jeannette Marie Pierola. The restaurant features an atmosphere reminiscent of classic counter top dining in a modern setting.
Like other restaurants, it closed in April and into May as part of the statewide shutdowns to curb the spread of COVID-19.
Pierola thought her insurance policy, which went into effect February 1, would cover revenue losses under her business interruption policy, but her insurance company, Scottsdale Insurance, a unit of Nationwide Insurance, denied her claim arguing a virus closure was not covered.
Counter Culture faithfully paid policy premiums to Underwriter specifically to provide additional coverages in the event of business closure by order of Civil Authority," Pierola's lawsuit reads. "Loss of business property damages, loss of business income and operating expenses is specifically covered under the policy, and governmental suspension as a result of COVID-19 is not specifically excluded."
Scottsdale, sees it differently, according to a rejection letter provided in Pierola's Pinellas County Court filing.
"As we discussed, the policy only provides coverage for loss of business income when the suspension of your operations is the result of direct physical loss of or damage to property at the insured premises from a covered cause of loss," the company wrote. "The policy also excludes from coverage any loss due to a virus."
Pierola's case might be hard to prove.
In excerpts from her policy, Scottsdale points out an exception to coverage.
"We will not pay for loss or damage caused by or resulting from any virus, bacterium or other microorganism that induces or is capable of inducing physical distress, illness or disease."
Pierola is not the only business owner to find herself in this predicament. Business interruption insurance is commonly obtained to cover expenses like rent or payroll when the business is unable to operate. But stores and restaurants nationwide are getting the same rejections.
An NBC affiliate in the San Francisco Bay area documented several businesses who were facing the same challenge. One of them, insured by Northfield Insurance Company, cited the exact same language Scottsdale used to defend its decision.
But business owners argue this situation is unprecedented and isn't specifically contemplated in existing policies. The policies don't mention forced government shutdowns. So while virus may land on the exclusionary list, there's an argument to be made the closures were due to government shutdown, not a virus contamination.
If that's the case, Pierola could be covered for the period of time her business shutdown during the statewide order, but it would likely not cover periods of time she closed the restaurant due to employees testing positive for the virus.
Counter Culture temporarily closed June 30 after a back-of-the-house employee contracted the virus. According to the restaurant's Facebook page, it remains closed and will not reopen until all employees have tested negative for the virus.
That could take a while. Hillsborough County currently has high-demand for testing. Its public testing apparatus has a more than two-week wait time to obtain tests.
Pierola filed her lawsuit in Pinellas County Court May 12.