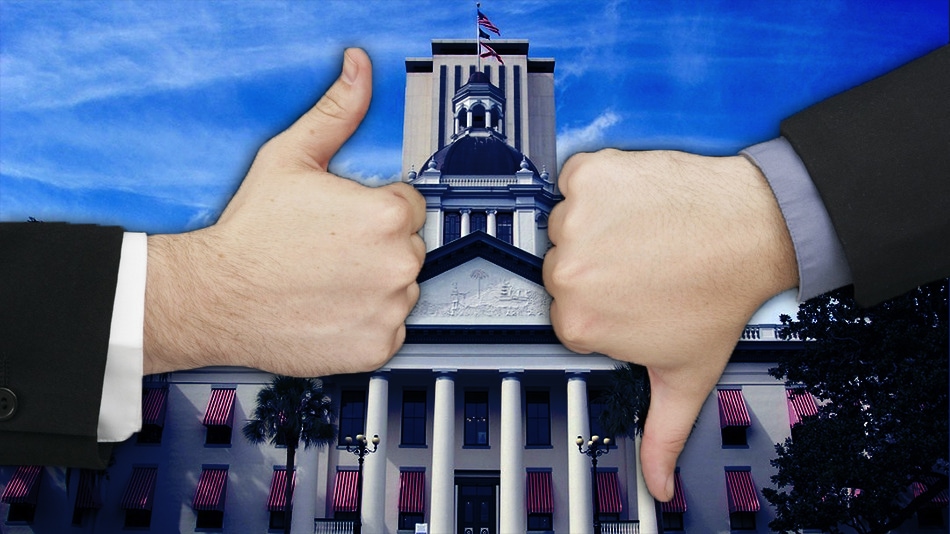 It was a good week for Susie Wiles, the agenda of conservative Republicans, and fans of Hamilton.
Happy Fourth of July weekend celebration …. well, celebration-ish.
At least you can watch the Broadway play "Hamilton" if you have Disney+. That's a win.
But since we last gathered to play our weekly game of winners and losers in Florida politics, COVID-19 cases have spiked to levels that once again place our state in the national news.
Vice President Mike Pence told reporters he is "excited" about coming to Jacksonville next month for the Republican National Convention. Cases in Jacksonville keep growing, while public opinion there about that event is dropping.
A recent poll showed 58% of Jacksonville voters want the GOP to stay away.
And there's this: A PAC that raised millions with the help of outgoing Republican House Leader Jose Oliva attacked future Speaker (assuming the GOP keeps control of the House) Daniel Perez.
Why?
Perez traveled to Cuba several years ago. Ooh, that's a high crime, right?
Well, it was to that PAC. The Miami Herald said the PAC paid for mailers calling Perez a "charlatan" and "disgrace to Republicans."
Well, we wanted fireworks on the Fourth.
As for Oliva, it must be tough not to be all that important anymore.
Let's get to it.
Winners
Honorable mention: FSU parents who work at home. That was not a good look for Florida State when the university told employees they couldn't care for their children while working at home.
Yikes!
FSU's basic argument was that employees were on the clock. They couldn't be distracted by their bored, whiny, or maybe sick children.
The predictable backlash was swift and harsh, and the university changed course quicker than running back Warrick Dunn did for the Seminoles football team back in the glory days.
"We realize that the timing of the message — as COVID-19 cases continue to rise locally and around the state — caused confusion and anxiety for many employees. That is the opposite of what we want to communicate to our dedicated faculty and staff," FSU Associate Vice President for Human Resources Renisha Gibbs said.
Oh, and it turns out FSU's policy on these work situations was the right one all along. Employees can care for the children while working at home. They just have to coordinate with supervisors.
The almost (but not quite) biggest winner: Florida conservatives. They had a good week. They have long wanted E-Verify, and they got it when Gov. Ron DeSantis signed it into law. Florida now joins states that require government employers and some private businesses to use the federal database to check an applicant's immigration status.
Conservatives pined for a law requiring parental consent before a minor could receive an abortion. DeSantis gave that to them, too, signing SB 404 into law.
Then, with the stroke of a pen, The Occupational Freedom and Opportunity Act (HB 1193) became law. It removes many business regulations Republicans considered useless and expensive.
Much of that flew under the COVID-19 radar, but that was some big wins for the conservative cause.
But there was an even bigger winner.
The biggest winner: Susie Wiles. President Donald Trump's chance to win Florida's 29 electoral votes is in jeopardy. Polls show him trailing to Democrat Joe Biden, and Election Day is only four months away.
What to do?
Bring Wiles back, that's what.
She received considerable credit with helping Trump narrowly win Florida in 2016. She also received high marks for helping DeSantis revive a flagging campaign for Governor. But DeSantis, to the shock of many, forced Wiles out.
That was then. That request from The Big Guy spoke volumes about Wiles' value.
The campaign stated it thusly: Wiles "was a very important part of how we Made Florida Great Again with @realDonaldTrump in 2016 and it's tremendous to welcome her back to the team. We will win Florida again going away."
Losers
Dishonorable mention: Minor league baseball. The announcement that there will be no minor league baseball this season wasn't a surprise, but there was still a glum finality to it.
"These are unprecedented times for our country and our organization as this is the first time in our history that we've had a summer without Minor League Baseball played," Minor League Baseball President and CEO Pat O'Conner said.
"While this is a sad day for many, this announcement removes the uncertainty surrounding the 2020 season and allows our teams to begin planning for an exciting 2021 season of affordable family entertainment."
Nine cities in Florida have minor league clubs, with many more nationwide. Major League Baseball already planned to sharply reduce the number of minor league affiliates in a cost-cutting move, and that was before COVID-19. Insiders believe it could be the end of baseball in many small towns around the country.
The almost (but not quite) biggest loser: The Villages. The renowned Central Florida retirement mecca received plenty of unwanted attention when a resident shouted "white power" at protesters during a parade to celebrate Trump's birthday.
That was bad.
Worse, it was captured on video (because everything is captured on video) and retweeted by the Tweeter-In-Chief.
Hardly a good look for a place that bills itself "Florida's Friendliest Hometown."
But even by that standard, someone came off looking worse.
The biggest loser: Clay County Sheriff Darryl Daniels. This, ahem, "officer of the law" has been under investigation by the Florida Department of Law Enforcement for the last year.
In that incident, Daniels was accused of ordering a deputy to arrest his former mistress of six years on a trumped-up stalking charge. The D.A. didn't charge her, and there is a lot more to that tale. The FDLE's investigation is said to be complete pending review.
That's bad enough.
But let's stay in the present, shall we?
The Sheriff (for now) drew national attention when he put out the not-welcome mat for anyone with ideas of protesting in Clay County. He said he would deputize lawful gun owners to assist if needed.
"If you threaten to come to Clay County and think for one second that we'll bend our backs for you, you're sadly mistaken," Daniels said in a video message posted on Facebook.
"Tearing up Clay County — that's not going to be acceptable. And if we can't handle you — you know what I'll do? I'm going to exercise the power and authority as the sheriff, and I'll make special deputies of every lawful gun owner in this county and I'll deputize them for this one purpose — to stand in the gap between lawlessness and civility," he said.
Goober factor, Clay County style.
Another investigation into Daniels is likely.