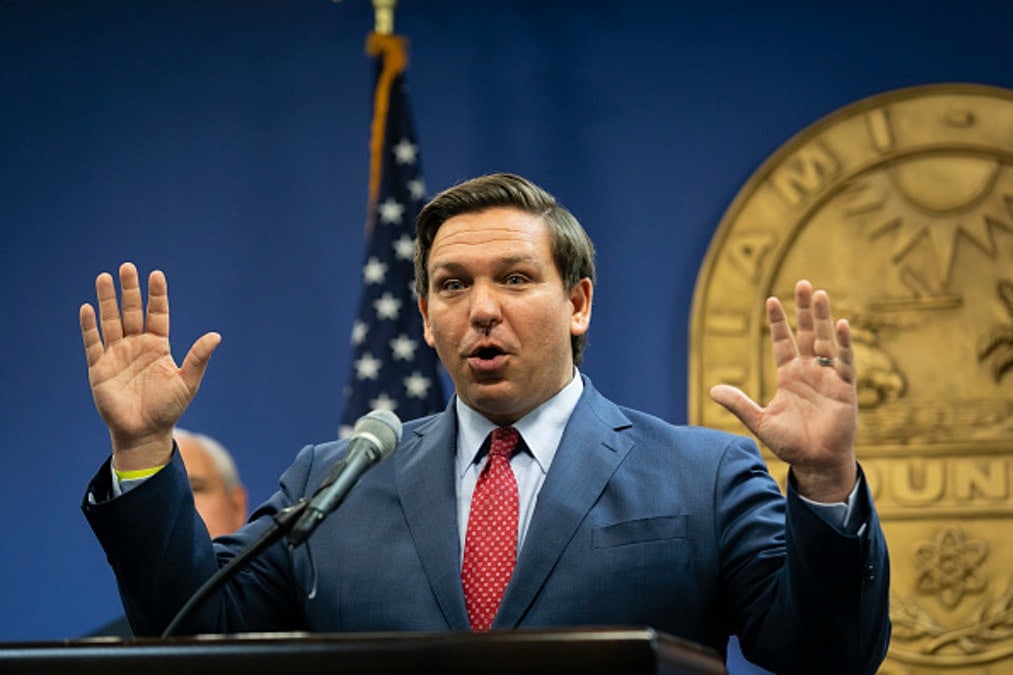 DeSantis answered COVID-19 protests with a comment about police brutality protests.
A group of hecklers interrupted Gov. Ron DeSantis on Monday during a COVID-19 press conference in Orlando at OneBlood Headquarters, marking the second time in a week his press conference was disrupted by protest.
DeSantis and medical leaders, were interrupted by a group of masked protesters early into the Governor's remarks, causing him to pause as they called for his resignation and yelled  "shame on you" and "you are lying" in his direction.
The incident drew a smirk, chuckle and two sentences from the Governor.
"We will not be defunding the police so don't worry about that," DeSantis said as a uniformed deputy escorted them from the event. "We're going to be supporting our men and women in law enforcement."
The governor @GovRonDeSantis is in Orlando at @my1blood and protestors interrupted him. @MyNews13 #N13Covid19 pic.twitter.com/UskWUZ4Ef0

— Spectrum News Asher Wildman (@AsherWildman13) July 20, 2020
From outside, the hecklers continued their protest, pounding on the windows and using a megaphone to drown out DeSantis and other speakers. Their demonstration continued for several more minutes.
Chants on "Shame on you," are being yelled at @GovRonDeSantis by protestors outside of @my1blood @MyNews13 pic.twitter.com/ZqjBdFbWdC

— Spectrum News Asher Wildman (@AsherWildman13) July 20, 2020
DeSantis and OneBlood representatives were gathered in Orlando to encourage Floridians who have recovered from COVID-19 to donate plasma.
"Well, I hope they never need convalescent plasma," said OneBlood President and CEO George "Bud" Scholl.
After the press conference, Florida GOP Executive Director Helen Aguirre Ferré spoke out against the recent demonstrations.
"The left is good at making noise but not at saving lives," Ferré tweeted. "Gov. Ron DeSantis' message is that those who have recovered from COVID19 can save a life by donating plasma to those suffering from the virus. These agitators don't want you to know that lives are being saved."
Ferré is transitioning to the Florida GOP role after serving as DeSantis' communications director since the start of his term in January 2019.
On July 13, a heckler interrupted DeSantis during a COVID-19 press conference with Miami-Dade Mayor Carlos Gimenez.
"Shame on you," the heckler yelled at the pair. "You are an embarrassment. We are getting record breaking cases everyday and you are doing nothing. You are falsifying information and misleading the public."
The incident received national media attention.