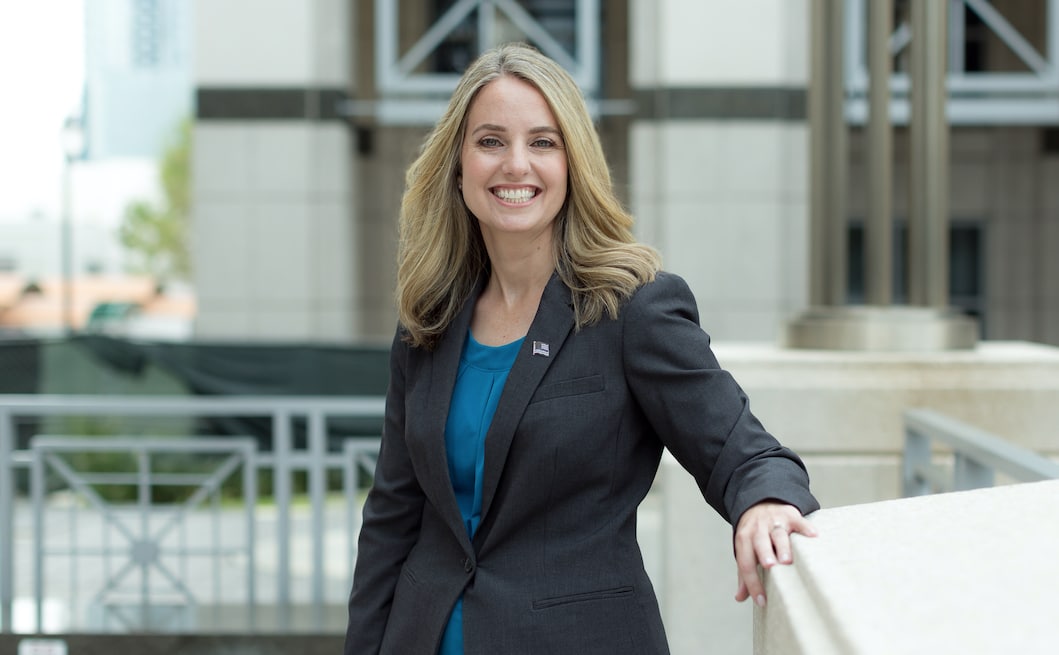 She also got socked by a kangaroo.
State Attorney candidate Deborah Barra wants to create a unit to investigate and prosecute public corruption in the Orlando area.
Barra, the current chief assistant state attorney for Florida's 9th Judicial Circuit, told the Tiger Bay Club of Central Florida Thursday that such a unit for Orange and Osceola counties would be her first major change if she is were to get elected to succeed her boss State Attorney Aramis Ayala, who is not seeking reelection.
"The first thing we're going to do is establish a government accountability unit to tackle and go after corrupt politicians in Central Florida. And probably my first day, I'm going to start recruiting people who have the skill set to do that well," Barra vowed.
"I want people who have a passion for economic crimes. Because I think government corruption is all about following the money. I know I can speak for myself: I would much rather prosecute a rapist than somebody who does a financial crime. Because if you give me four boxes of bank records, I'm going to jump out the window," Barra said. "But there are people out there, God bless them, who get excited about that. So we need to bring them into the office."
Barra found several moments to play to her strength in Thursday's Tiger Bay forum, which also featured fellow Democrats Ryan Williams, now an assistant state attorney with Florida's 5th Judicial Circuit; Belvin Perry Jr., a retired chief judge in JC 9; and Monique Worrell, a former law professor running on a sweeping criminal justice reform platform; and independent candidate Jose Torroella, a longtime criminal defense lawyer. In the November election, Torroella faces whomever wins the August 18 Democratic primary.
When asked about the things they would change if elected, both Perry and Torroella talked about the need to first "check under the hood" to see how things work now, while Worrell talked about implementing a change of culture. Barra essentially runs the office now, and she and Williams, who worked in JC 9 until 2017, were able to offer specific, immediate ideas.
When asked about the make up of the prosecutors in the office, Torroella and Williams both praised Ayala's efforts to diversify the staff, which Barra oversees.
And when asked whether prosecutorial experience is necessary to run the office, most generally said yes, while Barra seized the moment with a "Yes. Absolutely. You have to be a prosecutor in order to lead prosecutors. To me that's a no-brainer."
In contrast, that question drew one of the most eye-opening responses when Worrell declared she had never previously pursued becoming a prosecutor because she is "not ideologically aligned with the current system of prosecution."
Worrell's point was the focus of her campaign: that the entire focus of the State Attorney's Office must be changed to bring about comprehensive criminal justice reform, as she has pledged to protesters this spring and summer.
Consequently, the first thing she said she wishes to pursue is "changing the prosecutorial metrics so that we're no longer just focused on conviction rates… so that we're focused on justice, rehabilitation, and treatment. Those are things that will actually make this community stronger and safer."
The other Democrats all agreed in principle to pursue some criminal justice reform, particularly in increasing use of sentence diversion programs and reforming bail and juvenile justice programs, goals Ayala has also sought.
It was left to Torroella to take a firm stance in opposition to the notion.
"The Office of the State Attorney is not the place to bring social agendas, nor political agendas. It is the office that prosecutes people that have violated criminal laws," Torroella said. "I still believe in the old saying, 'Do the crime, do the time.'"
When asked to say something little known about themselves that might influence what kind of State Attorney they might become, the candidates struggled, as most of them already have sought to make their unique points centerpieces of their campaigns.
Williams talked about how he is the son of a convicted felon, how he watched his father get convicted and sentenced in 2009 for grand theft, and how he has since considered families involved on both sides of crimes.
 Worrell talked about how her older brother, an Air Force veteran with PTSD and bipolar disorder, slipped into a problematic life that led her at a young age to see the criminal justice system as something structured with unfairness.
Perry declared himself someone with a "servant's heart" who has long volunteered in mentoring programs at Jones High School, Bethune Cookman University, and Florida A&M University, and who even now takes calls and visits from neighbors at all hours seeking the judge's advice.
Torroella talked about his pre-legal career in business, with a master's degree in business administration in international business, and how he was the brand manager for Winston cigarettes for the R.J. Reynolds Tobacco Company.
Before she described herself as openly gay and pointed out she would become the first openly-gay State Attorney in Florida if elected, Barra offered another story.
"I was punched by a kangaroo. I was in Australia. I was on a golf course. I was talking to a kangaroo, which, I'm not crazy; I knew he wasn't going to talk back. But what I didn't expect was he was just going to punch me," she said. "I didn't punch back, although it would have been self defense, and I could have."