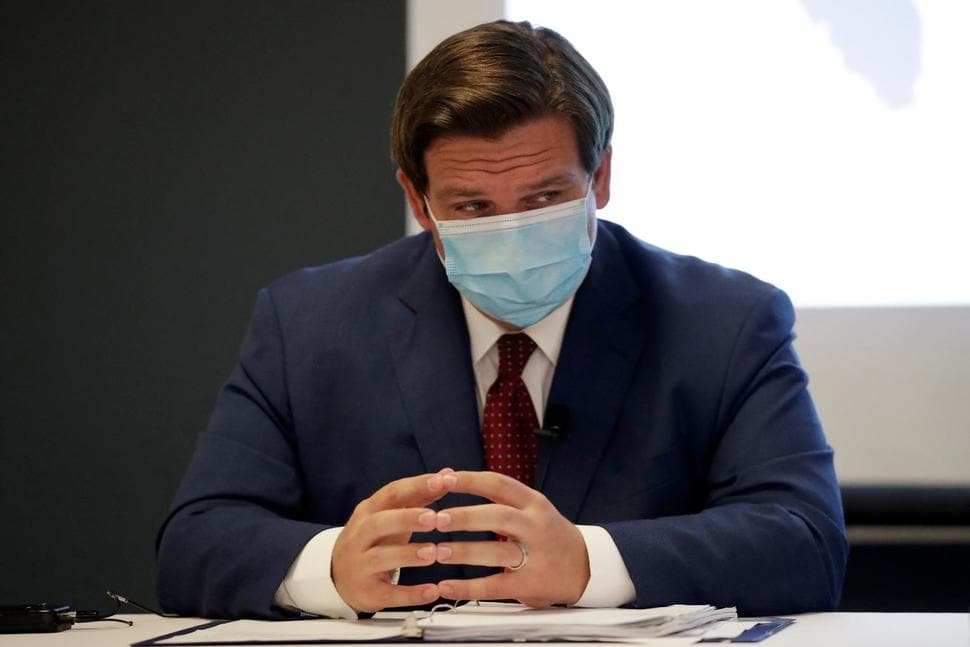 DeSantis' net approval rating is down 31 points since April.
Gov. Ron DeSantis' approval rating is underwater for the first time in the latest Quinnipiac University poll, the toll taken by his response to the COVID-19 pandemic.
Since April, the pollster recorded a 12-point slide in his approval rating to 41% and a 19-point increase in his disapproval rating, now 52%. The Thursday update outlined a 31% drop in his net approval rating, a staggering plummet for a Governor who was once one of the most popular Governors in the nation.
The drop-off is even more pronounced among independents. His approval fell 16 points to 35% while his disapproval grew 25 points to 59%, a 41% collapse in his net approval rating.
On the pandemic, 57% of those polled disapprove of his response while 38% approve, a net 28-point slide since April. Among independents, 66% disapprove and only 28% approve, a net 38-point fall.
However, the pollster showed DeSantis 7 points behind former Tallahassee Mayor Andrew Gillum the day before the 2018 election. That and an equivalent disadvantage for now-Sen. Rick Scott behind former Sen. Bill Nelson add doubt to Quinnipiac University's accuracy in the Sunshine State.

Nevertheless, a 41% new drop is far outside the poll's margin of error, which was 3.2 percentage points for the 924 registered voters polled in the state.
"Just a few months ago, Florida was a safe harbor for COVID refugees from up North. Now, it registers a startling number of infections and the numbers say the buck stops at Governor DeSantis' desk in Tallahassee," said Quinnipiac University Polling Analyst Tim Malloy.
As of Thursday, 389,868 people have tested positive for COVID-19 in Florida and 5,632 have died. The rate of new cases has plateaued, but the state confirmed a record 173 deaths tied to the disease between Wednesday and Thursday morning.
Throughout the pandemic, DeSantis has taken hits from the national media on multiple parts of his pandemic response, the latest now his refusal to issue a mask mandate in the current wave. A mid-May media rebuke also backfired.
"You've got a lot of people in your profession who waxed poetically for weeks and weeks about how Florida was going to be just like New York. Wait two weeks, Florida's going to be next. Just like Italy, wait two weeks," DeSantis told reporters. "Hell, we're eight weeks away from that, and it hasn't happened."
Among Republicans, the Governor still enjoys an 82% approval rating after it slipped two points. His net approval fell 6 points and is now 70%.
On reopening schools, 37% of voters approve of his job while 56% disapprove. Among independents, that split is 31% to 61%.
The Governor on Wednesday gave a five-minute address to the state about his plan to get schools open next month. That coincided with a shakeup in his communications team after Former Communications Director Helen Aguirre Ferré left the Governor's Office last week to join the Republican Party of Florida as its new Executive Director. In to replace her is Fred Piccolo, previously House Speaker José Oliva's spokesman.