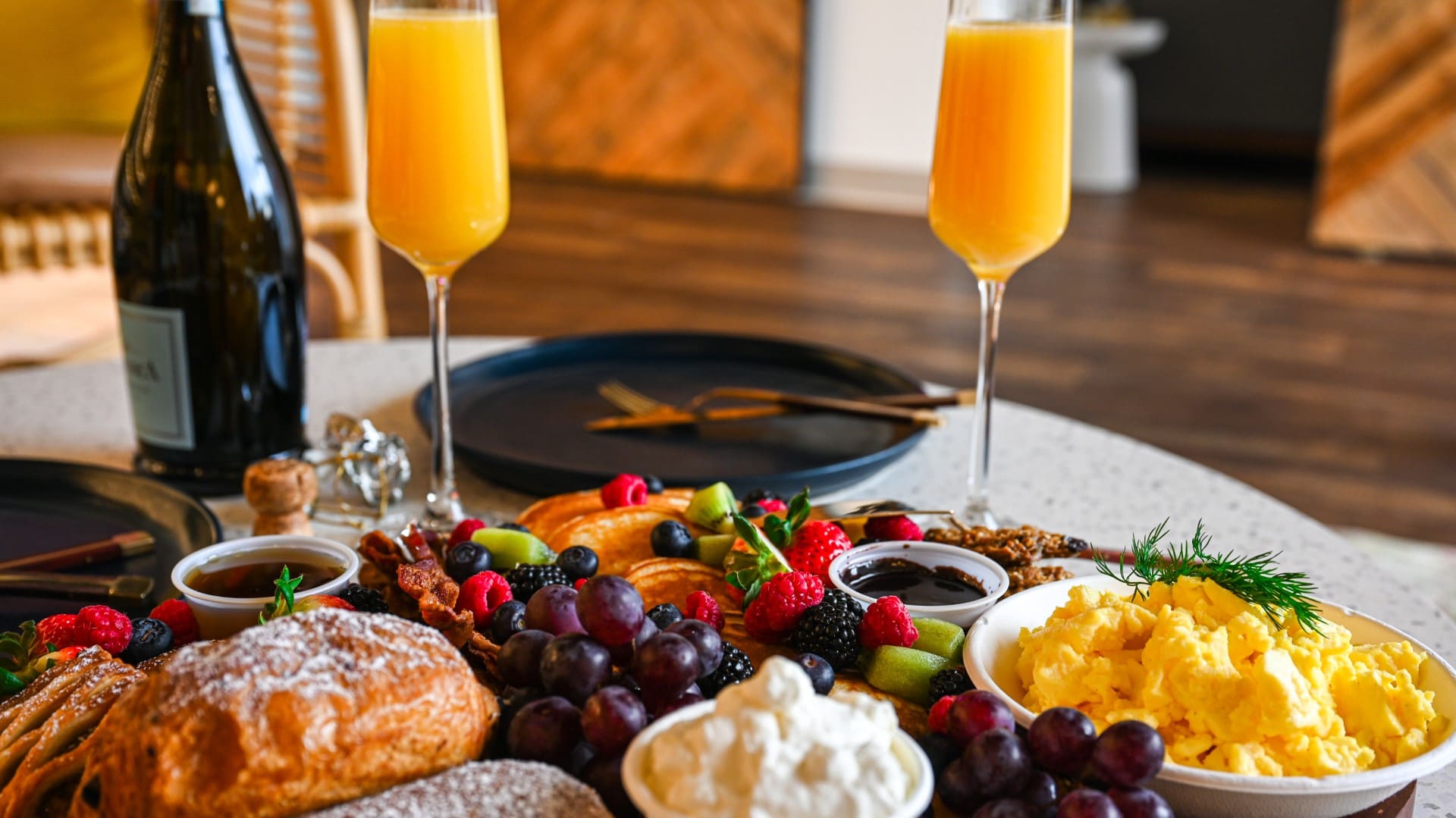 A brunch buffet's worth of real-time reporting.
Good morning and welcome to the final edition of Brunch before Tuesday's Primary Election. 
Please check out FloridaPolitics.com. We have temporarily reconfigured the website to focus on the races up for grabs. Our staff is currently tracking more than 110 contests up and down the ballot. And we've written table-setting stories about almost all of these races. If you want to get smart quickly about what's at stake on Tuesday, visit FloridaPolitics.com.
On Election Night, FP will be the one place where you can find out who has won a House race in the Panhandle, a Congressional race in Southwest Florida, and the Sheriff's race in Broward. This is the first time we've implemented this kind of stadium-design planning. Feel free to send us any feedback you might have.
We're so excited for Tuesday to come. It reminds me of the opening scene from "The Warriors" and you just know you're in for all the action you can handle.
"All right now, for all you boppers out there in the big city, all you street people with an ear for the action, I've been asked to relay a request from the Gramercy Riffs. It's a special for the Warriors; that's that real live bunch from Coney… and I do mean The Warriors. Here's a hit with them in mind."
Check out the video by clicking the image below:
Ain't much sunshine
Big Deal Democrats (and at least one Republican) are Zooming in to speak at the Democratic National Convention this week from at least 21 states, including most of the usual swing states. Florida's only getting a spot on a panel discussion, but no solo acts.
— A very big panel. Florida Agriculture Commission Nikki Fried was named Sunday to be part of the Democrats' keynote address. But she'll be one of 17 participants in a keynote program under the theme "Leadership Matters." 
— Granted, Florida's Democratic top shelf is a little bare. After Fried, there's Joe Biden's BFF Bill Nelson. Then there's um. Um. Buddy Dyer?
— What about Val? People who've seen her at her best know vice-presidential contestant Rep. Val Demings is fully capable of a 2004 DNC Barack Obama moment. At a podium, she brings down the thunder, perhaps like no other Democrat in Florida. People still talk about how much she upstaged Bill Clinton at a 2016 rally.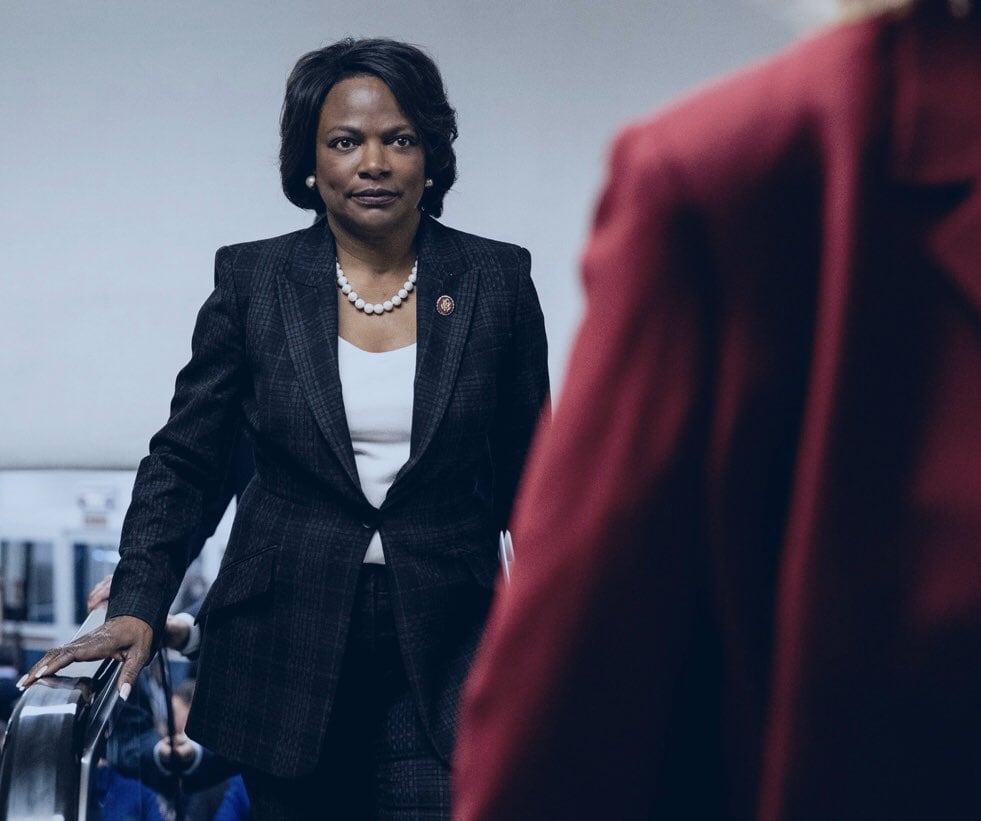 — Still a chance. There may be some slots open. DNC officials say the speakers' schedule is still being set. Sen. Kamala Harris now takes Wednesday's "Vice Presidential Nominee" position, so her previously-scheduled Thursday spot could be filled by someone else.
— What's it worth? There will be nearly 50 speakers over four days. Let's face it, the speeches by some — Rep. Gwen Moore? Sen. Chris Coons? — probably are going to be "Looks like I've got just enough time to walk the dog or do the dishes" moments, even for ardent Democrats. Yet whenever someone shines at a national party convention, the world notices. 
DNC swagger
What's a convention without swag? The Democratic National Convention starts Monday, but instead of a Milwaukee extravaganza, attendees will watch from home. But Brice Barnes, a Biden Victory Fund fundraiser based in Tallahassee, offered a glimpse into the mega goody bag that arrived ahead of the convention opening.
— Hot brew: Perhaps it was inevitable considering the nominee. But themed coffee cups will now allow every delegate and convention-goer to wake up to a "Cup o' Joe" with themed grounds packets.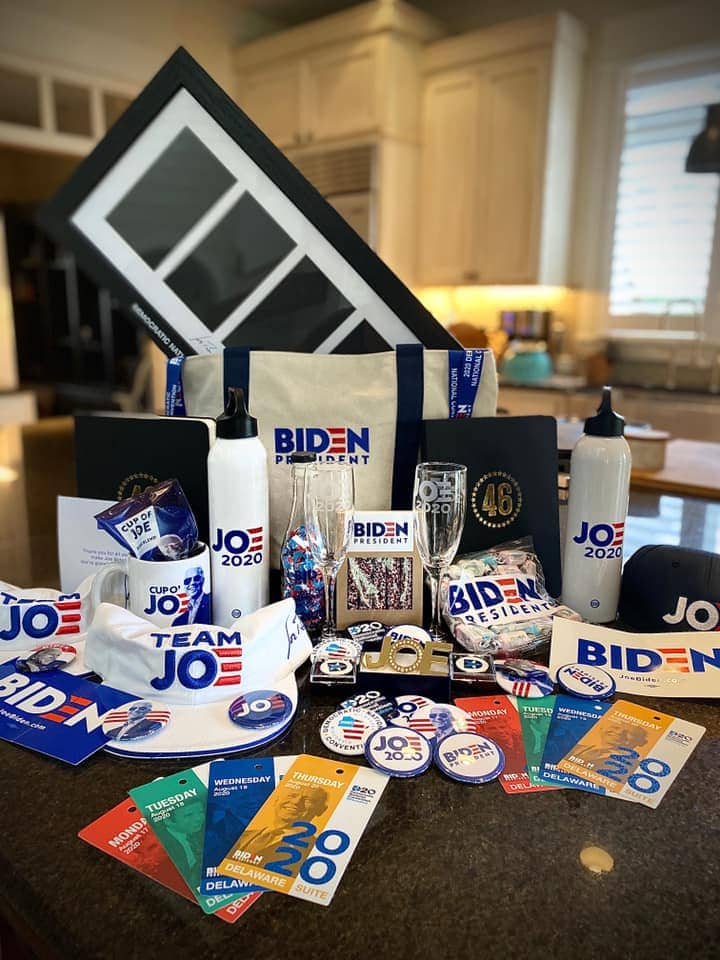 — Confetti anyone?: A bottle of confetti comes in every package. "I think we're supposed to throw the confetti once Joe Biden accepts the nomination," Barnes said. "It's not quite the same as balloons and confetti coming from the sky."
— Toastmaster: An instant favorite in the Barnes household has to be the Biden-branded champaign glasses." We hope to be doing a lot of good toasts with those," she said.
'Ready to lead'
Biden 2020 is out with a new series of ads, one nationally and two exclusives to Florida and other swing states.
— Like before, the campaign is dialing in on the same pressure point: The coronavirus pandemic.
— The selling point for the Joe Biden–Kamala Harris ticket, according to the campaign's minute-long national ad, is their "real plans" for addressing the pandemic and the economic damage it has wrought.
— Biden's proposals: increasing federal support for testing, doubling the number of drive-through testing sites, advocating national mask mandates, pledges for front-line workers, schools, and senior citizens.
— To watch one of the ads, click on the image below: 
— The first swing-state exclusive is "Ready to Lead" and like its nationwide cousin, it provides a top-level outline of the former VP's COVID-19 proposals.
— The second is "Dignity," which dials in on senior citizens' protections, and includes Biden's pledge to surround himself with medical experts and to listen to them.
The swing state ads take a sharper aim at Trump. "Ready to Lead" starts with ominous images of the virus spread and a smirking Trump, as a narrator criticizes the President for "failing to act." The seniors' ad offers criticism indirectly. Biden declares he wants seniors "to know that their health and safety will be my responsibility." They're also airing in Arizona, Michigan, Nevada, North Carolina, Pennsylvania, and Wisconsin.
Don't touch that dial
Spectrum Bay News 9 is going all-in on election and Democratic National Convention coverage, offering a full week of up-to-the-minute results and analysis of what's going on in state and national politics.
— It kicks off today at 11 a.m. with an hourlong edition of Political Connections. The guest list includes political analysts Ana Cruz and Berny Jacques, who will give their takes on a suite of local, state and national races to watch as well as a preview of the DNC.
— The weekday coverage will see reporters Mitch Perry, Greg Angel and Samantha-Jo Roth from Spectrum's DC bureau providing daily reports on the DNC in the morning, at 5 p.m. and 10 p.m.
— The primary election will take center stage on Monday night with a 30-minute preview show of must-watch races, while Election Day itself will feature live coverage of results once the polls close at 7 p.m.
Tuning in is easy, whether you live in the network's footprint or not. Tampa Bay residents can simply flip to channel 9. Distance viewers can simply download the Spectrum News App on their iPhone or Android and kick off their 30-day trial.
Where's Joe G?
These days, watching Joe Gruters' Facebook accounting is like enjoying a statewide tour of Florida's doorsteps. The responsibly masked Republican Party of Florida Chair has been traversing the state, usually with Vice-Chair Christian Ziegler at his side. So where will these two brunch this weekend?
— Headed South: Gruters on Saturday morning could be found in Miami, churning through South Florida, sharing breakfast with future House Speaker-Designate Daniel Perez before knocking on doors.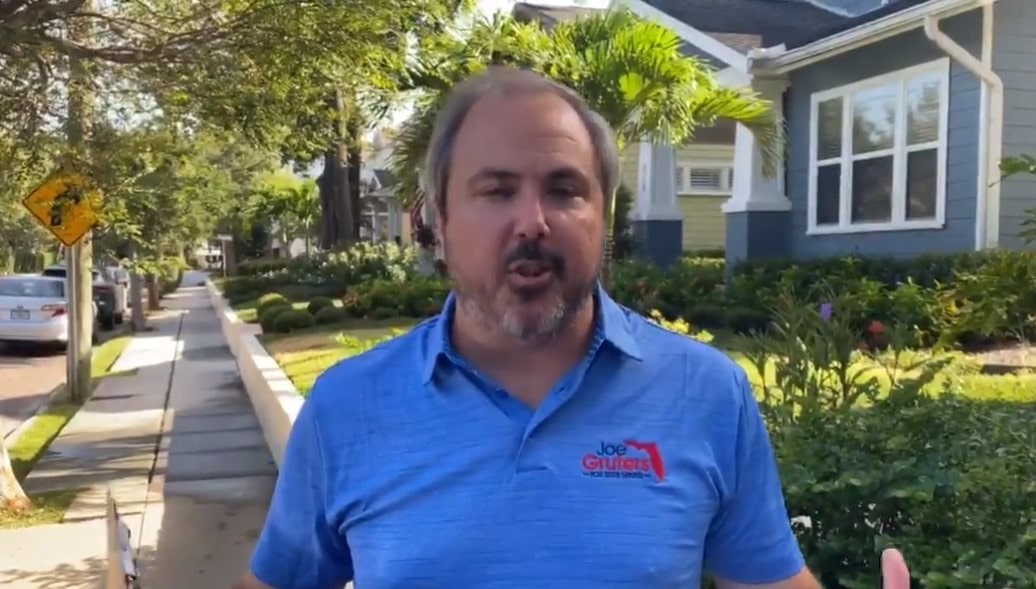 — In The Swamp: By noon, the state Senator moved into Glades County, meeting up with folks at the Buck Head Ridge Community Center before canvassing.
— Heartland Ho!: Hendry County was the next stop for the Chair, as he walked the 7th precinct seeking votes around the corner of Ponce de Leon and Via DelAqua avenues.
— Home Sweet Home: By Sunday, he wondered back into his and Ziegler's home county just in time for a MAGA dinner with John Pence, national GOP political consultant (and vice-presidential nephew).
Mail call
As of this morning, more than 2.4 million votes had been cast in the Primary Election.
— Mail-ballots are the bulk, accounting for five out of six votes cast thus far. Democrats are leading the way with just over a million returned while about 700,000 Republican and 245,000 NPA ballots have completed the round trip.
— Return rates currently stand at 49% for Dems, 50% for the GOP. That tracks with the return rates in three days out from the election in the past two cycles. That's a three-point jump for Dems and a one-point dip on the Republican side compared to the return rate three days out from the 2016 and 2012 elections.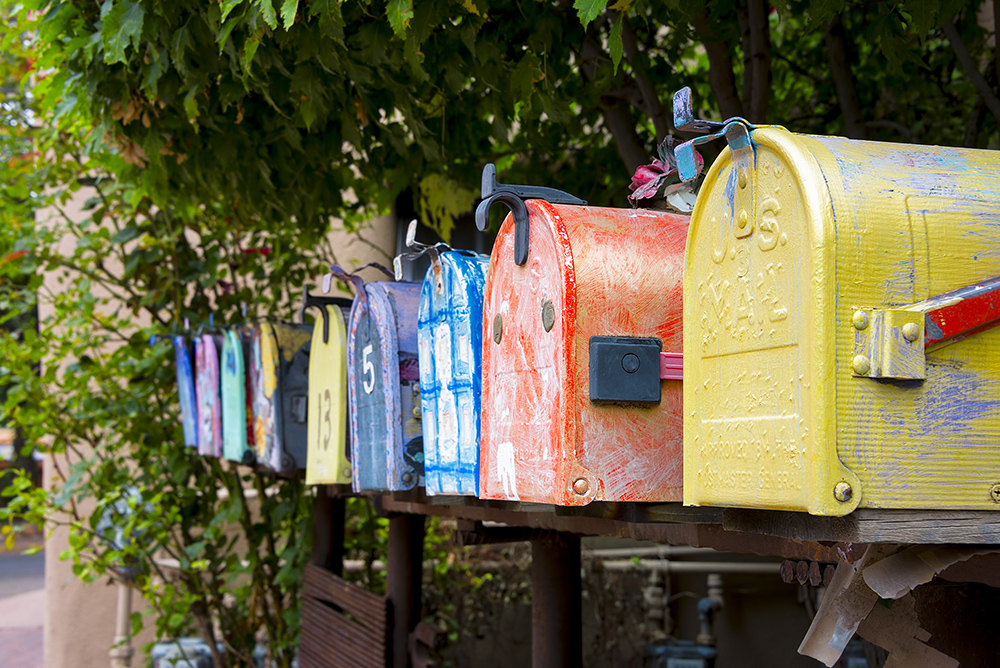 — Early voting makes up 437,000 of the total, with Republicans on top with 245,000 votes. Democrats follow at 164,000 with NPAs accounting for the balance.
VBM returns are up big compared to past elections. On the Saturday before the 2018 primary, just 1.2 million mail ballots had been returned to county supervisors. Three days out from the last presidential election, there had been 1.15 million returns.
Races to watch
Most Floridians have at least a passing interest in politics, particularly around Election Day; others follow it more closely, understanding the role lawmakers play in our everyday lives. Then there are those for whom the political process is their livelihood, and it's in their best interest to keep a keen eye on what goes on before, during and after election season.
— We asked a few of these insiders which races they are watching this Tuesday:
— Matt Florell, St. Pete Polls: "While incumbent Republican Congressman Ross Spano has raised nearly twice as much money for his reelection campaign as Republican challenger Scott Franklin, the poll released Thursday in that primary race has it as a dead heat less than a week before the election. As if that wasn't enough of an alarm for the Spano campaign, the respondents to that poll that had already voted favored Franklin by more than 5 points. For a race that I had initially ignored as a likely incumbent victory, this will certainly be one I will be watching on Tuesday night."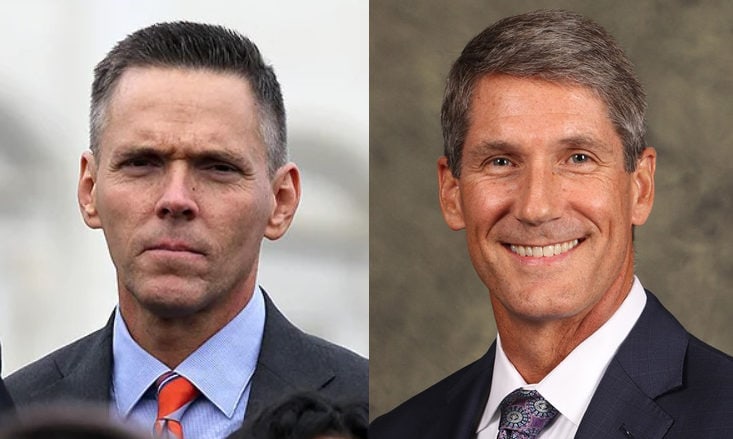 — Max Goodman, The Max Goodman Agency: "I'm watching both primaries in CD 15. Can Ross Spano hold off the late charge from the Gaetz-endorsed Scott Franklin? Can the establishment Adam Hattersley withstand the enthusiasm surrounding Alan Cohn's outsider campaign? Regardless of who reigns victorious, national money will be pouring into that district."
— Yolanda Cash Jackson, Becker: "Three races collectively to watch are where progressive Democrats have endorsed the opponents of incumbents — [Anika] Omphroy vs. [Jasmen] Rogers Shaw; [Kim] Daniels vs. [Angie] Nixon; and [Al] Jacquet vs. [Omari] Hardy."
— Beth Matuga, Hard Ask Consulting: "In the Senate District 3 primary, will the FRSCC's propping up of Marva Preston, a complete unknown, be enough to overcome Benjamin Alexander Thaddeus John Horbowy, a genuinely unhinged Trumper who is likely to be Baker Acted before November?" 
— Matt Mitchell, Data Targeting: "As a native of the 941, I've found all of the Manatee and Sarasota County Commission primary elections intriguing. Sarasota County, especially given that it's the first go-round in the single-member district era."
— Evan Ross, Public Communicators Group: "Will Shevrin Jones, who has the support of almost every notable organization and elected official, become Florida's first openly gay Black elected official? Or will Barbara Watson's late entry into a six-person race divide the vote enough to send Daphne Campbell back to the Senate where she will have another term to embarrass us all?"
— Elnatan Rudolph, Converge GPS: "The race for Miami Dade county Mayor is a must-watch. Alex Penelas began as the front-runner and has likely maintained that status and will head into the runoff. The question is who will come in second. Will it be Daniella Levine Cava from the left or Steve Bovo from the right. 
— Michael Worley, MDW Communications: "Can Anika Omphroy, who essentially won in 2018 by accident, hold on to her seat? Democratic money has moved to her challenger, Jansen Rogers Shaw, but GOP and Charter School money has given Omphroy much needed support."
Pencils down
Campaign finance reports are in for the pre-primary reporting period, and whatever candidates have in the bank as of Thursday is what they have to work within the final stretch before the polls close. Some candidates have a lot more than others.
— The top fundraiser overall is former Rep. Jason Brodeur, who is on the cusp of $750,000 raised for his campaign in Senate District 9. The best part? He's the lone Republican in the race, which makes Election Day just another Tuesday at Brodeur HQ.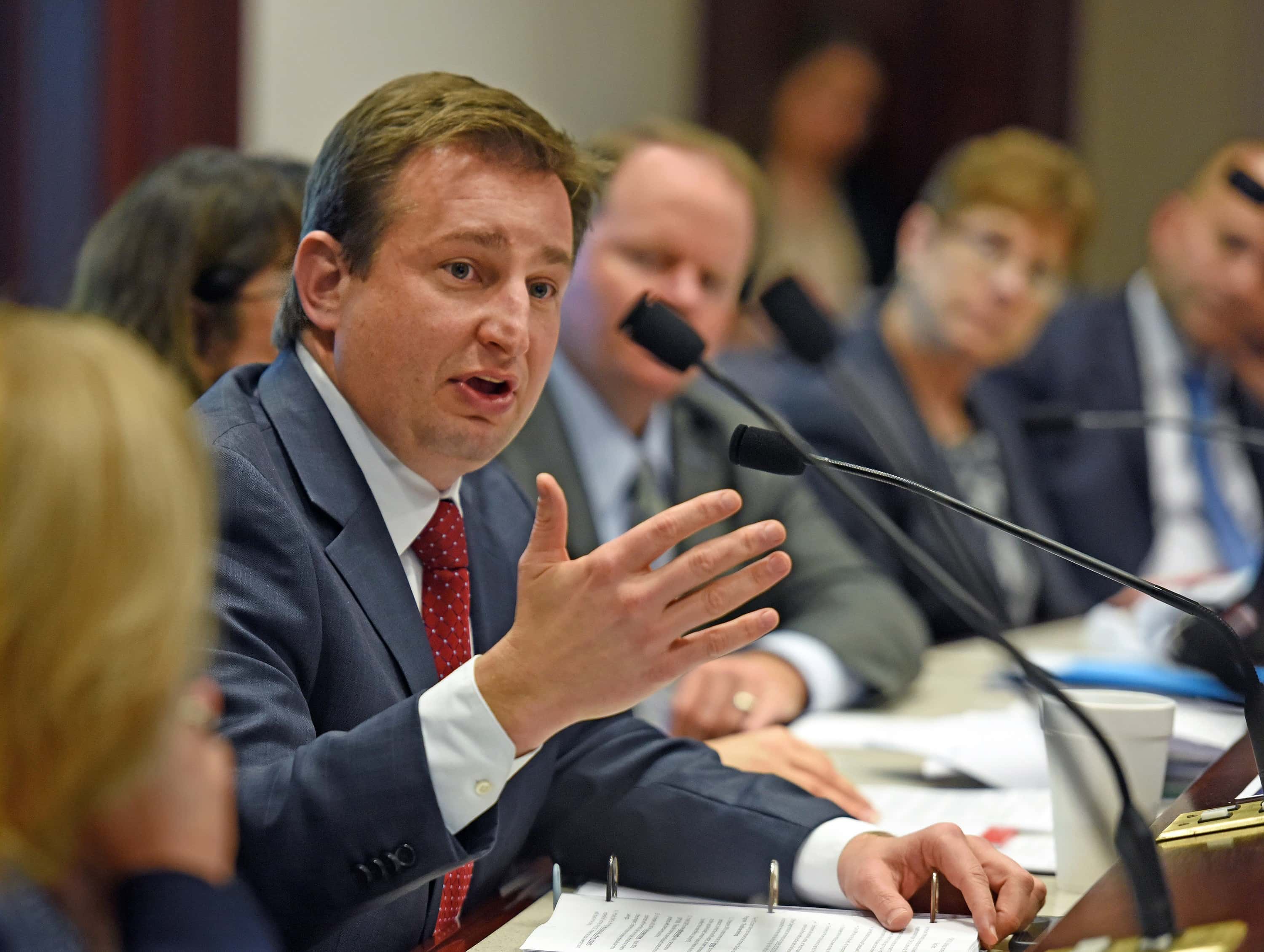 — Republicans hold the next three spots in the top-5 Senate list, with Rep. Ray Rodrigues at $552,000 in SD 27; Jennifer Bradley at $502,000 in SD 5; and Rep. Ana Maria Rodrigues with $477K in SD 39. Only Rodrigues faces a legit primary threat, but polls say he's set to fend off Rep. Heather Fitzenhagen and cruise in November. Bradley's up against a pair of Republicans, neither of whom have gained traction in the money race.
— The lone Democrat on the Senate list is Sen. Jose Javier Rodriguez, who has amassed $465,000 and won't face a challenger on Election Day.
— In the House, future House Speaker Danny Perez is in pole position with $500,000 raised. He's expected to win, though it'll be costly thanks to House Speaker Jose Oliva's meddling. Former FDP chair Allison Tant is No. 2 with $358,000 to date in what should be a gimme to replace Rep. Loranne Ausley in HD 9.
— Just like the Senate, Republicans hold four out of five slots on the House top-5 list. Rep. David Smith has $330,000 for his HD 28 reelection campaign; Rep. Vance Aloupis has piled up $318,000 in HD 115, and Rep. Jackie Toledo has pulled in $316,000 as she seeks a third term.
Who dis?
Mailers from Amanda Makki may give voters a different impression, but Donald Trump Jr. made clear he's not taking sides in a GOP primary in Florida's 13th Congressional District.
— Party pic: "You'd think a candidate would ask before plastering my picture everywhere, implying support," he tweeted.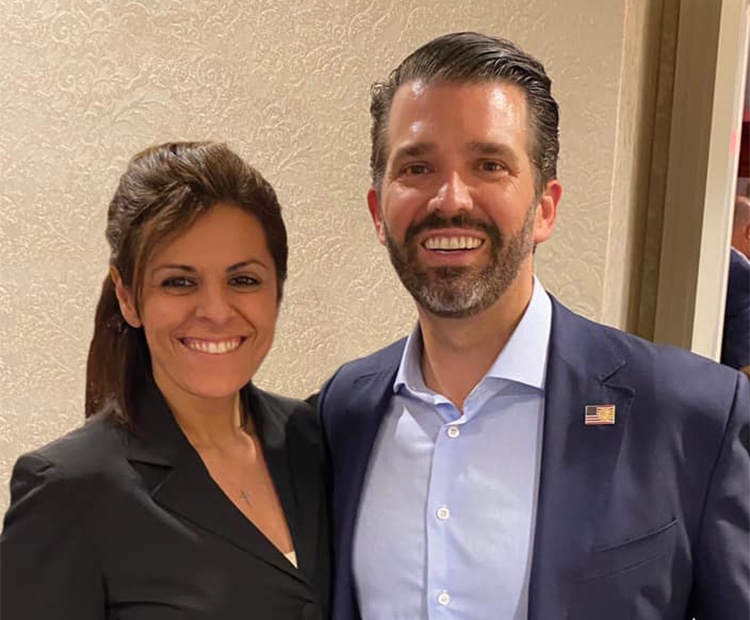 — But Actually: In fact, he's got a soft spot for Makki's opponent Anna Paulina Luna "To be clear, I haven't endorsed in this race but have heard great things about @realAnnaPaulina, a conservative, pro-Trump Air Force veteran."
— Fresh claim: Luna predictably cooed over the tweet, sending a news release that touted Trump's support.
— Repeat Offender: It also made note this isn't the first time Makki shared networking pictures to imply endorsements. She's done the same with Pam Bondi and Ashley Moody.
Trolling Fine
The long-running feud between Rep. Randy Fine and political consultant Robert Burns has led to a particularly nasty HD 53 Republican primary. Burns is working for Fine's challenger, Marcie Adkins, and has mostly served as an attack dog. The run-up to Election Day is no different.
— The newest accusation was issued through a trollish Facebook page that a Brevard County Sheriff investigation linked to Burns. It claims Fine was lying about testing positive for COVID-19.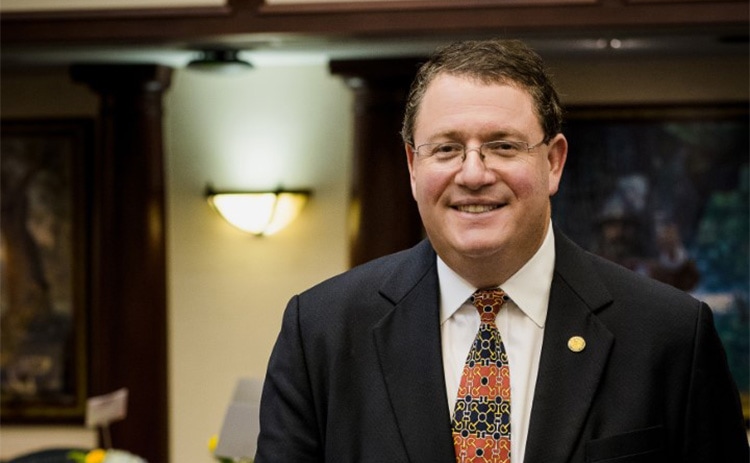 — The claim, verbatim: "All you have to do is ask where he got his positive test done or … ask him to post a screenshot of his positive results. Then you get to join the blocked party. Here's a hint; his medical records from the hospital confirmed the only reason he was placed in isolation is because he told them he was positive. The reason the Hydroxychloroquine didn't work? Because he didn't have Covid. He had pneumonia, and one of the weakest cases ever according to that X-ray."
— Adkins is in on it. She said, with two helpings of sarcasm, that Fine was "specially blessed" with a weak infection.
— Neither is a doctor. That should be a given, but it also begs the question of how Burns got Fine's medical records — assuming he isn't full of hot air, which would be par for the course considering his penchant for outlandish claims.
It isn't over. And it won't be until well after Tuesday. Fine on Friday said he filed a complaint with the US Department of Health and Human Services' Office for Civil Rights to get to investigate whether and how Burns got ahold of his medical records. Fine's final word on the issue: "I look forward to working with law enforcement to hold Ms. Adkins and Mr. Burns responsible for their latest criminal activity."
Mailer madness
Democrat Michael Weinstein, a candidate for House District 81, is going negative in a new set of mailers in the closing days of the primary contest.
— Photo finish: After facing accusations of lobbing sexist double standards at his Democratic opponent, Kelly Skidmore, and falsely attributing his own attacks against Skidmore to the Palm Beach Post, Weinstein is now attempting to hit Skidmore over a photo he says was improperly edited.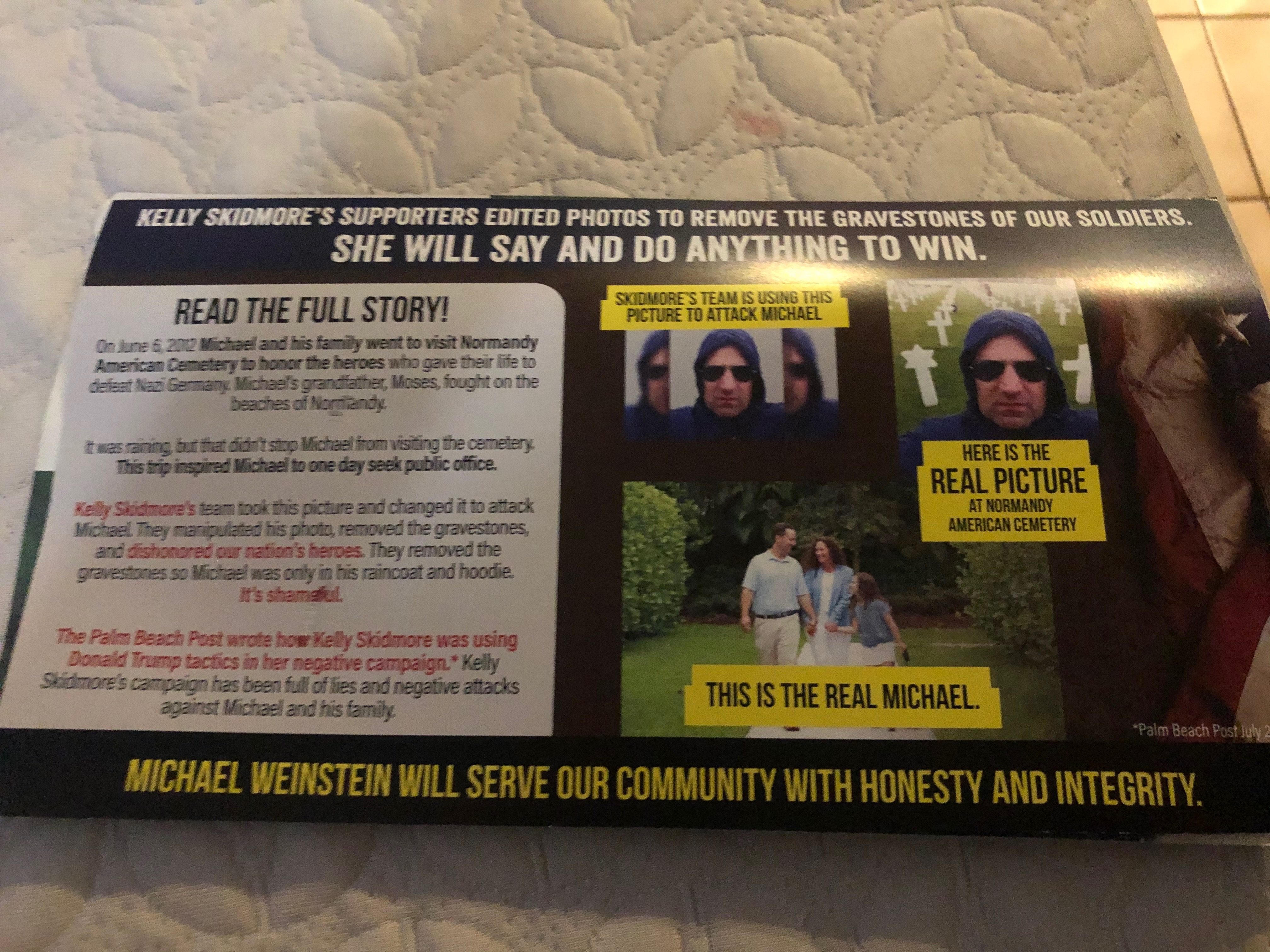 — Clearer picture: The original photo features Weinstein in a raincoat and glasses in front of a World War II gravesite. Weinstein accuses Skidmore's "team" of inappropriately altering the picture during an "attack" on Weinstein by blurring out the gravesite background to feature only his face.
— Defending our troops? Weinstein's new mailer somehow argues the photo edit is an attack on American soldiers and that Skidmore was trying to wholly "erase their memory." Weinstein further asserts Skidmore "dishonored our nation's heroes."
— More misdirection: While Weinstein attempts to turn the photo into a slander on American troops, he not only fails to answer prior critiques, but actually repeats a falsity he's parroted in prior mail materials. Weinstein's new mailer on Photogate includes the line, "The Palm Beach Post wrote how Skidmore was using Donald Trump tactics in her negative campaign." That's not true, as the analogy was made in a quote from Weinstein, not from Post reporters. The paper even endorsed Skidmore over Weinstein earlier this month.
New poll favors Polsky
Democratic candidate Tina Polsky is the favorite in the Senate District 29 Democratic primary, according to a new survey from St. Pete Polls.
— Near majority: Polsky pulls in 49.3% of the vote in the new survey as compared to just 37.3% for her Democratic opponent, former Rep. Irv Slosberg. That puts Polsky close to a majority, giving her leeway if the remaining 13.4% of voters who were undecided or wouldn't disclose their vote break toward Slosberg.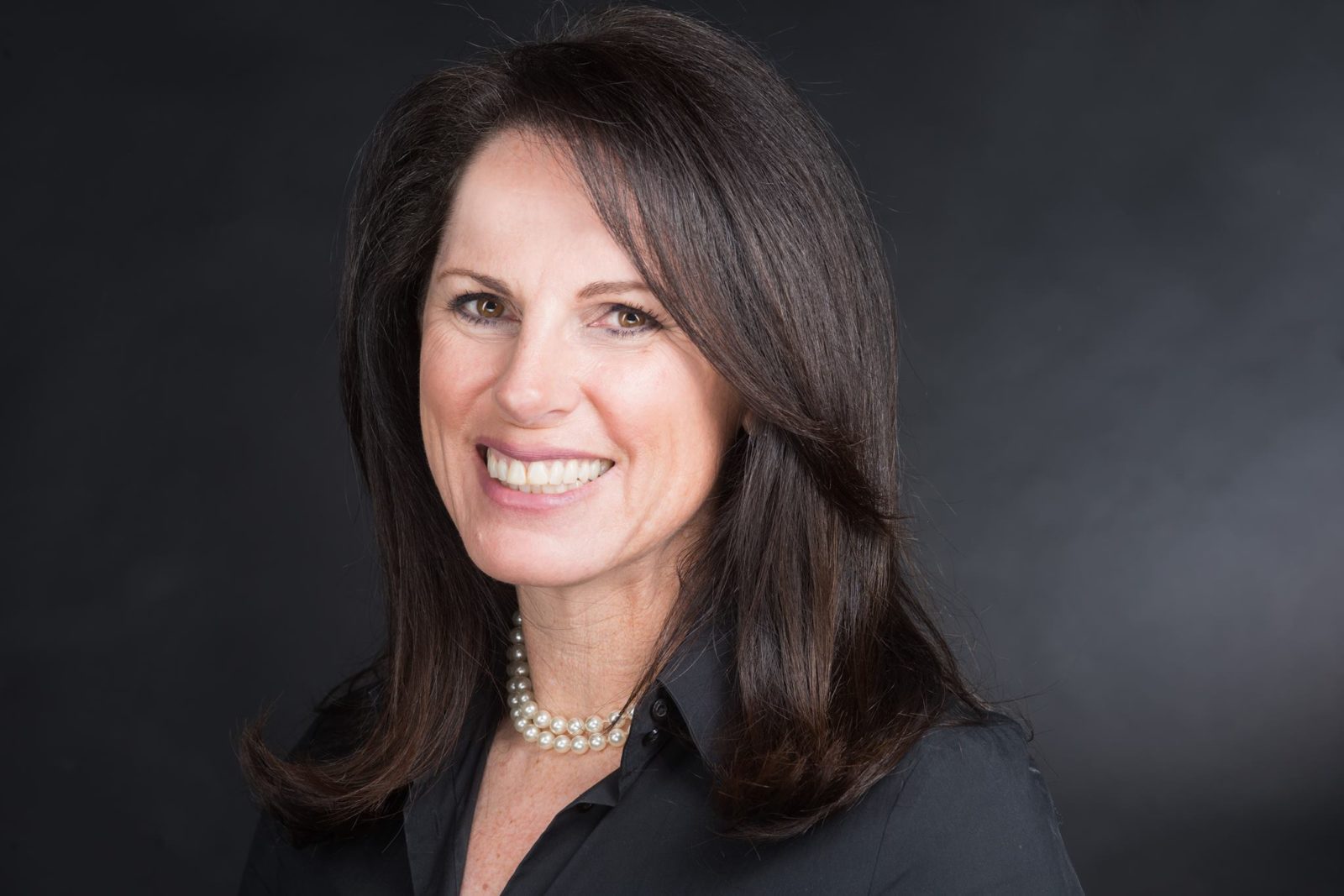 — Edge among submitted ballots: Of voters who have already cast their ballots, Polsky's advantage grows to a 58.4%-36% margin. Slosberg leads with respondents who "plan to vote," topping Polsky 40.8%-33.9%.
— Rader replacement: The candidates are seeking to replace Sen. Kevin Rader, who is stepping away from the Senate after just one term. The winner will face first-time candidate Brian Norton, a Republican, in the general election.
The survey sampled 477 likely primary voters on Aug. 14. The margin of error sits at 4.5 percentage points, putting Polsky's lead well above that threshold.
Nail-biters in Broward
Broward County has lacked public polling despite featuring several high-profile Democratic primary races. A newly-released, privately-commissioned poll may shed some insight into those contests
— The disclaimers: This survey contains raw results only and appears to oversample and undersample various demographics, without any weighting to account for those disparities. Public Policy Polling surveyed on behalf of a local business owner who is active in the Broward political scene.
— Broward Sheriff: Despite front-runners Gregory Tony and Scott Israel both fighting through controversial backgrounds, the survey shows this contest is a two-person race. Tony earned 32% support to Israel's 29%, with Santiago Vazquez a distant third at 7%.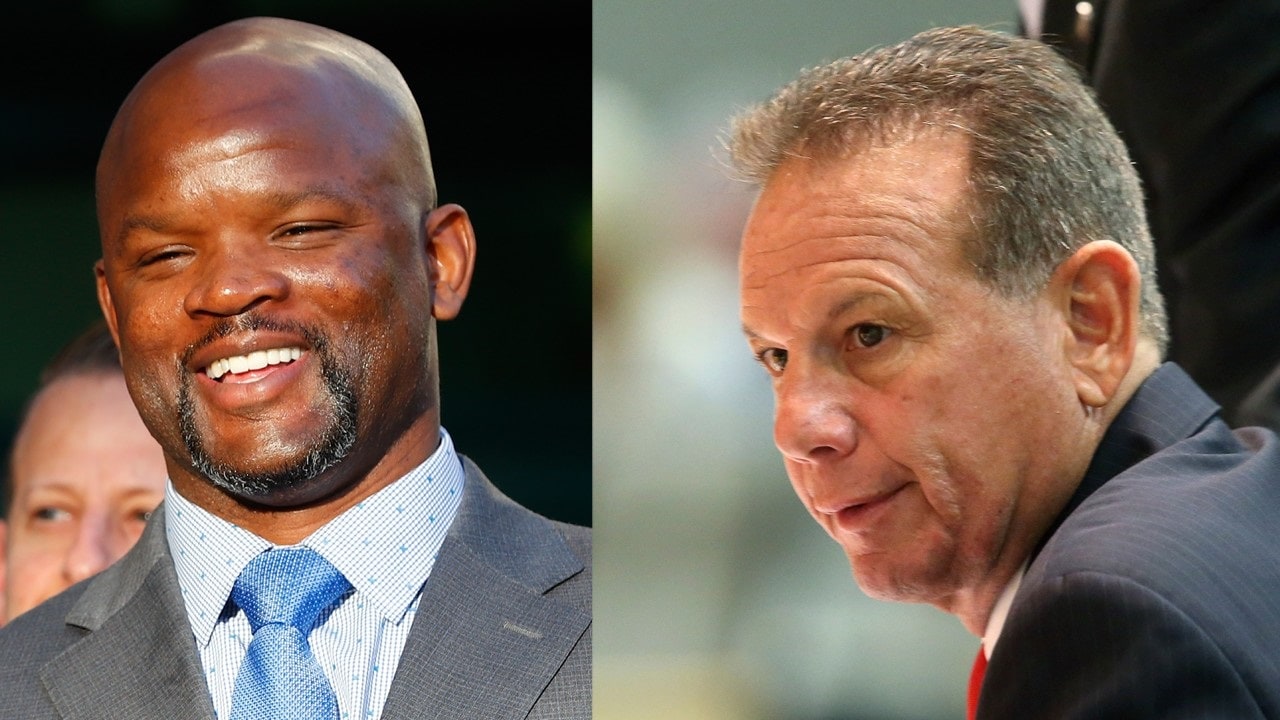 — Broward State Attorney: The eight-person Democratic primary is packed tight, with Joe Kimok ahead at 13% support. Teresa Fanning-Williams, Sarahnell Murphy and Josh Rydell all received 10% support. Harold Pryor had 7% support, followed by David Cannaday at 5% and James Lewis and Justin McCormack at 4%. Another 38% of voters said they would vote for someone else or were unsure.
— Broward Supervisor of Elections: This is another close race, with Chad Klitzman receiving 15% of the vote and Jennifer Gottlieb and Joe Scott earning 13%. Ruth Carter-Lynch was in fourth at 10%, followed by Mitch Ceasar at 9% and Tim Lonergan at 4%. The remaining 37% were undecided.
While these Democratic primary winners will still face a general election contest, the county leans left. Whoever can emerge from these contests will be the favorite in November, but plenty is still left up in the air with just days to go before polls close.
Brunching in?
If you miss going out to brunch, here's a favorite you can easily make at home — French toast. Even if you've been making French toast for years, there are ways to make it even more delicious.
— "The beauty of French toast is that it has kind of a Lazarus effect," said chef Jessica Bright McMullen, owner of KitchenAble Cooking School and Catering at Lake Ella. "It brings new life to bread, but it's also a food to enjoy in a pinch, or you can make it for an over-the-top indulgent brunch."
— When making French toast, a few crucial issues:
— First: What type of bread should you use? McMullen's favorites are brioche or croissants, but "in reality, you can use sandwich bread, leftover French bread, banana bread — pretty much anything you can dip in an egg mixture."
— As for milk, she prefers whole milk, but you can use coconut milk, almond milk, or cream. You can even use juice or a splash of water if you're using buttery bread like a croissant.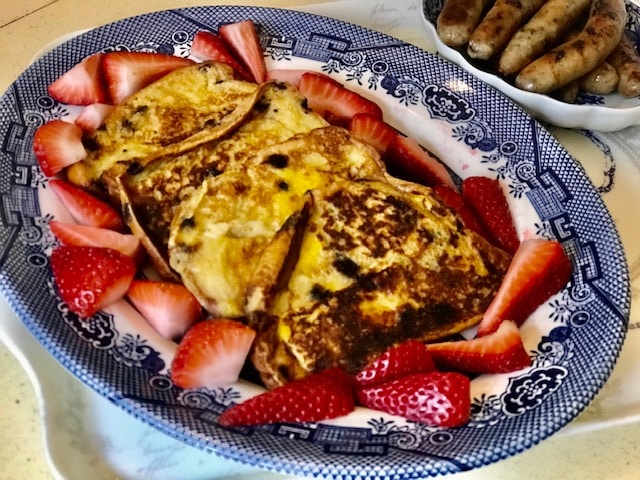 — Cinnamon and vanilla extract are two of the most popular additions to elevate French toast, but you can also use nutmeg and more extravagant ingredients like Grand Marnier, rum, or Chambord Liqueur — even eggnog at Christmas, said McMullen.
— Another factor to remember is "the importance of order when mixing ingredients," she said. "If you're going to do spices, you don't want them to float on top."
— Here's a recipe from McMullen. Learn more on her video at learnfromalocal.com/how-to-make-classic-french-toast.
Classic French toast:
½ TSP ground cinnamon.
1 TSP granulated sugar.
1 TSP vanilla extract.
1 egg.
2 TBSP whole milk.
2 slices of bread of your choice.
1 TBSP butter (for pan).
Optional toppings: real maple syrup, powdered sugar, fruit.
— In a medium bowl, whisk together cinnamon and sugar. When evenly mixed, add vanilla and continue stirring to dissolve some of the sugar. Add the egg to the cinnamon mixture and whisk until smooth. Gradually pour in the milk.
— Heat a large nonstick skillet over medium-low heat, add butter to the pan to coat. Dip bread slice in the prepared mixture, turn to coat both sides evenly, then transfer it to the hot griddle. Add as many slices of toast as you wish to the pan without crowding. When the bottom has browned, and the egg looks cooked and dry, turn it over to brown on the other side. Remove from heat when fully cooked. Remove from the pan, top as desired, and enjoy.
The recipe will yield 2- 4 slices, depending on the type of bread you use.