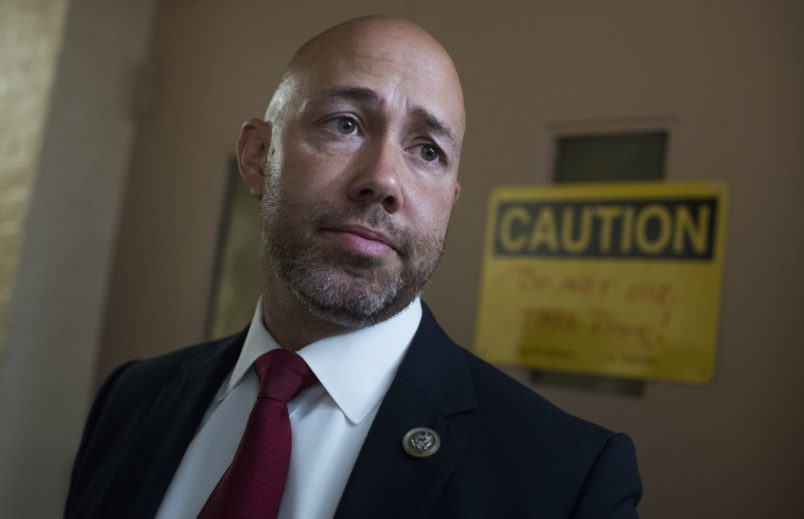 Mast joked about sex with 15-year-olds and rape in recently-uncovered Facebook posts.
Former SEAL Team Six member Craig Sawyer, who has launched a nonprofit to combat child sex trafficking in the U.S., is calling for Rep. Brian Mast to resign over controversial social media posts.
Sawyer was joined by Republican operative Roger Stone, a long-time Donald Trump ally whose sentence for lying to Congress was recently commuted by the President.
Their push comes after the South Florida Sun-Sentinel uncovered Facebook posts from 2009 and 2011 where Mast joked about sleeping with 15-year-olds and rape. Mast has since apologized for those remarks.
"As a veteran who spends my life combatting child trafficking, I say [Mast's] stance on sex with minors makes him unfit for office," Sawyer said, before dubbing Mast a "Republican in name only" (RINO).
"He's an example of the RINOs who sell us out, defy our Constitution [and] need to be replaced before [November]."
Added Stone, "Congressman Brian Mast must withdraw from his race for Congress and resign from the House in light of recently uncovered remarks in which he discussed raping 15 year olds. We cannot have pedophiles in Congress."
Brad Stewart, a Mast campaign spokesperson, dismissed Stone's comments Monday.
"It's no surprise that Roger Stone, one of Big Sugar's most prominent guns for hire, is trying to use this to their political advantage," Stewart said.
"He attacked Gov. Ron DeSantis during the last campaign and now Brian Mast because they are working to clean up Florida's politics and waterways. Congressman Mast has profusely apologized and he will not let Big Sugar's intimidation tactics scare him from continuing to fight for clean water in Florida."
Despite Stone's comments, Mast has not been credibly accused of pedophilia. Rather, the controversy stems from Mast's old Facebook comments in which he jokes about the issue.
In a 2009 post, Mast's long-time friend Rocco LeDonni uploaded a photo from a bar in South Africa. In a comment on Ledonni's picture, Mast wrote, "im so proud of you… i hope you hook up with at least fifteen 15 year olds over there…. its legel there right."
In 2011, LeDonni asked on Facebook, "Anyone have any good pick up lines for this weekend considering according to the crazy christian radio guy the world may end on sunday?"
Mast replied, "How about don't turn this rape into a murder."
LeDonni now serves as Mast's campaign manager.
Sawyer has worked with law enforcement agencies to uncover child trafficking rings in the United States. He launched his nonprofit, Vets 4 Child Rescue, in 2017 to help raise awareness of the issue.
The calls by Sawyer and Stone are notable given they are both supporters of President Trump. Several officials and organizations which had condemned Mast thus far are Democrats or aligned with Democrats.
Palm Beach County Commissioner Melissa McKinlay has also called for Mast to resign. On Friday, Sen. Lauren Book also released a statement condemning Mast's remarks, saying he "demonstrated a complete lack of respect for women and questionable moral character unbecoming of a Congressman."
Book is a survivor of childhood sexual abuse herself who launched the Lauren's Kids Foundation to provide resources to victims.
Shortly after the story broke last week, Mast apologized after questioning from the Sun-Sentinel.
"A decade ago when I was in the Army, and following my injury, I made disgusting and inappropriate jokes that I am embarrassed to have associated with my name today," Mast said.
"I am sorry about that part of who I was, and I strive every day to be a better example for my kids."
While Mast referenced his 2010 injury, when he lost both of his legs after an IED explosion, the first post came in 2009, prior to that injury.