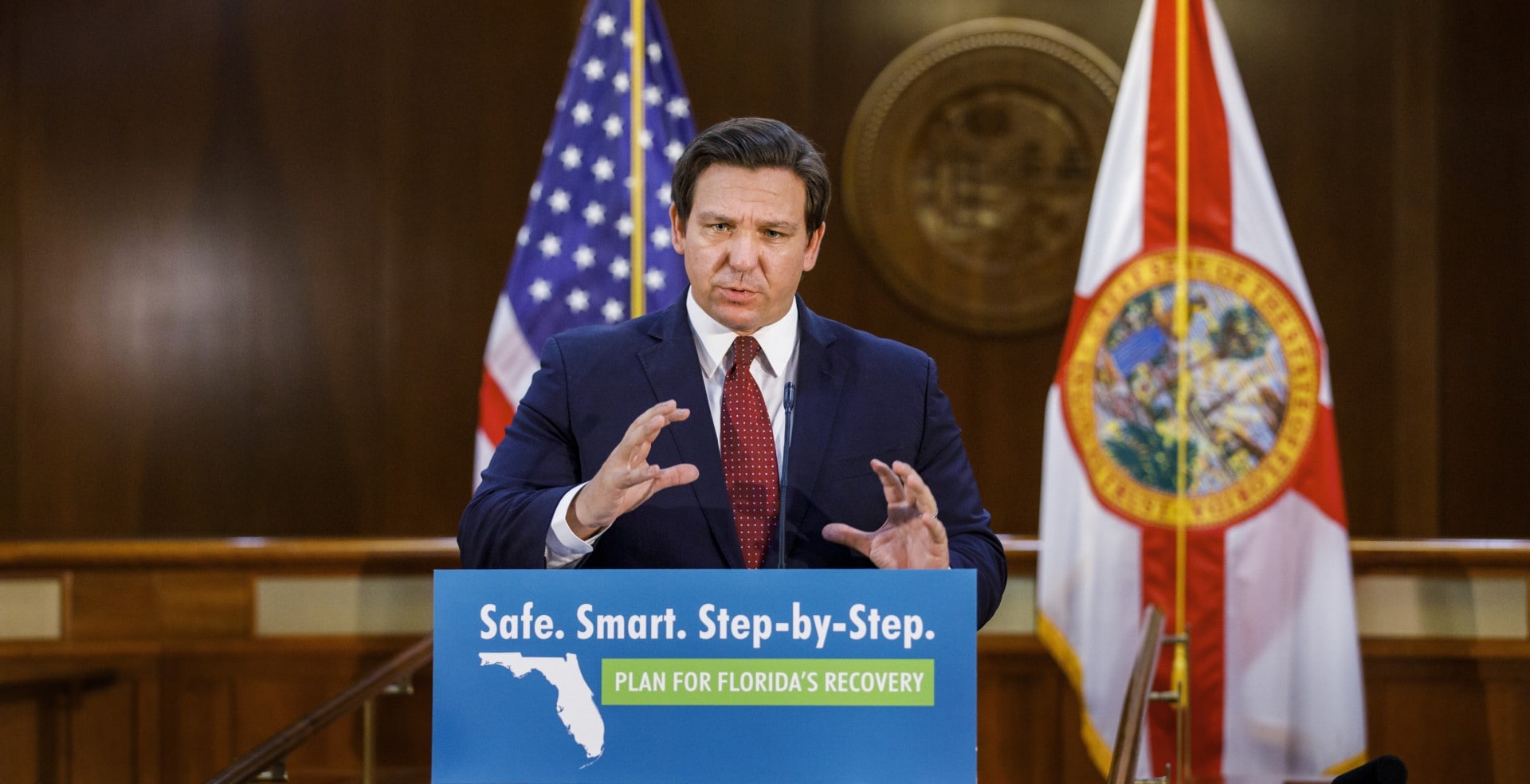 Phase Three begins effective immediately.
Florida has entered Phase Three effective immediately, Gov. Ron DeSantis announced Friday, allowing all businesses to open across the state.
The order lifts all COVID-19 state-level restrictions and preempts local governments' abilities to close businesses and assess fines on individuals.
Florida has been in Phase Two of the reopening process since the first week of June. A month later, Florida reached its peak of the COVID-19 pandemic and pumped the brakes on its reopening plans.
Sixteen weeks later, DeSantis has made the decision to lift all restrictions on businesses. At the state level, that mostly applies to restaurants and bars, both of which had been operating at 50% capacity.
Local governments cannot outright close businesses under the order, but they retain the ability to limit and regulate businesses. Everybody has the right to work and every business has the right to operate, DeSantis said.
"You can't just say no," he added. "You can't say no after six months and just have people twisting in the wind."
The exception to that is restaurants. Restaurants cannot be restricted further than 50% capacity, and local governments must justify it from an economic and health perspective.
"This is a very difficult industry to succeed in," DeSantis said, calling the idea that government should lead on restrictions rather than self-imposed business practices "misplaced."
Finally, local governments cannot collect fines and fees on any individuals, including enforcing mask mandates. Any unpaid fines and penalties are also forgiven, which the Governor called "an act of executive grace."
"I think we need to get away from trying to penalize people for social distancing and just work with people constructively, put out what you want," he said. "But to impose some type of penalty of either … all these fines we're going to hold in abeyance and hope that we can move forward in a way that's more collaborative."
Unlike previous phases and sub-phases, all 67 counties are transitioning to Phase Three simultaneously. Miami-Dade, Broward and Palm Beach counties all took delayed paths to Phase Two.
"You can insist on certain regulations, and obviously I think you're probably going to see a different approach in southern Florida than you will in the Panhandle on some of that, and I think that's fine," DeSantis said.
Miami-Dade and Broward counties entered Phase Two two weeks ago. Coinciding with Phase Three, Broward announced plans to ease restrictions beginning Oct. 2, allowing ballrooms and similar venues to operate at 50% capacity with a cap of 100 people inside. Live entertainment and billiards play will once again be permitted at restaurants, and restaurant bars can reopen but are still blocked from serving alcohol.
And unlike the previous phases, Phase Three takes effect immediately. Unlike earlier, when businesses were taking their first steps to opening doors, most businesses have already had practices in place.
While most of the state's social distancing policies are now lifted, the state of emergency, which allows the state to use CARES Act funds, remains in place until at least November. The state will also continue operating testing facilities and other agency-level responses.
The announcement followed a two-hour virtual panel Thursday, which highlighted controversial scientists from Harvard and Stanford universities. The common thread throughout the talk was that lockdowns are detrimental to the role of herd immunity in society, a politically-charged concept.
"Everything we've heard here, for example, in treating age groups differently, makes complete sense," said Michael Levitt, a professor of structural biology at Stanford. "The need to let young people interact with each other, both for social reasons and for herd immunity, makes perfectly good common sense. I think there should have been more of that."
DeSantis said people should be prepared for a second wave, but that evidence so far hasn't shown true second waves of the pandemic. Places that had a delayed separate wave, like Florida, felt little of an initial wave, he added.
He expressed his eagerness to move forward, noting the initial 15 Days to Stop the Spread ordered by President Donald Trump but that some have suggested lockdowns continue even a year after a vaccine rollout.
"The fact that you continue to move forward with the economy, it doesn't mean that the virus disappears," he said. "People should just understand, it's something that we're just going to have to deal with."
Added the Governor: "Just as all those experts said yesterday when we had our thing, doing that from a fetal position where society flounders, people are out of work, kids aren't in school, that is not going to work and that's not the way forward for us."
Speaking in St. Petersburg, the site of a dust up between restaurant-goers and protesters Wednesday, DeSantis stood alongside local restaurant owners who supported the move.
"I think that this gives us a real fighting chance," said JT Corrales, director of business development at Crabby Bill's.
"You've just created a lot more jobs today," said another restaurateur.
The Florida Capitol is still closed to the public and state government buildings aren't fully open yet. Sen. Audrey Gibson, the outgoing Senate Minority Leader, took aim at the Governor.
"If this virus is … little threat to most people, let @GovRonDeSantis be the first to throw open to the public his office and mansion — both of which remain closed thanks to a pandemic he cannot control," she said in a tweet.