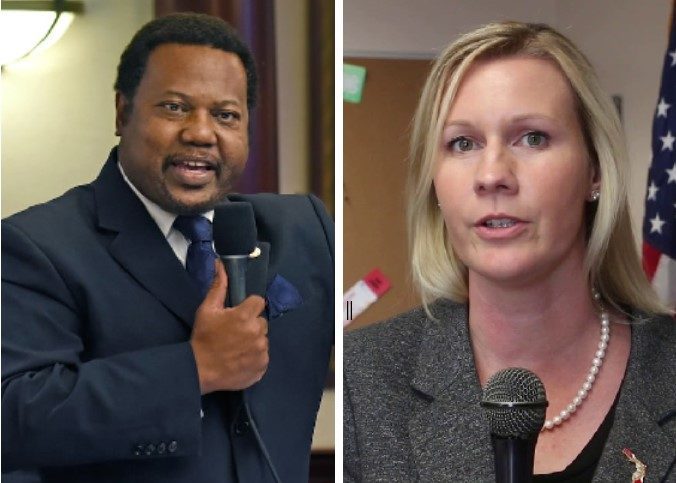 Meanwhile, Joe Biden leads in the district by 6 points.
Former Rep. Patrick Henry may well be on his way back to Tallahassee.
A new St. Pete Polls survey, commissioned by Florida Politics, shows the Daytona Beach Democrat beating Republican Rep. Elizabeth Fetterhoff. About 48% of voters in House District 26 plan to vote for Henry, while around 46% want to stick with the incumbent.
But neither candidate has won over a majority of voters, and the 2-percentage-point margin between them falls well within a 4.8% margin of error. It all goes to show, this grudge match remains one of the hottest races of the election cycle and a contest still too close to call.
That's likely a shock to no one when the matchup between the same two candidates came down to a 61-vote margin after a recount in 2018.
While the poll gives cautious hope to Henry, Democrats in the region overall will likely celebrate signs Joe Biden leads in the district with 51% of the vote to Donald Trump's 45%. That's in a jurisdiction where Trump beat Democrat Hillary Clinton by 2 percentage points in 2016, the pollster said.
But there's also signs GOP Gov. Ron DeSantis holds political sway with voters. About 47% approve of the Republican's job performance while fewer than 45% disapprove. That's in a district where he lost to Democrat Andrew Gillum, albeit by just 0.6% of the vote.
A closely divided electorate reflects the seemingly perpetual state of HD 26. Henry beat Republican Michael Cantu there in 2016 with 53% of the vote but lost in a nail-biter to Fetterhoff after a single term in office. The 2018 cycle showed a razor thin divide in the district for the House race, Governor's race and U.S. Senate race, where Democrat Bill Nelson led Republican Rick Scott by 0.6%.
Fetterhoff has raised substantially more money this year, though Henry, since securing the Democratic nomination, enjoyed a surge in donations.
The St. Pete Polls results show Henry holding onto 82% of Democrats and Fetterhoff taking 83% of the Republican vote. Notably, it also shows the Republican incumbent winning more than 52% of independents compared to Henry's 41%. But the pollsters' sample indicates significantly more Democrats in the district's pool of likely voters, swinging the top lines Henry's way.
Ironically, results show Henry winning more than 50% of women voters to Fetterhoff's 42%, while Fetterhoff takes 51% of the male vote to Henry's 45%.
StPetePolls 2020 HD26GEN October5 B53ND by Jacob Ogles on Scribd