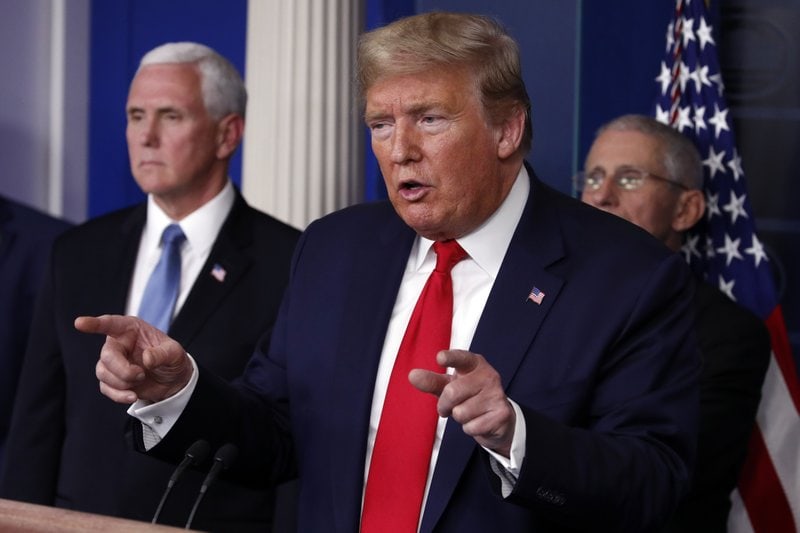 Debbie Wasserman Schultz suggested Trump's decision-making is being impacted by his COVID-19 treatment.
Florida Democrats are hammering the Donald Trump administration after the President stated last night he was looking to end negotiations on a new COVID-19 relief package.
"I have instructed my representatives to stop negotiating until after the election when, immediately after I win, we will pass a major Stimulus Bill that focuses on hardworking Americans and Small Business," Trump wrote Tuesday afternoon, citing frustration with Democrats' demands.
"We've cut these deals before to protect the people in our communities," U.S. Rep. Donna Shalala said during a Wednesday Zoom conference. "And yet this President, sick as he may be, has walked away from helping the American people until after the election. What does the election have to do with taking care of people?"
Democrats were pushing for a $2.2 trillion relief package that would, among other things, offer a new $1,200 check to eligible Americans, add another federal boost of $600 per week for unemployment benefits, provide more than $430 billion in relief to local governments and add more money to the Paycheck Protection Program.
Republicans had sought to negotiate down the price tag by about $600 billion. Trump's comments Tuesday seem to have put those talks at an impasse.
"What manner of man would do this?" asked U.S. Rep. Frederica Wilson Wednesday. She then laid into Trump over a New York Times report showing he routinely avoided paying taxes, calling him a "freeloader."
"The freeloader-in-chief is more than happy to spend $1.9 trillion of our tax dollars on tax breaks for him and his cronies while saying that it's too expensive to give $600 a week in unemployment benefits so that people can feed their children, pay their rent and live."
Added Shalala, "This is the meanest thing I have ever seen any public official ever do."
Trump added to the confusion Tuesday evening when he seemed to support additional relief measures. He continued those calls Wednesday, though it's unclear whether the talks can be salvaged.
U.S. Rep. Debbie Wasserman Schultz argued that further delay would hurt Florida's workforce in particular.
"Thousands of theme park workers in Central Florida face unemployment," Wasserman Schultz said.
"Waiters, cooks and hotel workers who survive on our tourist-heavy economy are all feeling serious financial pain. They need our help right now. They need it right now. We cannot wait a day longer."
She argued Trump's decision-making and at times contradictory messages could be explained by his COVID-19 treatment.
"The White House is melting down in chaos. Trump actually panicked when he saw the stock market's reaction to his canceling talks, and he seemed to reopen the door to relief and suggested that he would restart negotiations in a series of erratic, likely steroid-infused tweets last night. But [Senate Majority Leader Mitch] McConnell is clearly in 'let them eat cake' mode."
U.S. Rep. Lois Frankel, who served as West Palm Beach Mayor during the late 2000s recession, lobbied Wednesday for help for local governments. She cited the economic slowdown and its impact on local tax revenues.
"The COVID-19 pandemic has devastated the revenue streams of the state and local governments, the funds that they rely on," Frankel said.
"It means furloughs. It means firings. It means diminution of services," absent help, she argued.
Shalala said House Speaker Nancy Pelosi and Treasury Secretary Steve Mnuchin were "clearly close" to a deal before the President's missive. Later Wednesday, Shalala was joined by state Sen. José Javier Rodríguez and Democratic House candidate Kayser Enneking on a conference hosted by the Florida Democratic Party. The group previewed the vice presidential debate between Mike Pence and Kamala Harris.
Rodríguez argued Pence would have to answer for the federal response to the outbreak.
"We are going to hear from him in his capacity as the chair of the White House Coronavirus Task Force seven months into an unprecedented pandemic and economic crisis where they still do not have a plan."
Added Enneking of the response, "This is an abomination. This is not the United States of America and the response that we expect from our political leaders."
Shalala, too, predictably bashed the Republican VP ahead of the debate.
"They failed to control the pandemic. Their promises to Floridians about helping us get through this crisis have gone unfulfilled."
She did seem to back the eventual release of any vaccine after it goes through review by an expert panel selected by the U.S. Food and Drug Administration.
"There will be careful scientific review by the FDA as well as the panel," Shalala said. "Don't let the President discourage you. The scientists are going to stand up to the White House and anyone else that seeks to politicize the vaccine.
Biden and Harris have said Americans should not trust Trump's word with regard to any vaccine release and should instead listen to scientific experts.
Shalala also said she'd likely be one of the first people eligible to receive the vaccine, referencing her age and underlying health conditions. She said she would likely hold off, but not due to concerns about the vaccine's safety.
"I will not take the vaccine until it is available in my community to the essential workers and the people that are at risk," Shalala said.