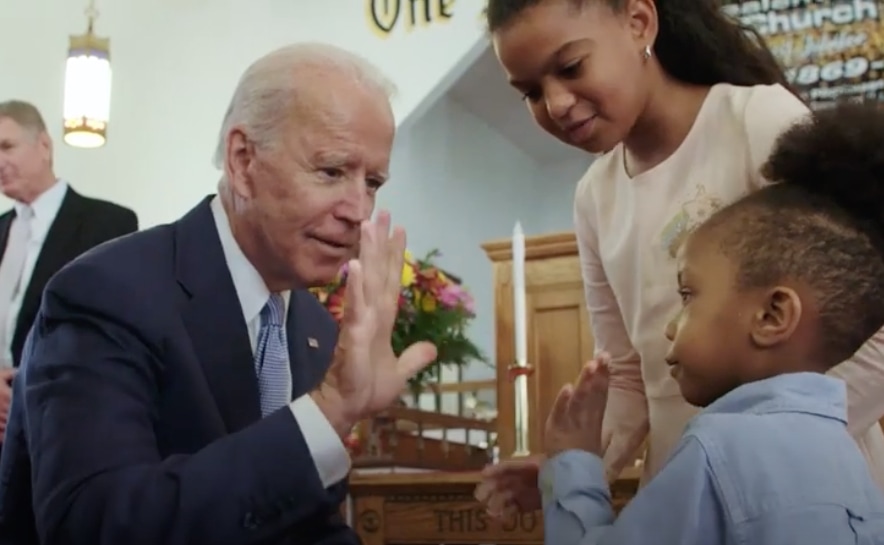 The ads are meant as a closing argument to Hispanic voters one week before the election.
The Joe Biden campaign is releasing a set of new commercials targeting Hispanic voters in Florida and other key states with messages in English, Spanish, both languages, and using Gaby Moreno's song "Fronteras" as "the closing anthem of the campaign."
Three of the spots are set to run in Florida. Two more are set for other states. The Biden campaign is calling them its closing arguments for the Hispanic vote.
"Unidos con Biden" ("United with Biden") is a 60-second, bilingual commercial that will run on TV and digital platforms in Florida and seven other states. It features Moreno's hit song playing in the background as short clips of what look like cell-phone videos cut from one individual to another speaking, some at small campaign events. A variety of Latinos, of various ethnic origins and ages, offer their support for Biden, some in English, some in Spanish.
"Yo, Biden" ("Me, Biden") is a 30-second TV commercial in Spanish, airing in Florida and five other states. It shows people in work situations, a hospital, stores, a construction site, an office, offering their beliefs that he has the best plans to revive the economy, handle climate change, provide affordable health care, and more.
"Ser Humano" ("Being Human") is a 30-second, bilingual digital ad airing in Florida and 10 other states, and is the one spot of the bunch to take an indirect shot at President Donald Trump, though without showing or mentioning him.
The ad shows vintage footage of both Democratic and Republican presidents, Franklin Roosevelt, Dwight Eisenhower, John F. Kennedy, Jimmy Carter, Ronald Reagan, George H.W. Bush, Bill Clinton, George W. Bush, and Barack Obama in warm interactions with other people, holding children, laughing, hugging and even mourning together.
As those images roll, the narrator explains that "ser humano" means "not only a human being, but to be one. … It means caring for all and leading with empathy, no matter the challenges. It means showing compassion for your neighbor." The ad ends with several spots of Biden embracing people, as the narrator declares, "For a President ser humano, to be one, can never be optional."
Two additional Spanish-language commercials, the 30-second "Cancelado" ("Canceled") and the 60-second "Quienes Somos" ("Who We Are") are running in other states.