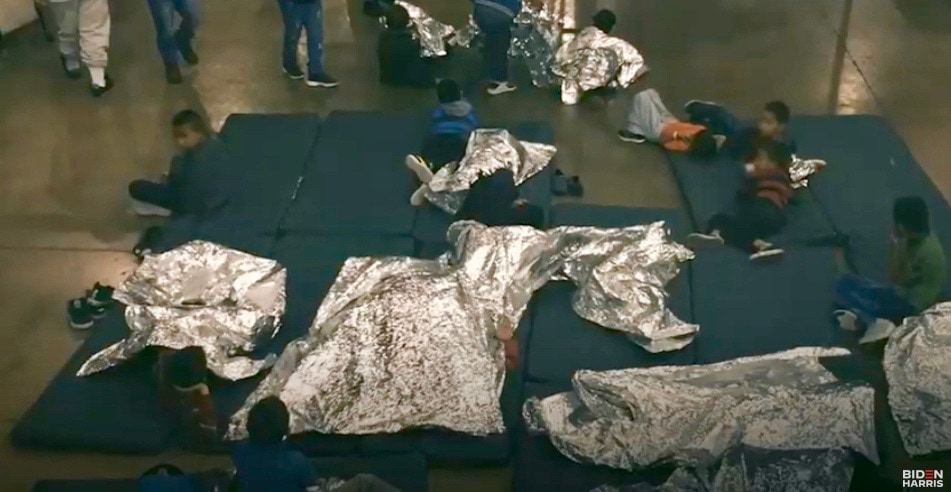 Ad cites reports that 545 children have yet to be reunited with their parents.
Images of young children being removed from parents as undocumented immigrant families were caught at border crossing sites are being turned into a Joe Biden late argument against President Donald Trump.
A new 60-second TV commercial "Separated" from Biden's campaign will air in Florida and a handful of other swing states in the closing days before the Tuesday's General Election, revisiting the ongoing issue that first emerged in Trump's second year in the White House.
The issue received new attention earlier this month when federal authorities acknowledged they could not locate the parents of 545 undocumented immigrant children held in detention centers. That led to an exchange in the second presidential debate last week, in which Biden expressed incredulity and Trump responded that the children "are so well taken care of."
The new Biden commercial, launched in Florida Arizona, North Carolina, Pennsylvania, and Nevada, starts earlier, with comments from a narrator that Trump authorized the policy to deter illegal immigration. It then uses a news report from Jacob Soboroff, the NBC News and MSNBC correspondent who has been reporting on the matter for more than three years.
"Kids were under mylar blankets on concrete floors after being taken away from the arms of their parents. I will never forget seeing it with my own eyes," Soboroff states in one of his reports. "Physicians for Human Rights, they call it torture. The American Rights of Pediatrics says it was government-sanctioned child abuse.
The commercial turns to the debate exchange, showing Biden saying, "What happened? Their kids were ripped from their arms and separated and now they cannot find over 500 sets of those parents and those kids are alone. Nowhere to go. It's criminal." The ad then cuts to Trump's reply in the debate, "They're so well taken care of. They're in facilities that were so clean."
The commercial ends with a narrator saying Biden has pledged an executive order creating a federal task force to reunite children with their parents.
Last updated on October 29, 2020