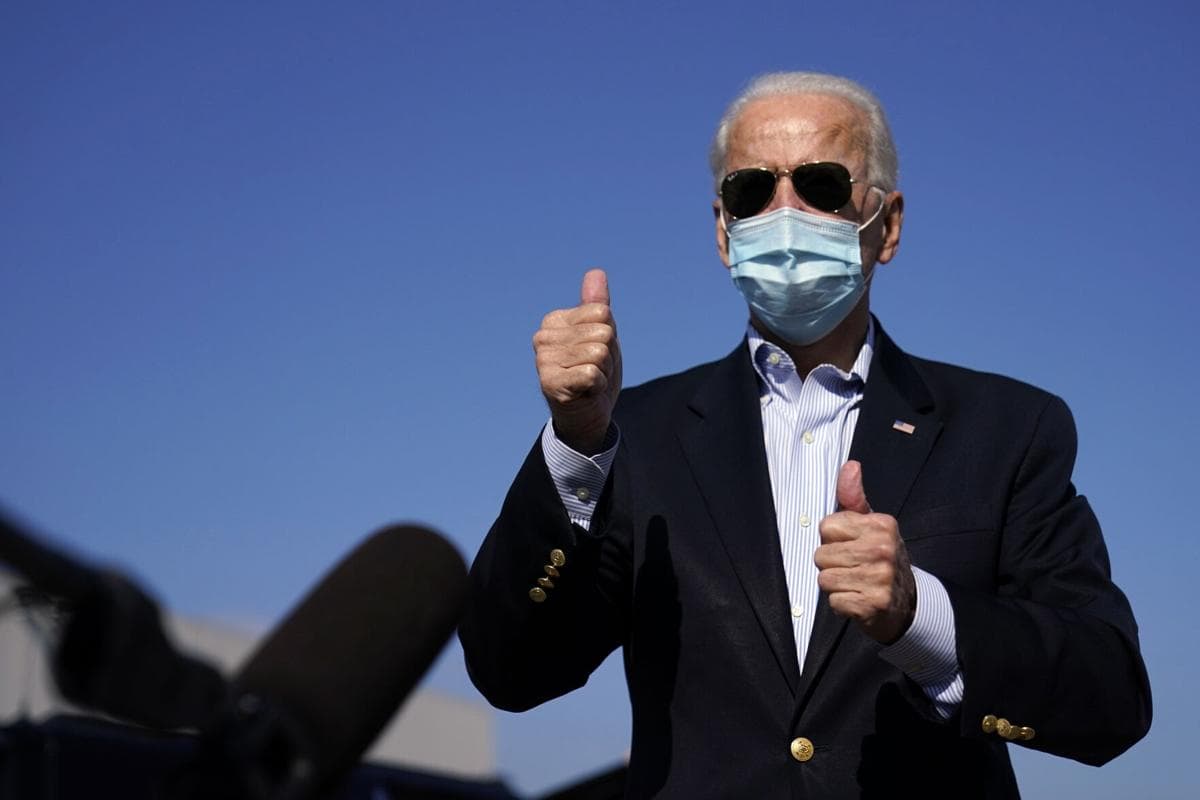 More than 9 million people will likely have cast their ballots before polls open Tuesday.
If turnout remains high like it has during pre-election returns, Democratic strategists expect Joe Biden to win Florida on Election Day and, in doing so, the 2020 Election.
As of Monday morning, nearly 9 million people have already cast ballots by mail or during in-person early voting, and ballots trickling in throughout the day should put turnout over that mark. Early turnout is already 136% of what it was in 2016 and 95% of the entire number of votes cast that year, when President Donald Trump beat Hillary Clinton in Florida and nationally.
In the final update from Mike Bloomberg-backed data analysts at Hawkfish and partners including Democratic strategist Steve Schale, experts predicted Biden could beat Trump despite the close early vote totals so far. Democrats have a 100,000 vote lead, but Republicans have 150,000 more high-propensity voters left than Democrats, said Hawkfish CEO Josh Mendelsohn.
"That should be offset by NPA voters' higher levels of support for Joe Biden, but there are no guarantees," he added. "It's really going to come down to turnout on Election Day."
"Turnout's just been crazy," Schale noted, with early votes already bringing turnout to 63% before Election Day.
He will be watching three areas of focus closely on Tuesday: Republican turnout, the African American vote and the youth vote.
Registered voters from both parties have turned out at about equal rates so far, with approximately 66% of Republicans and Democrats both having voted already, helping set record-breaking early turnout for a second presidential election in a row.
Republicans typically turnout in larger amounts, and they could very well pull ahead with Election Day voting, but Democrats have been motivated this year alongside Republicans. The electorate is also younger and more diverse this year, which in theory favor Democrats.
Schale is more optimistic about Biden's chances than he was a week ago, the strategist said.
"If you had said to me, 'Hey Schale,' back in September, 'You're going to go into Election Day 100,000 voters ahead with 150,000 more high-propensity Republicans left to vote,' I would have probably said let's do it, I'll take my chances with that," he added.
The election could even be decided on Election Night in Florida, potentially securing the White House for Biden if turnout is "halfway decent" among sporadic Democrats, Schale noted. If either candidate is up by 60,000 votes, he predicted there would be no recount in the state: "Game over."
Florida, along with other battleground states, is a win or go home state for Trump with 29 electoral votes. That's why, said Bloomberg senior political advisor Kevin Sheekey, the billionaire and former New York City Mayor has pledged $100 million to Biden's effort in the Sunshine State.
Bringing the battle to Florida's airwaves would make the President fight "a land war in Asia," a losing proposition according to the adage. Sheekey's goal is to make Trump, who has smaller campaign coffers, fight for Florida and draw away resources from the "Blue Wall" of the Midwest.
"There is no battleground state that poses quite the impediment to Donald Trump's reelection as Florida does," he added. "We're here to provide that impediment, and with any luck and with a little bit of turnout, we hope to win a narrow election tomorrow."
Except in Miami, West Palm Beach and Fort Myers, Team Bloomberg has shifted all ads in Florida to an ad titled "New Leadership." In Miami, the team has shifted entirely to ads featuring former President Barack Obama, doubling that ad buy with $5 million added Sunday.
In West Palm Beach and Fort Myers, they are running ads focusing on the COVID-19 pandemic as well as seniors and the economy. Spanish-language ads are on the air in Miami and Orlando.
Some Democrats have raised concerns about a widening margin among Republican voters in Miami-Dade County, where the party appears to have made inroads among Hispanic and African American voters. The GOP currently has an 8-point advantage in the county among ballots cast by party registrants when they only had a 3-point margin in 2016.
However, minority voters tend to vote day-of more frequently. Even still, Schale says Biden doesn't have to repeat Clinton's 2016 Latino vote margin because of his own inroads among White voters.
"If both parties are turning out good numbers of sporadic voters, that's actually good for us, because we have more of them," he said.
But unlike in other states, Sheekey believes there won't be as large a share of ballots cast in Florida on Tuesday because Trump has personally endorsed Florida's vote-by-mail system, as has Gov. Ron DeSantis.
Unlike in 2016, Schale doesn't see red flags, but still said he wouldn't bet $100 on Biden's chances.
"In fairness, we've put a few more than $100 on the outcome," Skeekey quipped.