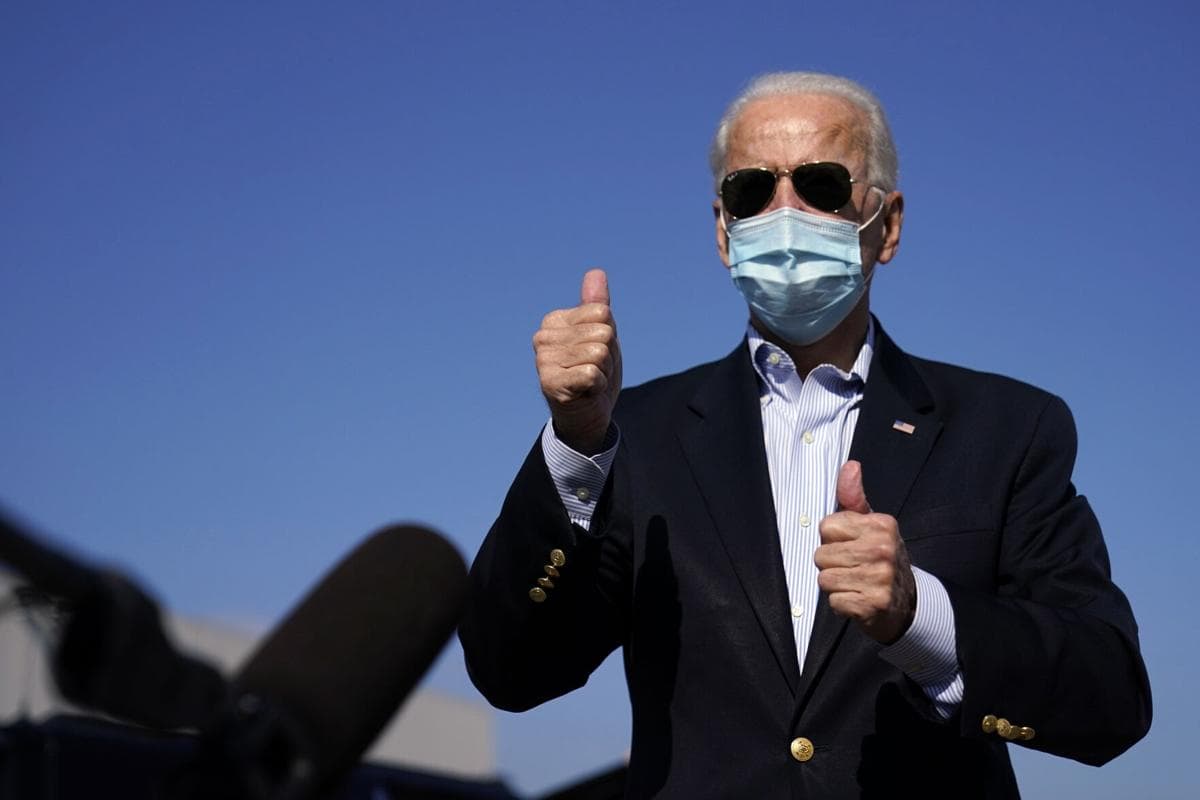 The contest is still too early for The Associated Press to call.
Democrat Joe Biden is now leading President Donald Trump in the battleground state of Georgia.
By Friday morning, Biden overtook Trump in the number of ballots counted in the battleground, a must-win state for Trump that has long been a Republican stronghold. Biden now has a 917-vote advantage.
The contest is still too early for The Associated Press to call. Thousands of ballots are still left to be counted — many in counties where the former vice president was in the lead.
An AP analysis showed that Biden's vote margins grew as counties processed mail ballots cast in his favor.
There is a potential that the race could go to a recount. Under Georgia law, if the margin between Biden and Trump is under half a percentage point of difference, a recount can be requested.
Biden spent Thursday trying to ease tensions and project a more traditional image of presidential leadership. After participating in a coronavirus briefing, he declared that "each ballot must be counted."
"I ask everyone to stay calm. The process is working," Biden said. "It is the will of the voters. No one, not anyone else who chooses the president of the United States of America."
Biden's victories in the upper Midwest put him in a strong position, but Trump showed no sign of giving up. He was back on Twitter around 2:30 a.m. Friday, insisting the "U.S. Supreme Court should decide!"
It could take several more days for the vote count to conclude and a clear winner to emerge. With millions of ballots yet to be tabulated, Biden already had received more than 73 million votes, the most in history.
Trump's erroneous claims about the integrity of the election challenged Republicans now faced with the choice of whether to break with a president who, though his grip on his office grew tenuous, commanded sky-high approval ratings from rank-and-file members of the GOP.
Maryland GOP Gov. Larry Hogan, a potential 2024 presidential hopeful who has often criticized Trump, said unequivocally: "There is no defense for the President's comments tonight undermining our Democratic process. America is counting the votes, and we must respect the results as we always have before."
But others who are rumored to be considering a White House run of their own in four years aligned themselves with the incumbent, including Sen. Josh Hawley, who tweeted support for Trump's claims, writing that "If last 24 hours have made anything clear, it's that we need new election integrity laws NOW."
Trump's campaign engaged in a flurry of legal activity to try to improve the Republican president's chances, requesting a recount in Wisconsin and filing lawsuits in Pennsylvania, Michigan and Georgia.
Judges in Georgia and Michigan quickly dismissed Trump campaign lawsuits there on Thursday.